A video has surfaced that shows a man in India attacking a woman with an ax, reportedly after she rejected him, according to local news.
The video shows two women holding children and chatting outside the entrance to a house in Hyderabad, India, when the man shows up on a motorbike. 
The man has since been identified as Rahul Goud by the New York Post. 
The woman who appears to be his target is alarmed when she sees him getting off his bike. Goud runs toward her and her child with the ax and takes a couple of swings as she runs inside. The other woman holds her toddler and looks inside the building but seems unable to do anything.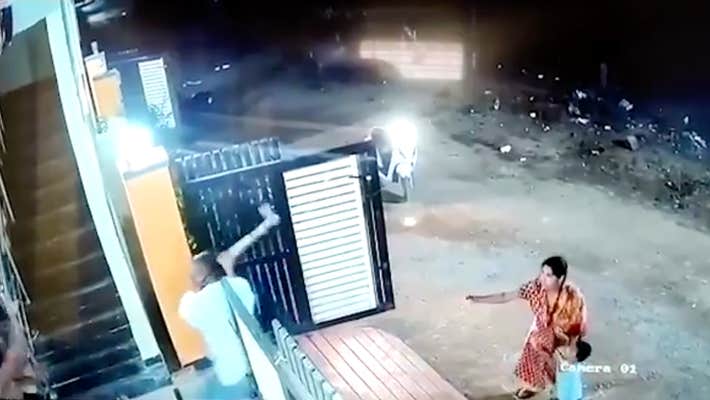 The camera from inside the building shows Goud swinging the ax a few times at the woman.
Goud cuts out of the frame before appearing again, this time running away toward the door, and exiting. Another man chases behind him.
Once outside, Goud comes with the ax toward the second woman. She runs away, and Goud swings at another passerby before getting on his bike and leaving the scene. 
Outside the building, panicking bystanders call for help.
The video doesn't show Goud hit the woman, but according to Times Now, she was severely injured in the attack and later taken to the hospital. Times Now reports that Goud attacked her after the woman broke up with him; she had filed a harassment case with local police prior to the incident. 
Local police arrested Goud and another man in connection to the case, and Goud was charged with attempted murder, per the Posti.
---
Must-reads on the Daily Dot
H/T New York Post