Can a single image save a life?
Tumblr hopes so. If you've spent any time on the popular image-sharing and blogging platform, you've probably seen this image cross your dashboard at least once: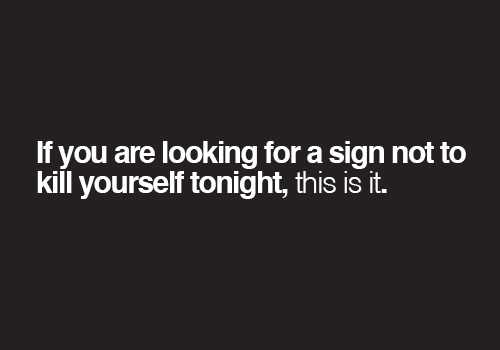 The image macro above has made its way across the Internet. It may have been created by Tumblr user sort-of-un-balanced, who posted it a year ago with the following note:
I posted this three times tonight and had three people tell me that I helped save their life. Thank you to those people who have decided to struggle through to let us enjoy the gift of one more day of their prescence gracing us all. I hope that you all reblog this, to save another few. Because we all dserve another chance and hope in life. I went to the hospital 6 times before I decided to keep my life but I hope none of you suffer that much. And I hope you all can make that scary, seemingly painful, blind, hoping, wonderful step to live.

I want to help you in any way I can. ANYTHING. I mean it. If I had had someone stay with me and text me or talk to me all night, just one time, it would have changed my life. I know how hard those nights can be.

<3,
Love,
Emily
Emily has since deleted her Tumblr. But her post has lived on, gathering over a million notes and reblogs from the likes of Wil Wheaton and Neil Gaiman. "I reblog this whenever I see it," wrote Tumblr user laylacon in April. Countless commenters on the post have echoed her sentiment, noting the number of times they've reblogged the image, which for some is "every day, no matter what."
Tumblr user hiddlestonhug went a step further. After the image crossed her dash, she started reaching out to her fellow Tumblr users:
The very first time that I reblogged this, I had someone message me the next day saying that because of me, they didn't kill themself [sic]. From then on whenever I see anything like this on Tumblr it's an instant reblog for me. After receiving that message it just changed something in me. Whenever anyone I see on my dash is having thoughts of self-harm or even suicide, I automatically go to their page and offer them even just an ear to listen.
How can a single sentence hold so much power?
Part of the reason is that for many Tumblr users, community support for depression and other mental health issues goes hand in hand with the temptation to indulge. When Tumblr censored many of its tags and did a mass purge of content earlier in the year, among the mix were tags and content related to self-harm and suicidal ideation. While Tumblr tries to delineate between blogs about suicide and self-harm, and blogs that support them, sometimes the lines get blurry.  Tumblr's self-harm community is a desolate place full of GIFs of people cutting themselves. Most of the posts ("I just want to drown in a pool of my own blood") are also tagged with #suicide.
Recently, Tumblr created a counseling resource page, which users are forced to acknowledge or dismiss whenever they browse the self-harm and other depression and body image–related tags on the website.
But most Tumblr users are likely to see these kinds of posts on their dashboard rather than on the general tags page, since the dashboard, not the muddy tag search, is the nexus of Tumblr activity.
Enter the single, simple image that constantly winds its way through Tumblr.
"This actually helped me," wrote floatyfloatfloat after reblogging it herself several times. "For the first time, I'm not just reblogging this only for the sake of others. Thank you."
"This morning the first thing I posted was 'I don't want to wake up again,'" echoed joqatanarama. "And this scrolled around."
Granted, a single image won't make Tumblr's problems with suicidal ideation disappear any time soon, especially not with the continual harassment and bullying many within Tumblr's largest community, the One Direction fandom, inflict upon each other. Along with the bullying is an ongoing tendency to glorify fictional, unsourced accounts of deaths, like the regular unproven rumors of One Direction fans committing mass suicide.
Death on the Internet is a funny thing. Munchausen by Internet, the strange but frequent phenomenon of faking a virtual death or illness, exists in part because to "die" online is as easy as deleting all your social media accounts. Muddying the waters is the hyperbolic language of Tumblr users, which regularly inflates strong emotions to use violent imagery—particularly, again, in the One Direction fandom.
But if the idea of disappearing seems much easier to do online than it does in real life, the end result is an underlying sense of chaos that flows across sites like Tumblr, and other sites like Ask.fm, which finally began implementing harassment prevention methods in August after seven teenagers committed suicide within a two-year period due to bullying on the site.
Tumblr, with its millions of active users, has a large and turbulent community, many full of troubled thoughts. With similar demographics and types of interaction, it's prone to many of the same problems with bullying and harassment as Ask.fm.  
What Tumblr doesn't have is a suicide epidemic.
Maybe this single image is part of the reason why.
Illustration by Jason Reed