A TikToker in the Minneapolis-St. Paul metro area is accusing a local nail salon of "racially profiling" her and a friend during a recent visit there, and the response has led Yelp to temporarily disable reviews for the business.
The TikTok was posted last Wednesday by @juwariia, who reports that she and a friend went to Ivy Nails, a nail salon in Brooklyn Park, Minnesota, to prepare for last Wednesday's Eid, a Muslim holiday celebrating the end of Ramadan.
She contends, "When we got to the store, they started doing our nails, and before putting on the actual nail polish, they asked me to pay beforehand."
She maintained that she and her friend were the only people in the store they asked to pay first, and were also the only Black people in the store.
As she explains in the video, "My friend and I decided to speak up."
She goes on to allege that one of the workers she addressed about her concerns went into the back of the store and stayed there. The TikToker brought in her older brother to confront them, and she contends that "white customers started arguing with us" as a result.
She then alleges that one of the nail salon employees went as far as to call the police on them, and another "flashed a gun" at the older brother in an effort to intimidate him.
The TikToker concluded the video, which had more than 838,000 likes as of Monday morning, by encouraging people, "Please leave a review so they don't get any more business."
Also, as of Monday morning, the Ivy Nails Yelp page had its "Write a Review" feature disabled, with a note explaining, "This business is being monitored by Yelp's Support team for content related to media reports."
Additional info, termed a "Public Attention Alert" by Yelp, noted, "This business recently received increased public attention resulting in an influx of people posting their views to this page, so we have temporarily disabled the ability to post here as we work to investigate the content. While racism has no place on Yelp and we unequivocally reject racism in any form, all reviews on Yelp must reflect an actual first-hand consumer experience (even if that means disabling the ability for users to express points of view we might agree with)."
In a follow-up video posted later Wednesday, the TikToker shared what appears to be an explainer from Ivy Nails left in response to a Google review.
Though the review and its response no longer appears to be on Google, she shared a screen shot that provides an explanation.
The response contends, "We always ask customer to pay first regardless what race they are because the regular nails polish will mess up when they tried to grab their wallet in their purse and pay later." The nail salon representative also denied the charges about flashing the gun, saying "NO ONE PULL GUN here," and claiming "the guy keep pushing one of our tech," referring to the older brother who acted on the TikToker's behalf.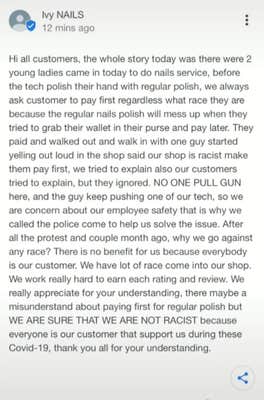 In the follow-up video, the TikToker alleges that the nail salon employee pushed her older brother first, and the person who flashed the gun appears to have retrieved it from a back area of the store first.
The Daily Dot has reached out to Ivy Nails for comment.
---
Today's top stories