A TikTok video filmed in Denton, Texas, shows people screaming when the power shuts off at an apartment complex after being restored for only 20 seconds.
Texas and other Southern states were hit with a record-breaking winter storm this past week, leaving millions without power in low temperatures after surges in energy demands. But many people online say Texans are simply overreacting—or blame Texans for voting Republican.
TikToker Antonio Richard, a 21-year-old realtor from Dallas, captured the video on Tuesday that reached more than 1.5 million views in one day. Richard told the Daily Dot that the storm left him feeling stuck, especially with icy road conditions making it harder to get food.
"[I'm in] survival mode, honestly," Richard said. "We don't know how long the power is going to be on."
Prior to the moment he captured on video, Richard had been in his room with no electricity for over 24 hours when the power came back on. "I rushed out there to the courtyard," Richard said. '"Everyone was in their balcony yelling 'Yes, yes, yes!'" It only lasted for 20 seconds.
On social media, some people have commented that Texans are overreacting about weather that's considered normal in northern states.
"Y'all are acting like you guys are gonna die. This is a normal day in Colorado," said @.superrrr.
Others said it was Texans' fault for living in a state that historically votes Republican. "That's what ya get for voting for Trump again," one TikTok commenter wrote on Richard's post. "Stay warm!"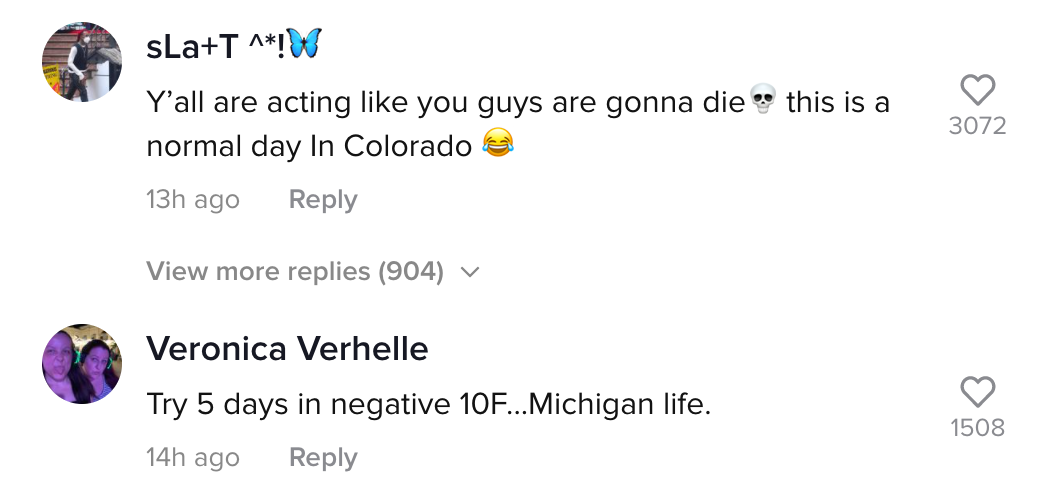 However, Texans shut down comments claiming they were being dramatic, pointing out that their state was not prepared for historic freezing temperatures.
"Y'all don't understand what we're going through," said @chanelellese. "We don't see freezing temps. We prepare for HEAT not snow. Please don't laugh! It's people dying!"
Other Texans in the comments shared their experiences without power for hours and days in below-freezing temperatures.
"Y'all tryna tell us to stop being dramatic when we haven't had power or water for 2 days almost 3 in this below 20 degree weather," wrote @nataly.cruz. "I just want a showerrr."

Richard said he wasn't paying attention to the negative commenters because the people behind them aren't experiencing the devastating freeze themselves.
"It's just a lot different than what's seen on the outside," Richard said. After his video went viral, he set up a GoFundMe to raise money to supply people in need with food, shelter or blankets.
So far, there are at least a dozen deaths in Texas linked to cold temperatures from the storm. People have also died in traffic accidents and house fires. Harris County Judge Lina Hidalgo said her county alone has received more than 300 calls about carbon monoxide poisoning. Some areas of Texas are now also facing water restrictions and boiling water notices from pipe bursts and treatment plants without electricity. 
As the freezing temperatures continue, residents are using social media to urge others to take the storm seriously. A woman filmed herself yelling at her neighbor to bring her dog inside in the 1-degree weather. Other TikTokers used the hashtag #texaswinterstorm2021 to illustrate how alarming the conditions are.
Chey Louis, wrapped in scarves and bundled in a beanie, cried as he shared on TikTok that on Monday, his little brother's second birthday, his family's house got down to 40 degrees. "He's just a baby," Louis says.
"He's spending [his birthday] in a house that's been without power for 14 hours," Louis continues. "This isn't OK."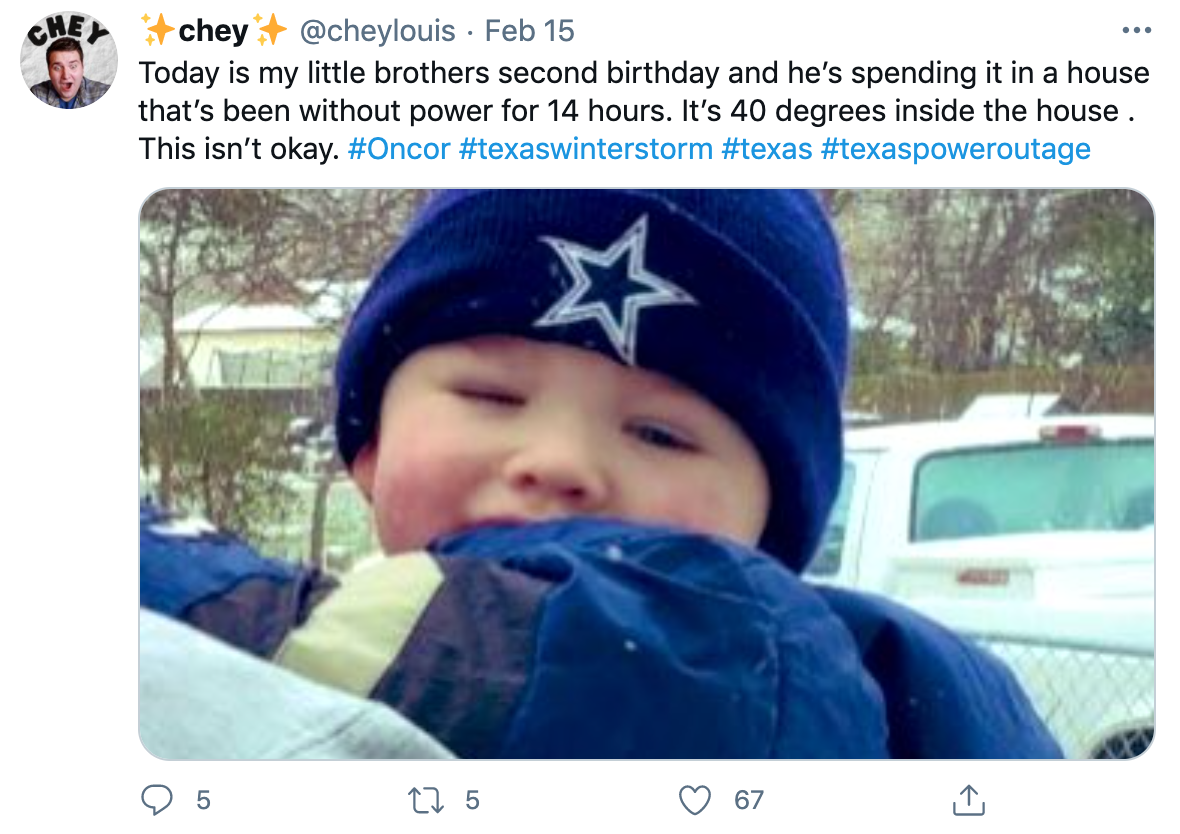 Barbara Warren from San Antonio, @barbaraj.warren on TikTok, shared a video showing water flooding into her house from vents and ceiling fans.
"I am recording this in my car, trying to stay warm," Warren says. "I also use medical equipment at night that I won't be able to use so it's not all fun and games, and we're not snowflakes."
Other families across the state have also experienced flooding from busted pipes. 
"I used to live in Alaska and grew up in Colorado, but never have I experienced such cold with no heat, no clean water, and no food… except for when I was homeless and alone," Twitter user @TheSmunchy said.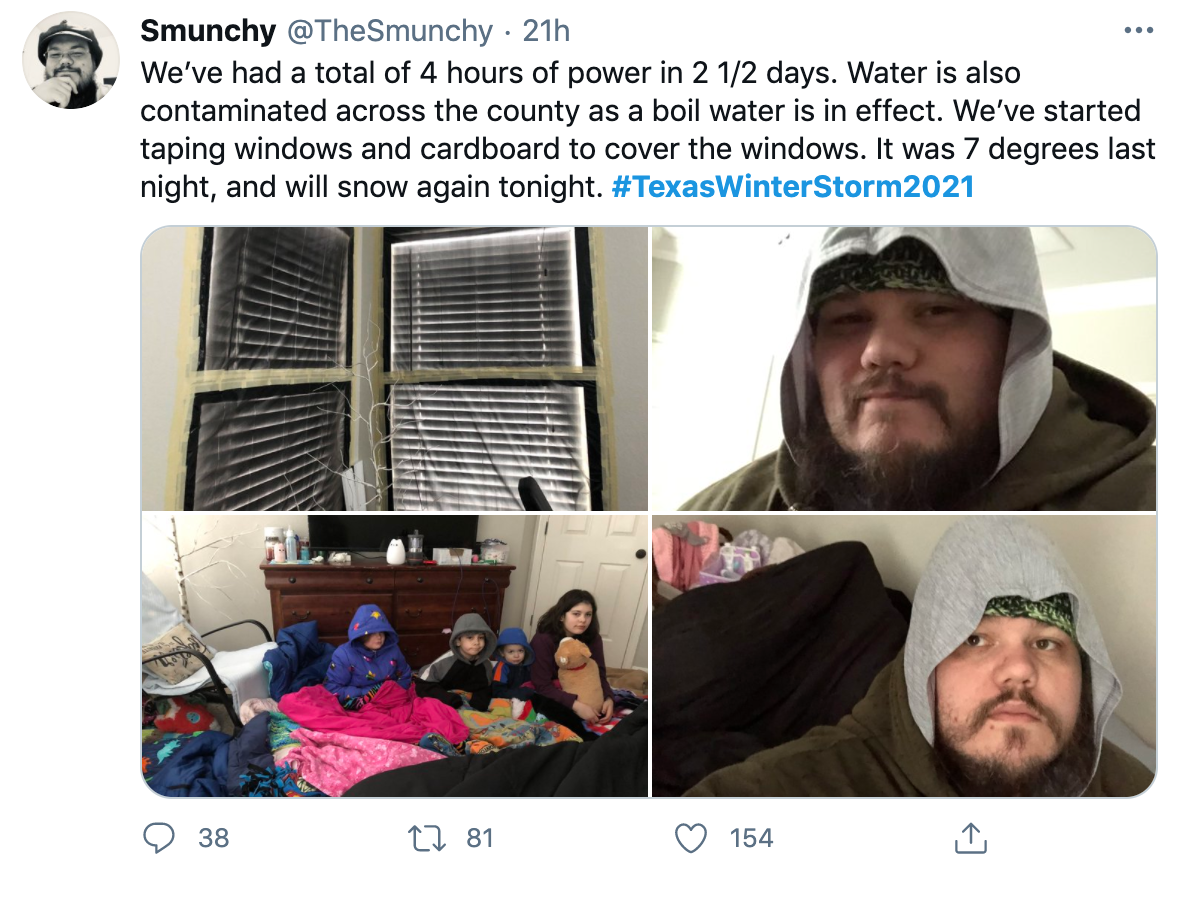 Texas politicians have attributed the blackouts to the state's renewable energy efforts, but wind power only makes up a portion of the shortage in power-generating capacity compared to fossil fuels like natural gas.  
As Texans continue to share their experiences online, people across the nation are able to catch a glimpse of what they're going through.
"It seems [like a] different perspective from inside someone's home," TikToker @warriorinwaiting said.

---
Must-reads on the Daily Dot