TikTok's virtual Pride event didn't last long.
Minutes into yesterday's event featuring hundreds of LGBTQ creators, trolls overran it, Business Insider reports. Audio and text chat on the Zoom event was flooded with racist and homophobic slurs, a phenomenon known as "Zoombombing."
The event was slated to last all day and include panels, workshops, and fireside chats. Instead, the trolls forced TikTok to shut it down just five minutes after it began.
Creators told BI that they didn't know what had happened until hours after the event abruptly ended.
TikTok later issued a statement on Twitter blaming uninvited "bad actors" who "interrupted the start of the celebratory event with extremely hurtful, harmful comments."
The company also apologized.
"We want to express our heartfelt apologies to those who took the time to join this special community event before it was sabotaged," @tiktokcreators tweeted. "This inappropriate incident in no way reflects our support for you and should have no reflection on the spirit and uplifting nature of Pride."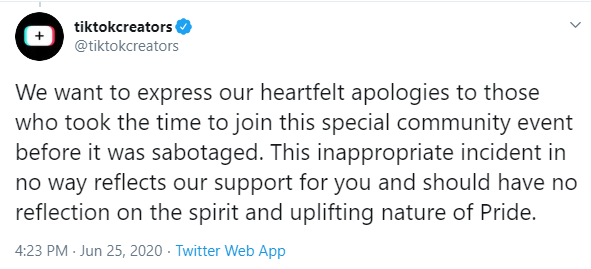 TikTok also sent a letter to creators saying that it was exploring other ways to share during Pride month, per BI.
The company has previously come under fire for suppressing content by LGBTQ users.
In December, it admitted to doing so, using the excuse that they were more susceptible to bullying. TikTok has said this policy is no longer in effect.
One TikTok creator told BI that they were never convinced that the company supported LGBTQ people.
"It's actually quite obvious they don't care. They shadowban LGBTQ+ content, creators, and have miraculously done this because they've faced severe backlash," @ikisspuppy reportedly said. "Whatever 'support' they speak of is an effect of them being caught."
Zoom has been criticized for its lack of privacy protection. Since the pandemic forced people indoors, classes, lectures, and happy hours have been Zoombombed by pranksters, some harmless or funny, others malevolent and hurtful, as in this instance.
Zoom has vowed that it is ramping up security efforts.
READ MORE: