Thanks to the (seemingly never-ending) coronavirus pandemic, folks have more free time than ever to create a steady stream of content from the safety of their own homes. Enter TikTok challenges, the perfect creative outlet for anyone bored out of their minds in quarantine.
While TikTok has long since established itself as a major force in the world of entertainment, it's really taken off in 2020 on a whole new level. Mega-stars like Jason Derulo and Jessica Alba took time out of their (admittedly less busy) schedules to get in on some major dance challenges—Jason Derulo went as far as to chip his teeth for TikTok clout.
Meanwhile, you've got teens successfully trolling the president of the United States; grown adults setting up real-life Mario Kart; and, of course, the less-than-wholesome challenges typical to any trend-driven online space. Love it or hate it, TikTokers have been driving the culture forward this year, and that's not changing anytime soon.
That being said, not every dance challenge or viral video is a banger. In no particular order, here are the top TikTok challenges of 2020 thus far.
8 latest viral TikTok challenges
1) The 'Bad Romance' challenge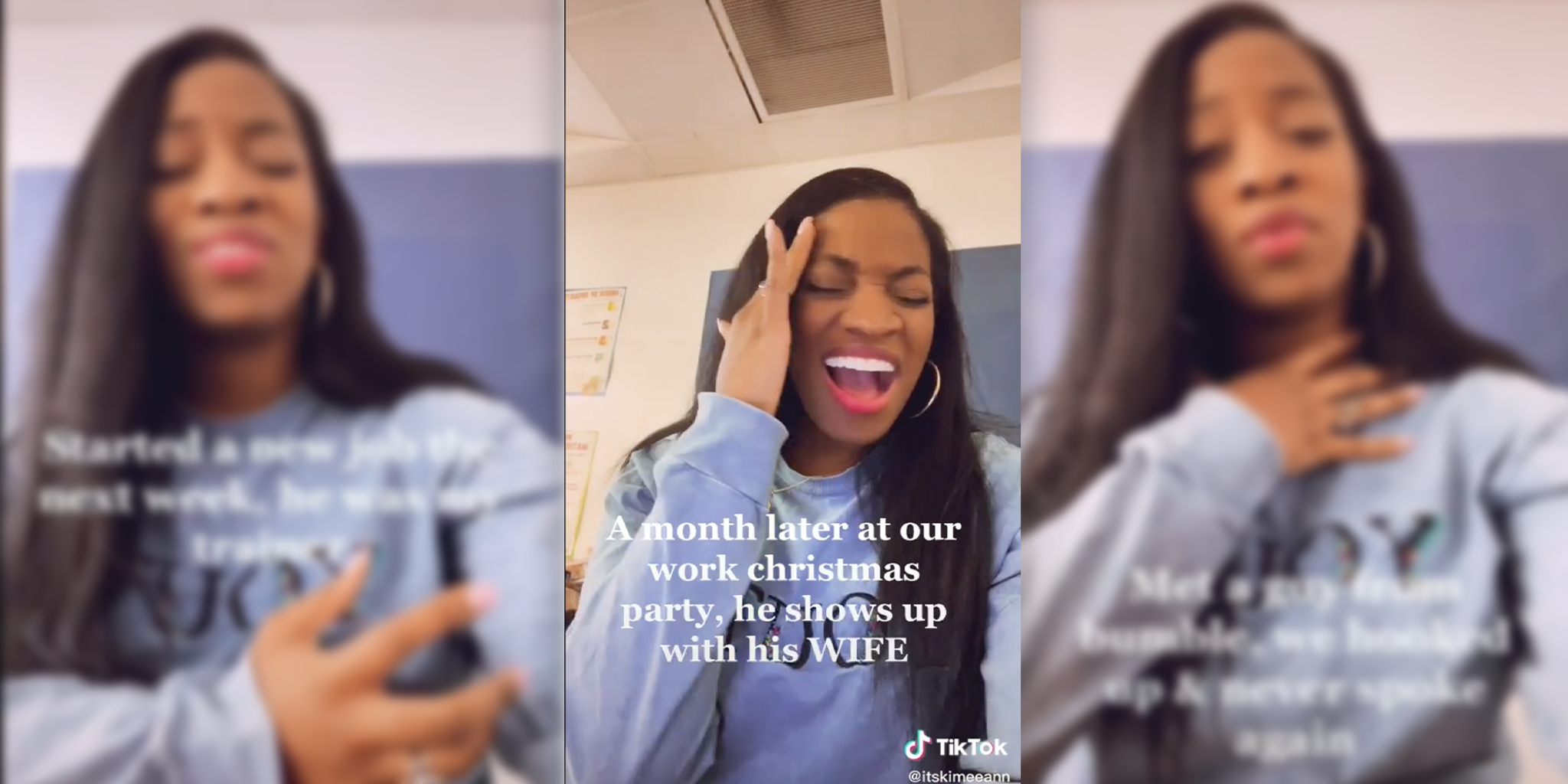 One of the latest (and juiciest) TikTok trends involves people telling their most scandalous stories to the audio of user Grace Groski singing Lady Gaga's "Bad Romance."
As Groski repeats the same section of the chorus over and over, she sings in higher and higher octaves, building tension. This provides the perfect backdrop for salacious, gossipy tales like cheating coworkers, homophobic fathers hiding secrets, and eighth grade teachers seducing their students.
Without fail, each repeated verse peels back another, even more unbelievable layer of every already mind-blowing anecdote. While there's no way to tell if these TikTok stories are true, at least this challenge provides some excellent entertainment.
These TikToks are so very entertaining, in fact, that this challenge might just win the "best TikTok challenge of 2020 award." It's rare for a viral challenge or sound to produce such consistently interesting TikToks—especially ones that leave you with your mouth hanging open in shock. Yep, 2020 gave us a lot of fantastic TikTok trends, but the "Bad Romance" challenge takes the cake.
2) The 'scalp popping' challenge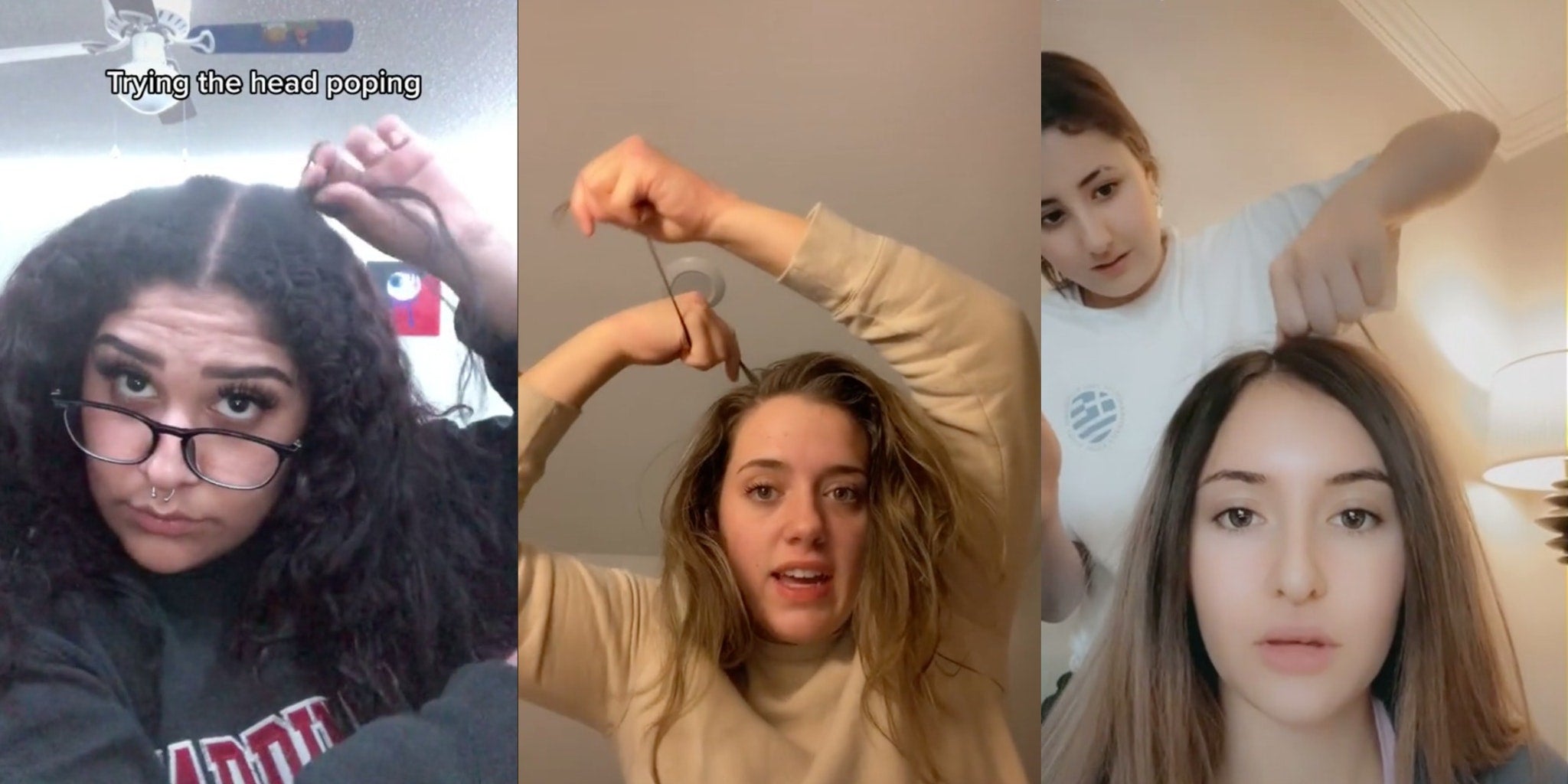 You've probably seen people crack their knuckles, neck, or back. But apparently, some people also pop their scalps. The new trend, called scalp popping or hair cracking, has taken over TikTok.
The hashtag #scalppopping has garnered about 6.4 million views. Basically, people tightly twist a section of their hair to the base of their scalp and then pull it. It results in a loud popping sound similar to knuckle popping.
But as unusual as it might seem, the trend may not be so new. Five months ago, Reddit user u/lizfromdarkplace posted about a facial she received at an Asian-owned nail salon and experienced the "craziest thing," a service called hair cracking. The user said it was the "strangest sensation."
Other users speculated that it could be related to traditional Turkish or Asian techniques of relieving migraines…Until there's more information available, it might be better to safely watch this TikTok trend instead of trying for yourself. —Cecilia Lenzen
3) The 'walk in naked' challenge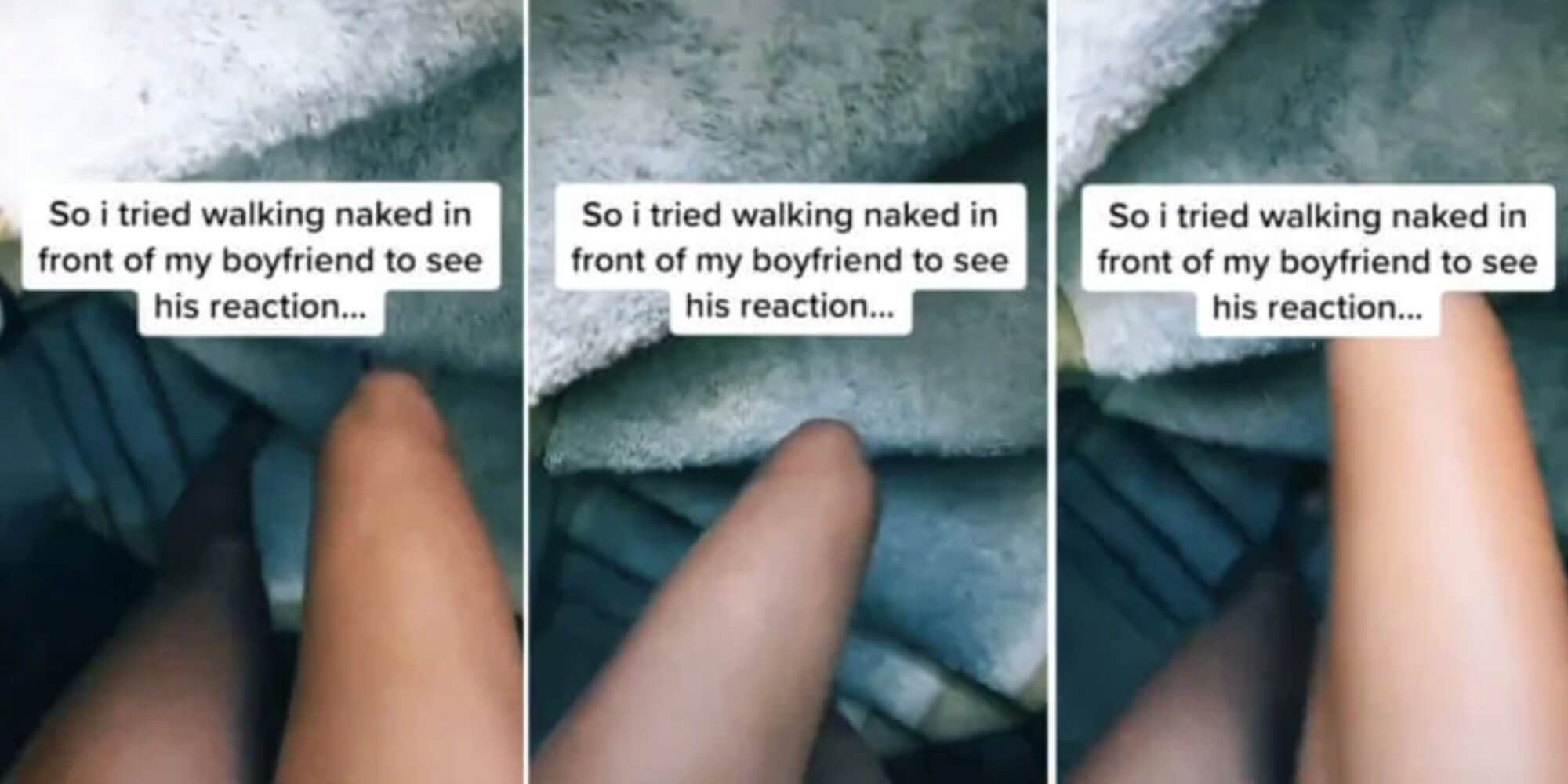 When couples are stuck at home together, [quarantine boredom] is more or less responsible for a new "walk-in naked" challenge currently making the rounds on TikTok. Basically, the challenge involves ladies stepping out of the shower (or other stages of undress) and surprising their significant others in the nude while they're focused on playing video games, or what have you.
According to Know Your Meme, the first popularly known instance of the walk-in naked challenge occurred on March 26, when TikTok user @lindseybear1 filmed a (mostly safe for work) video of herself walking in on her boyfriend who was playing Call of Duty. "Whoa," aptly exclaims the clearly-stunned boyfriend, in the (blessedly) brief clip. —Stacey Ritzen
4) The 'I can't talk right now, I'm doing hot girl s**t' challenge
If you've been on TikTok in 2020, you've heard a Megan Thee Stallion song. "Savage" dominated the spring, Cardi B collab "WAP" took over the summer, and now "Girls in the Hood" is soundtracking a new trend.
The single, released in June and included on new album Good News, espouses the virtues of being a "hot girl" and doing "hot shit." On TikTok, an audio sample stating, "I can't talk right now, I'm doing hot girl shit," is being used to transition into different examples and interpretations of hot girl shit.
Like intimate grooming.
And gaming. —Audra Schroeder
5) The 'Vogue' challenge
The cover of Vogue has historically been a white space, and the magazine has often been called out for its ignorance. The Vogue challenge shifts the power of the edit to the underrepresented.
As the project circulated, there was a reckoning at Condé Nast, which owns Vogue, as former and current employees called out its racist workplace culture and editors and management resigned.
As the Vogue challenge got more popular (there are a couple variations on TikTok; celebrities started doing it, of course), there were also reminders that it's not about looking cool or jumping on a trend, but elevating voices that have been shut out of glossy fashion magazines—on covers and mastheads. —Audra Schroeder
6) The 'wipe it down' challenge
There's a viral new TikTok challenge that doubles as an opportunity to do some cleaning around the house. It's called the "Wipe It Down" challenge, and its premise is simple: TikTokkers start off by wiping down a mirror with some sort of cleaning supply in time with BMW Kenny's "Wipe It Down." On the third or fourth "wipe," TikTokkers scrub their way to an alternate reality in which they're sporting a vastly different wardrobe.
Fox News credits comedian Lauren Compton with originating the "Wipe It Down" challenge [in May of 2020], posting a video in which she goes from wearing a bedtime robe to donning full Harley Quinn makeup and attire for a split second. The video has earned over 21 million views and 2.6 million likes.
Apparently over 100,000 people have tried the "Wipe It Down" challenge since then, including several high-profile TikTok stars whose followers number in the millions. —Bryan Rolli
7) The 'kissing your best friend' challenge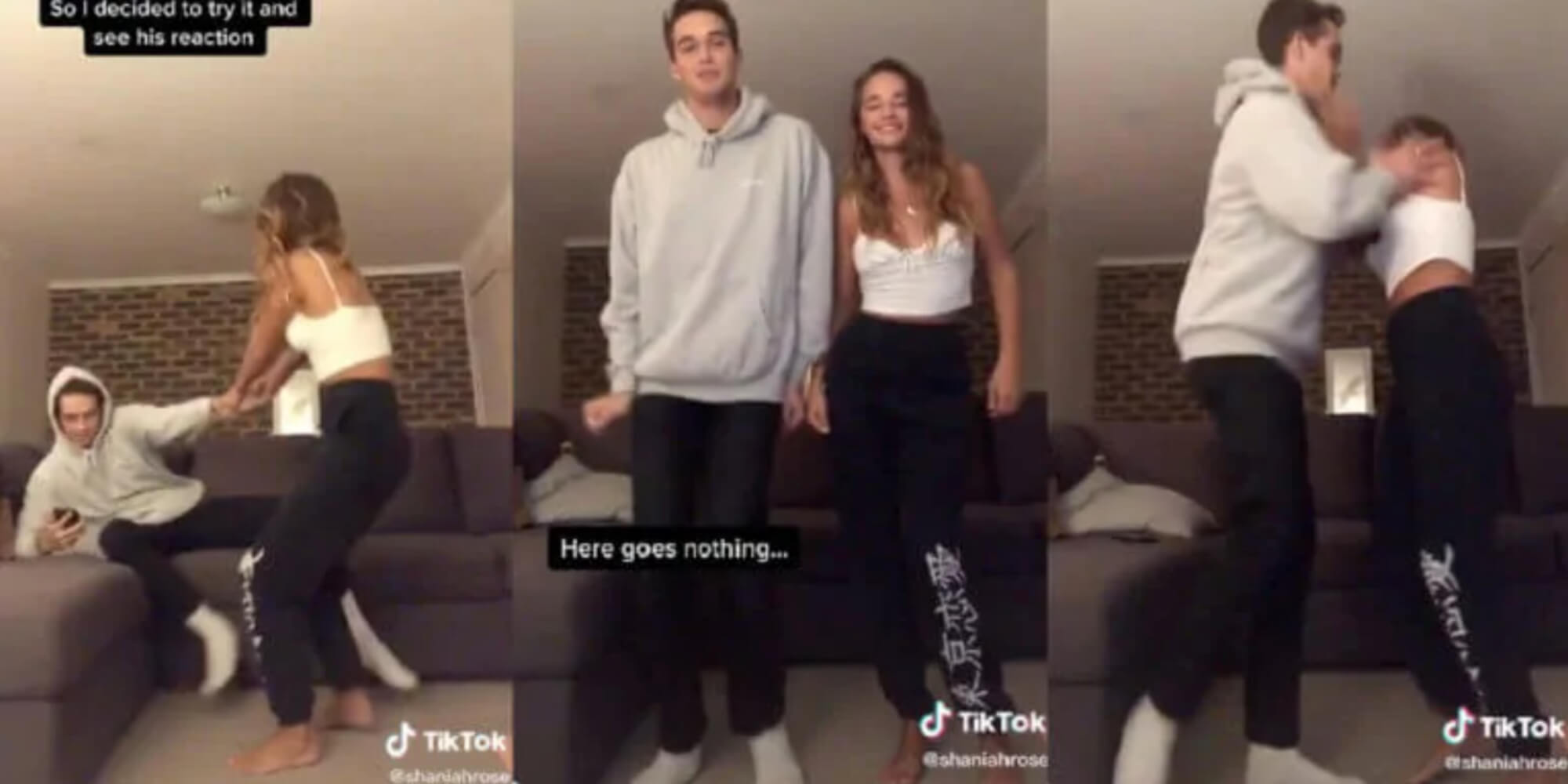 One of the latest trends to circulate on TikTok is the "kissing your best friend challenge." It looks like many TikTokers may have secret feelings for their best friend, so this challenge is an opportunity for them to shoot their shot. Many attempts just ended in confusion from people who didn't see the kiss coming. Some had happy endings and new relationships started.
But one girl was rejected on a whole new level when she attempted to kiss her best friend. TikTok user Shaniah Antrobus, @shaniahrose, tried the challenge with her best friend, Josh Pulford, who she says she's known for 13 years. Antrobus says she's had a crush on Pulford for the past five years, so she decided to just go for it and kiss him.
Antrobus pretended to film a dance with Pulford to distract him. In the middle of their dance, Antrobus went in for the kiss, and Pulford pushed her away right onto the couch behind them. —Esther Bell
8) The 'Savage' challenge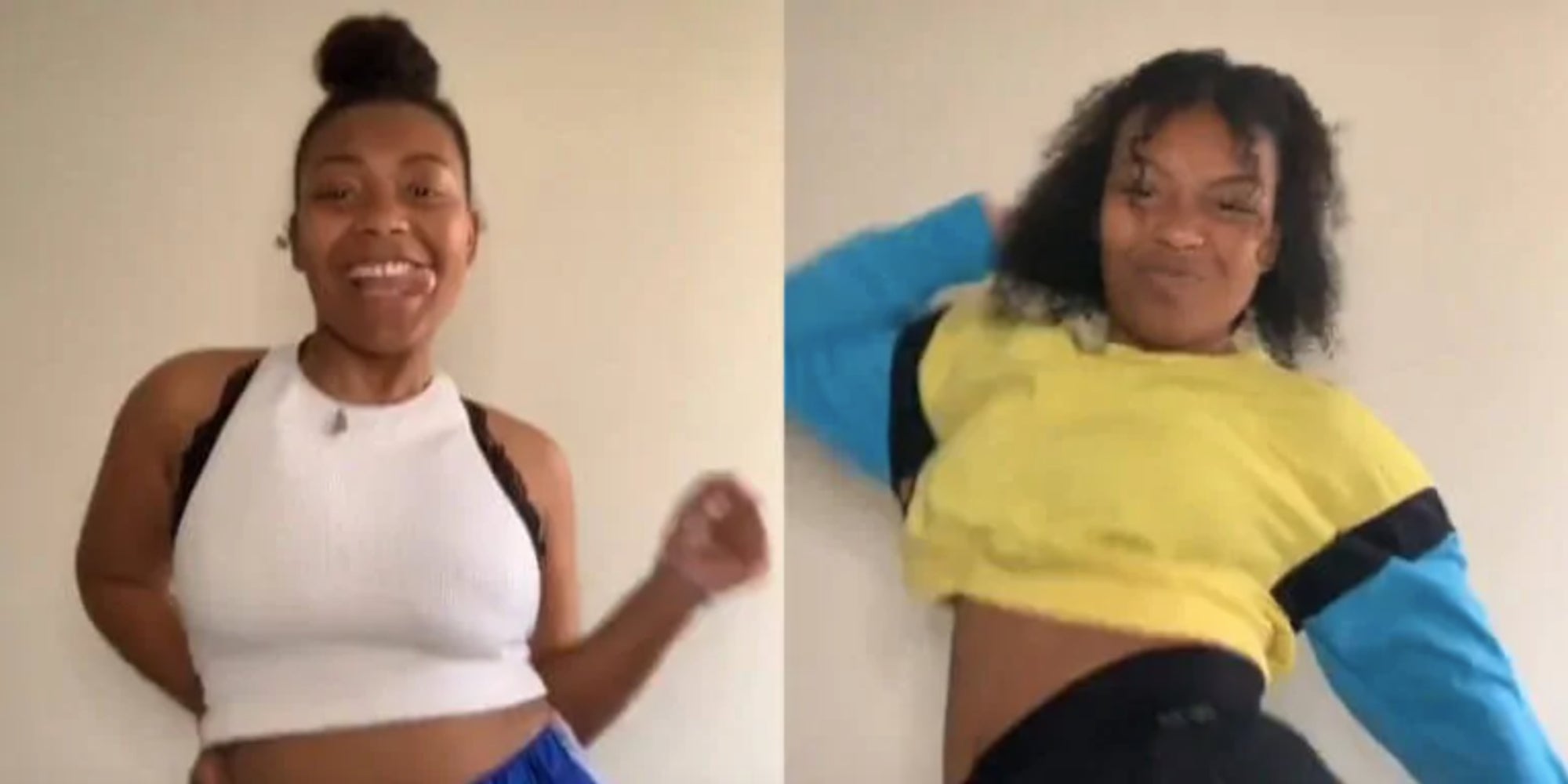 While some TikTok dances take a circuitous route to virality, Keara Wilson was direct. [In March of 2020], she created an original dance for Houston rapper Megan Thee Stallion's single "Savage," and in the first video asked people who do the dance to tag her.
Over the next few days, she made it her mission to go viral. By day four, she'd pretty much reached her goal. And then came the elevation, after Megan Thee Stallion posted Wilson's dance to her 9 million Instagram followers on March 15, just five days after her original post. The caption reads, "Welp let me go learn this lol." —A.S.