Well, the science is in: You officially suck at texting while walking.
While it may seem obvious to anyone who's been caught behind a slow-poke texter or run into a door while pounding out a quick message, scientists in Australia have compiled definitive proof that people become worse pedestrians while using their smartphones.
In a study of 26 individuals whose gaits were analyzed while texting and while walking unimpeded, researchers at the University of Queensland found that motion, balance and speed suffered across the board while using handheld devices. 
"Texting, and to a lesser extent reading, modify gait performance," the authors of the recently published study write. "Texting or reading on a mobile phone may pose an additional risk to safety for pedestrians navigating obstacles or crossing the road."
As one might intuit, the relative level of engagement with one's phone has a significant bearing on their ability to walk like someone over the age of 3. Over a distance of 8.5 meters, the researchers noticed that straight, steady walking diminished while people were simply reading messages on their phone. It was even worse when subjects actually tried to type words into the device.
Researchers found that using one's phone affected walking patterns in three distinct ways. 
First, users would slow their pace. The study's authors did not offer a specific reason for why this might be the case. One might theorize that dividing your mental energy between reading/writing and navigation might cause a person to do both more slowly. After all there are studies that show multitasking actually leads to less productivity in other areas of our lives. 
Texting also diminishes balance and orientation. Mostly because using our phones keeps us from moving our arms back and forth like we would in a more natural gait, and it keeps our heads pointed downward, limiting our ability to take in our surroundings. This chart shows the resulting directional variation.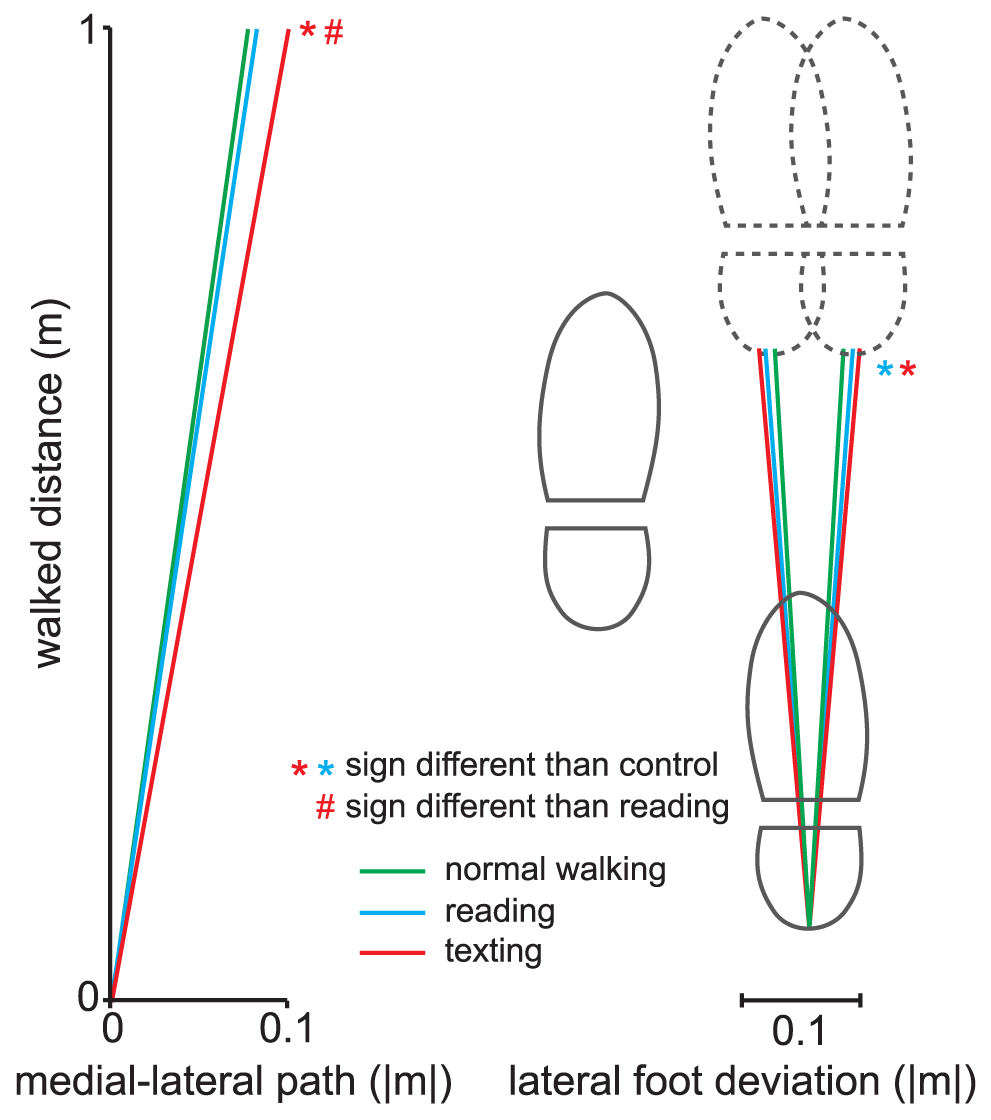 Chart via PlosOne
Perhaps it seems silly for five university researchers to devote their energies to studying a phenomenon that seems fairly obvious to anyone walking a busy sidewalk. But as Motherboard points out, texting while walking can have very serious consequences.
In 2011, the U.S. Consumer Product Safety Commission found that more than 1,150 people had to go to the emergency room for injuries they suffered while texting and walking. 
The National Highway Traffic Safety Administration has also blamed smartphones and other technological distractions for a rise in the number of pedestrian deaths in recent years. According to the NHTSA, the number of pedestrian deaths has risen by 6.4 percent since 2011. That's why the organization has put out $2 million in safety grants for cities with plans to curb "distracted walking." 
Photo by T. Carrigan/Flickr