The Karens are evolving.
We all know how this song goes. For weeks, belligerent white women across the United States have lashed out publicly, usually at unsuspecting people of color, earning themselves the "Karen" moniker. There are Walmart Karens, Officer Karens, and even elderly Karens. Now, a new Karen has entered the ring: Road Rage Karen.
Karlos Dillard documented his showdown with Road Rage Karen on Twitter and Instagram on Monday. According to Dillard, the woman allegedly cut him off in traffic, flipped him off, called him the N-word, and then tailed his car for several blocks. When she noticed Dillard had begun filming her, she took off in another direction. So Dillard drove to her house to confront her.
As soon as Dillard gets out of his car, Road Rage Karen begins walking toward him and shoving her hand in his face. Dillard tells her not to touch him, and Road Rage Karen goes from 0 to 10,000 in .8 seconds. She starts waving her arms, sobbing, and screaming at a glass-shattering pitch.
Road Rage Karen does eke out a few words before bursting into unintelligible hysterics. Among them: "I have a Black husband!"
Having a Black husband is not an excuse for doing… whatever it is Road Rage Karen is doing in Dillard's video, and Twitter users let her know as much.
"'I have a Black husband' prime example of how you can date Black ppl, have Black Kids, family members of friends and still be RACIST," Twitter user @breezynew_ wrote.
Some Twitter users said the video shows that the Karen knows she's clearly in the wrong.
"The MOMENT a single droplet of accountability lands on her doorstep, she melts down beyond comprehension," @spencersike wrote. "Genuinely sad to see the broken process of a racist mind."
If there is a silver lining here, it's that Dillard might be able to monetize his Road Rage Karen showdown. He tweeted a photo of a shirt that reads "'I have had a Black Husband' – Karen." Should he decide to print some, he'll surely have several interested customers.
Update 5:20pm CT, June 23: People online are calling Dillard's claims into question, tweeting he was just looking to "go viral."
"He says she called him a [N-word] one time in the video but talks about her flipping him off like 40 times," Twitter user @lesshumbleteej wrote of Dillard's video. "If she did both, the focus should be on the former not the latter … I'm calling cap on that video."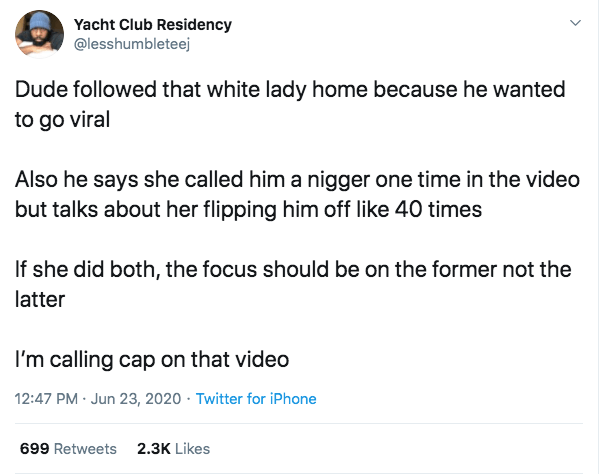 In response to @lesshumbleteej's tweet, another user added that Dillard is a known supporter of President Donald Trump. "He's literally an actor and a simple 'karlos dillard trump' google search produces a facebook vid of him in a MAGA hat. This shit is a work," @DragonflyJonez wrote. @DragonflyJonez claims that Dillard scrubbed his Instagram account of pro-Trump posts.
The Daily Dot could not find the video in question.
Some posted a video of Dillard in an apparent MAGA hat. The video appears to come from a Cut YouTube video titled "Divide Us Into Democrats & Republicans." In it, Dillard says he "kind of agrees" with both Democrats and Republicans but is not a Libertarian.
Dillard also seemed to address this video on Instagram with a photo of a "Make America Gay Again" hat.
"Here is your maga hat ass wipe. These are from 2018 my 'Maga' hat says 'make America gay again'. Try again trolls. It's so sad that I even had to go back 2 years to find a receipt y'all are really sad. I save all my receipts," Dillard wrote, adding in another post that "WHO I VOTE FOR OR DONT VOTE FOR DOES NOT JUSTIFY BEING VIOLATED LIKE I WAS.."
Many are also pointing to an old video in which Dillard seemingly identified as a "Black Conservative Gay Atheist."
Critics think his attempt to monetize the incident is proof that he is a scammer. "Do not buy any t-shirts from Karlos Dillard from that Karen video w her saying she has a Black husband. Dude is a Trump supporter & cares about HIS Black life, NOT YOURS. He's trying to come up off of Black pain yet support policies that are harmful to Blk ppl. No," @CandyGyrlFiyah wrote.
However, Dillard is denying the allegations that he is a "huge Trump supporter."
"Please find me the receipts," he tweeted.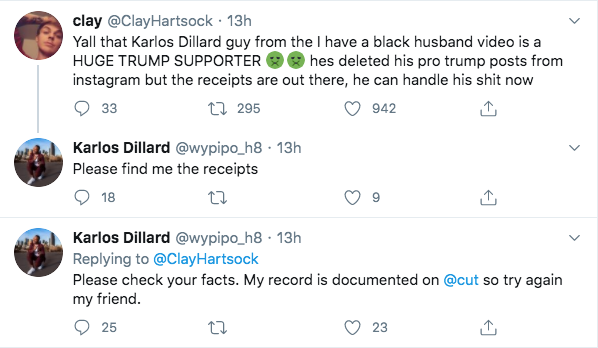 READ MORE: