After the record-breaking Women's March on Washington in January, many wondered if protests could retain their energy and enthusiasm for months. This weekend's March for Science proved they can—and there's good reason for that. The two events have more in common than you think.
The historic Women's March gathered a record-breaking number of people around the world to stand up for women's and equal rights alike, and the March for Science is an example that many Americans are still fighting for what they believe in. The March for Science on Saturday drew thousands of people to the National Mall in Washington, D.C. and across the globe to stand up for climate change and to oppose the Trump administration's threat to scientific research.
While there have been protests in cities across the country every week since the election, the climate of March for Science struck a strong resemblance to the attitude of the Women's March in that each event was rooted in resisting an administration that threatens to take away people's rights, restrict freedoms, and maybe even threaten the safety of their home. Thousands of protesters turned out on Earth Day to show that science is universal and that it serves and affects every citizen—just like equal rights.
Don't forget, the March for Science is this weekend, and it's all about #science pic.twitter.com/lbFjwoBT2o

— Jason (@jasonelevation) April 21, 2017
The March for Science drew a parallel between fighting for equal rights and science, sending a message that the two really aren't that different. Just as the Trump Administration proposed a string of bills in early 2017 that limit access to women's healthcare, downplay sexual assault, and threaten the livelihood of minorities, the administration is not taking action in favor of some of the most important scientists who dedicate their time and money to keeping humankind alive.
People are reacting to the administration's action to proposed budget that takes money away from the arts, environment, and poor Americans. Facing an administration that seems to reject climate change and a proposal to cut funding for educational programs, they're hitting the streets for the second time.
At the March for Science, protesters held signs saying "I'm with her" while pointing to planet Earth that resonated with the Women's March slogan, "There is no Planet B"—a pun that also recalls limited access to birth control. Rick and Morty and many science puns were to be expected at the March for Science, but the attitudes from the Women's March were still pervasive.
Signs at the Women's March reflected the reactions people had to Donald Trump's sexually degrading comments toward women and the administration's policies that threaten equal rights for both gender and race, with phrases like "My body my choice," "I'm with her", and "Pussy grabs back." Some of the signs at the March for Science in Austin reflected that same kind of ideology and, in some cases, the exact same words.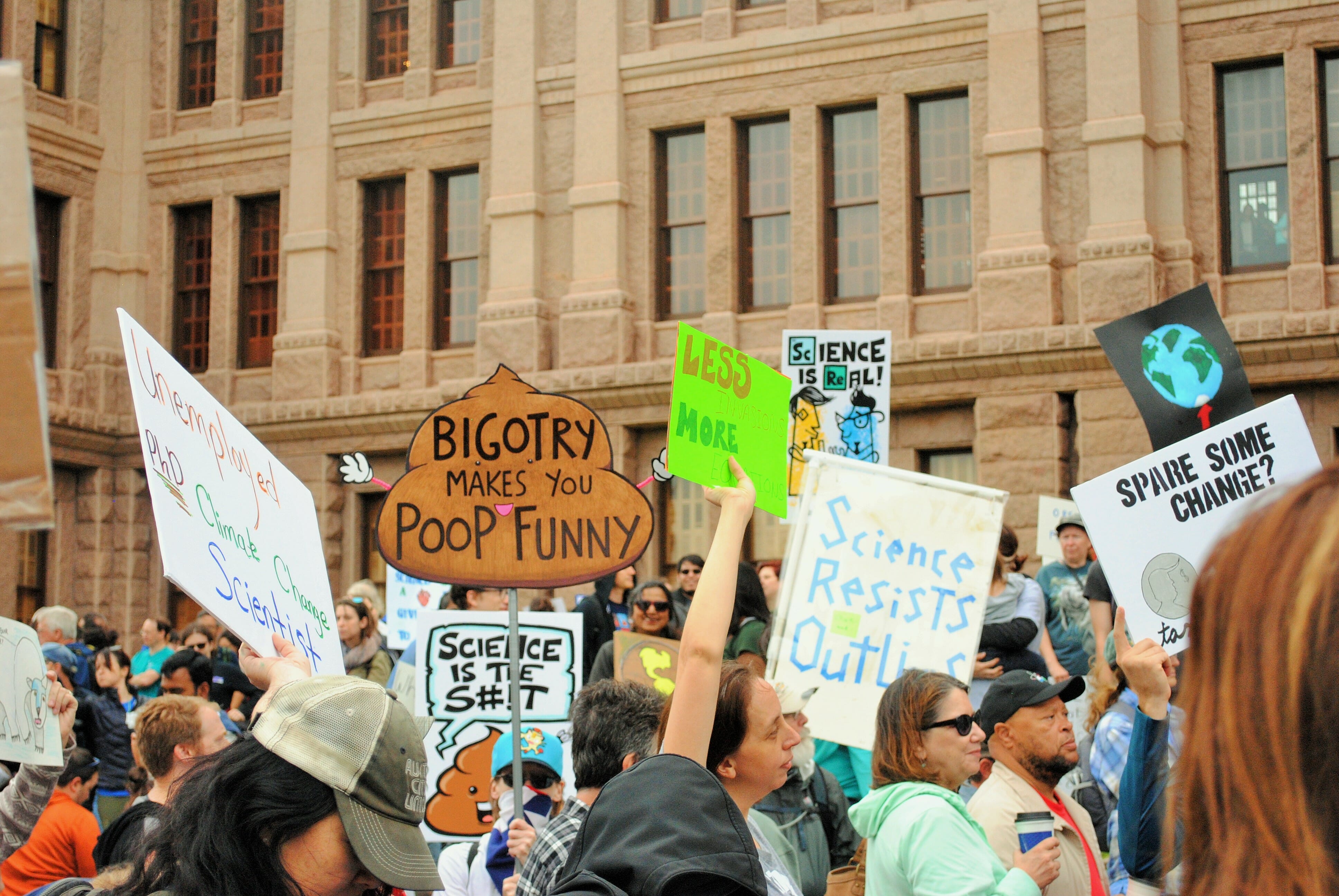 Girls just want to have fun[ding] for research. #MarchePourLesSciences, #MarchForScience, #EarthDay, #JournéedelaTerre // Cc. @cyndilauper pic.twitter.com/MchB7k5A1O

— Mathieu M-Perron (@matness) April 22, 2017
A woman's place is in the lab. #sciencemarchOK #marchforscience pic.twitter.com/I3fyk1xkkx

— March For Science OK (@ScienceMarchOKC) April 22, 2017
Great crowds and great signs at the March for Science! #MarchForScienceLA pic.twitter.com/XhOIRyJQBA

— Nick Bryner (@bryner_nick) April 22, 2017
Hand-crocheted pink hats, called "pussy hats," were worn by both men, women, and children during the Women's March, and the Science March had its own version.
https://twitter.com/mirikramer/status/855789914985820160
The March for Science goes to show that many Americans aren't done fighting for not only what they believe is right. But they're also fighting for what will keep the country—and the world—alive.
Editor's note: This article has been updated for clarity and tone.