Artificial intelligence-based photo editing tools, in their brief existence in the history of humanity, are off to an immensely painful start.
Selfie-editing tool FaceApp clumsily took the torch earlier this year, setting fire to the product's intriguing face-altering premise by whitening users' photos under an ill-intentioned "hot" filter. The same app continued to offend with filters that allowed users to present themselves as male or female or "transform" into different ethnicities (white, Black, Indian, or Asian). As a mere blip in technological advances, the AI-based app appeared to normalize Blackface and whitewashing of people of color and perpetuated the gender binary and misunderstandings of being a transgender.
However, now a new selfie-altering app, MakeApp, appears to be taking the brunt of recent AI-based photo-editing critiques. The app allows you to add or remove makeup to up to five photos, and it charges $0.99 for unlimited use.
MakeApp is relatively simple to use: simply snap a photo or video or select one from your camera roll; select your desired makeup filter from options including the makeup-less "Remove" and makeup filters "Bourges," and "La Rochelle;" and share or save the final image to your phone. You can also choose the "intensity" of the filter by scrubbing your finger left (toward zero percent filtered) and right (toward 100 percent filtered) on top of the photo after choosing a filter.
According to Business Insider, the app comes from a team headed up by Ashot Gabrelyanov—a Russian entrepreneur living in Brooklyn who was the CEO of LifeNews, a pro-Russia, Putin-loyalist news organization, until 2013. Gabrelyanov denied accusations of being a "propagandist" to the publication, and he said there was "no proof" he once shared "a doctored image on Twitter showing a poster of Adolf Hitler in Kiev, Ukraine."
MakeApp'd photos are intriguing, to say the least. They make a brazen attempt to remove the mascara and liner from eyes, to redden and de-contour cheekbones and chins, and to desaturate the pigment from lips and eyelids. I'll be honest—a few photos of myself and celebrities that I ran through the app appeared to give the photos that puffy, blotchy, "Are you tired? Or sick? You look sick," sheen only captured by stalker paparazzi for tabloids. Below are photos pulled from celebrity Instagram accounts side-by-side with their MakeApp-filtered counterparts (including a photo of yours truly).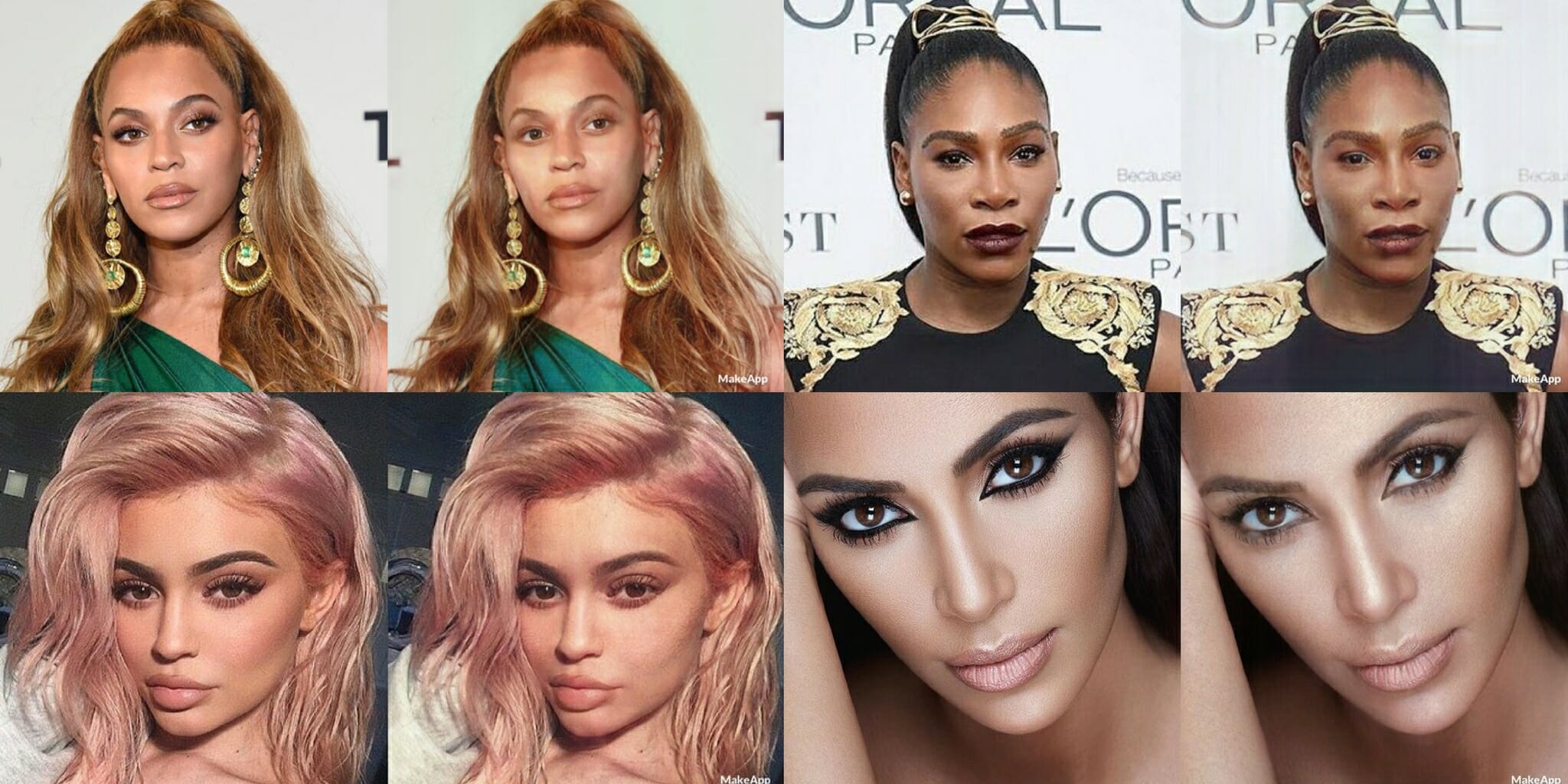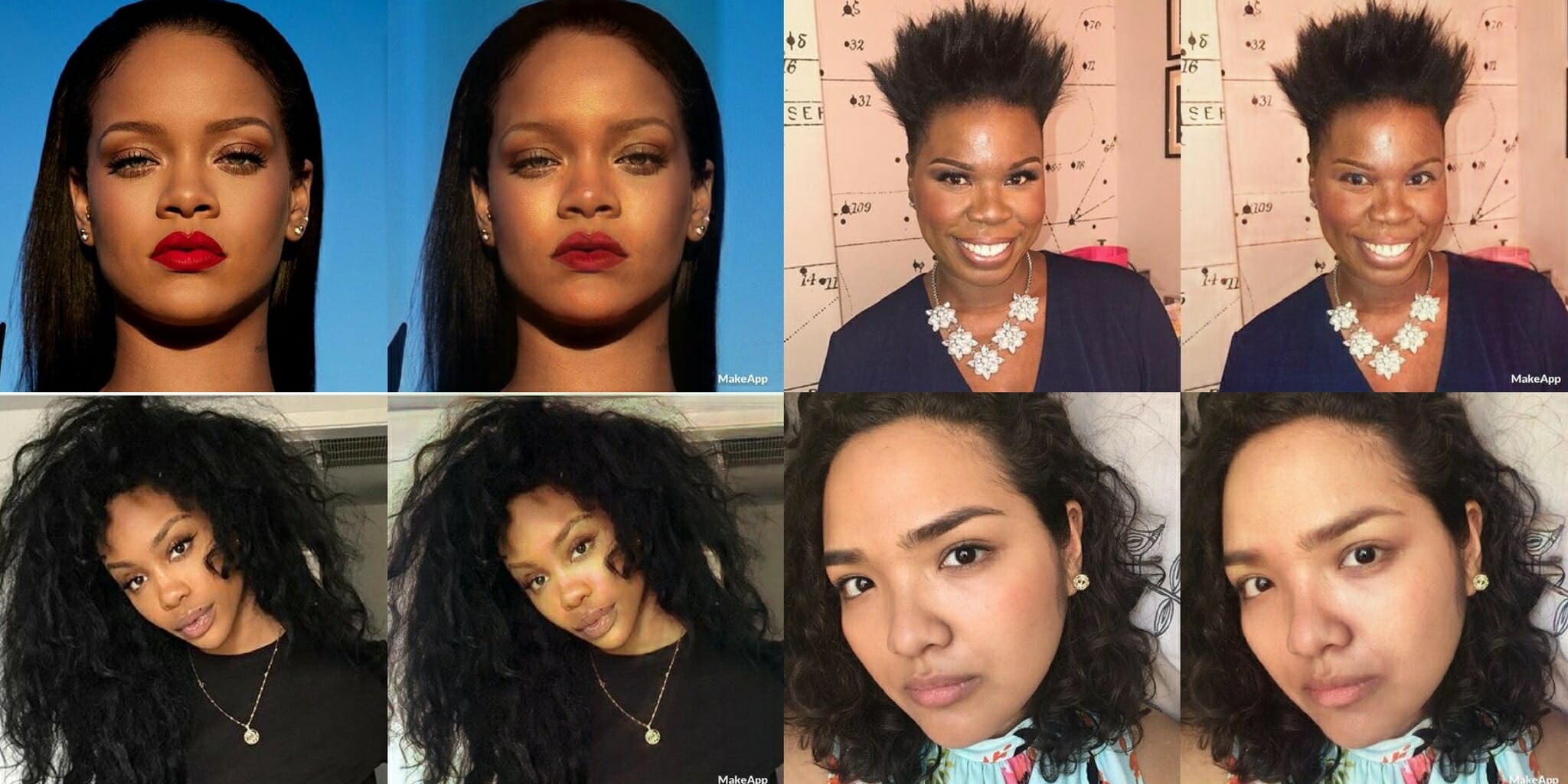 The app itself seems to share similar problems with its AI-app predecessor, FaceApp—renderings of Beyoncé and SZA lightened parts of their faces, though the app didn't do the same to Leslie Jones or Serena Williams. Photos of Idris Elba and Kevin Hart run through the app didn't appear to exhibit the same skin-lightening issues, though the photos were slightly discolored to shades of yellow. In an email to the Daily Dot, Gabrelyanov said MakeApp's neural network training dataset is based on pictures of people of different skin colors and nationalities, but he admitted the app is still "sensitive to lighting."
"Our resources are limited and, again, MakeApp is not our core product but a simple experiment we put out that happened to catch on. Importantly, any shortcomings of the technology are not purposefully racist, misogynistic, etc. the way some journalists seem to be alluding that it is. It is just a limitation to the tech we're hoping to fix," Gabrelyanov wrote.
However, the real outrage from Business Insider, New York Magazine's Select All, Teen Vogue, and other publications has been directed at MakeApp's premise. Select All's headline put the sentiment nicely: "Man Develops App to Reveal What Women Look Like Without Makeup." A.V. Club shared a similar sentiment: "Introducing the makeup-removing app for the 'nice guy' on the go." Basically, another male-led tech team has created a product to dictate what women should (or shouldn't) look like, and that, in itself, is a creepy premise, if not outright sexist.
Makeup has long been politicized as a tool that promotes unrealistic beauty standards—that young girls should make themselves look older and that older women should stay forever vivacious and youthful. Makeup is a literal "disguise" of flaws, "tricking" unsuspecting prey into investing, time, energy, and other forms of labor in relationships with women who are pretending to be more attractive than they actually are. According to Racked, this exhausted track of thought dates back to 1770 when, in England, it was legal for a man to divorce his wife for tricking him into marriage with this kind of deception.
This is where MakeApp appears to strike an unsettling chord for the app's critics. In the context of Red Pill'd men who resent women who wear makeup, women who skate by on their deceptively-good looks, and pass over "nice guys" to settle for better-looking, mentally-inferior "Chads," it feels as if this app's makeup-removing feature is just another misogynistic piece of technology. In allowing the user to remove someone's makeup, the app seems to insist that women are dolls to be dressed down as God intended for Eve herself or that women are liars, if not sinister, blood-thirsty sirens who seek to trap men and their fortunes for wearing makeup at all.
But for so many (if not all) women and men who use makeup, lipsticks and highlighters aren't used to mislead potential romantic partners. Instead, they're tools of self-expression and empowerment. The argument that people wear makeup to impress or deceive others instead of to feel good about themselves is laughable to makeup users. The point of "women tricking men with makeup" has become a feminist punchline.
Writing to the Daily Dot, Gabrelyanov rejected the idea that this was his team's intention in developing MakeApp and that the app is just "a bunch of 'tech bros' trying to hurt women, which is just so far from the truth." It was not intended to be a misogynistic product, he wrote, and it even has one female neural networks specialist on the 10-person team.
"Journalists keep referring [to] this as an app for 'men to find out what women look like without makeup.' This is NOT the case. This was actually originally designed for selfies as an alternative for the makeup addition tool. It was meant to be a fun, entertaining tool," Gabrelyanov said. "To date, we've received no sexist-related criticism from our users. We've only seen this complaint from a small, small handful[of] U.S.-based journalists—each recycling the original article's content. Our app became viral in Asia and Europe and the journalists and users there welcomed our tech positively."
In Gabrelyanov's defense, the app development team, Magic Unicorn, has three apps hosted on iPhone's App Store—the other two apps are also AI-based with one categorized in "Games" and the other in "Food and Drink." MakeApp, the third of those apps, was originally released in May 2017 and was updated with the makeup removal function in July, according to the App Store's version log for the app.
However, recent App Store reviews, submitted within the past two days, seem to already be grappling onto this sexism critique.
"My boyfriend broke up with me?…He sent me the before and after picture with the message 'we're through,'" one user commented.
"I love seeing angry feminists," another wrote, though perhaps less sarcastically. "Perfect for Tinder. No more having to make your first date be at the pool, this app takes care of all that trouble for you," another user echoed.
Gabrelyanov also defended the AI makeup removal technology for the practical purposes it could serve, particularly for anti-human trafficking organizations to better identify victims disguised with makeup. (The Daily Dot has reached out to anti-human trafficking organization Polaris Project for more context on this assertion).
"We truly mean no harm here," Gabrelyanov wrote. "We are simply trying to advance the scope of AI/AR tech."
At the core of Gabrelyanov's responses to its controversy, however, we see another AI-based app falling to, and apologizing for, the limitations of its technology. Yes, the app might have been created harmlessly, and it might have potential real-world application. But MakeApp's makeup removal feature has opened itself up to feminist critique because, even if the tool was created just for fun, the cultural context of "makeup deception" is difficult to ignore when it's a belief that some men still brazenly hold onto in 2017.
Update 1:55pm CT, Nov. 28: MakeApp founder Ashot Gabrelyanov announced on Tuesday that the app has been updated to remove makeup in real time, allowing users to see what they would look like in the present. In an email to the Daily Dot, Gabrelyanov included the gif seen below, taken from an episode of Sky News show Sunday With Niall Patterson, featuring British conservative politician and Home Department Secretary Amber Rudd.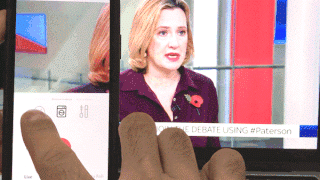 The feature is available for the iPhone 6S and later devices.