Virgil Abloh, the artistic director of luxury brand Louis Vuitton, came under fire on Monday after he shared a screenshot of a $50 donation receipt.
Abloh, who is also the CEO of fashion label Off-White, shared that he gave the money to art collective Fempower to help pay legal fees for arrested protesters. But his post was met with criticism and reminders that his products cost five to 11 times the amount he donated.
"And y'all want me to feel bad for designer stores getting looted??" one person tweeted. During the weekend's protests opposing police brutality, luxury stores including Chanel and Gucci were looted in major cities.

Abloh also caught flack for saying that streetwear was "dead" in a post showing a video of the Round Two vintage store after it was looted. "Our own communities, our own shops," Abloh wrote. "This shop was built with blood sweat and tears."
He also posted a picture of the RSVP Gallery in Chicago broken saying that he had worked with the gallery owners "to make something our local community could see without the access we had been fortunate to access."
"Today that same community robbed us," he wrote. "If that heals your pain, you can have it."
Per the New York Times, his comments sparked debate over his and the fashion's industries relationships to Black communities.
Shelby Ivey Christie, a fashion and costume historian, laid out multiple reasons why she is upset with Abloh.
"I did not like how Virgil ignored @MagnusJuliano's work — His LV inspired work went viral + was even featured in Vogue," she said in a tweet. "The whole internet was tagging Virgil + asking him to work with/offer an internship to him. A few weeks later he RT'd some yt boys genetic screensaver idea smh."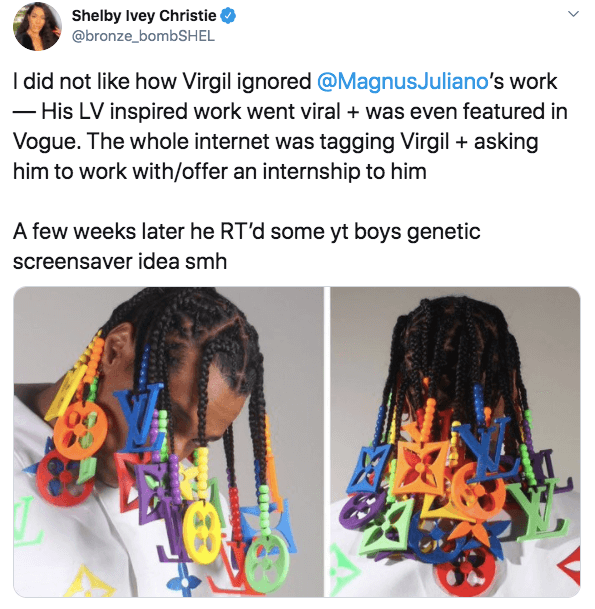 She also highlighted a time Virgil seemingly stole a young man's idea and included it in his 2019 Off-White collection.
After the backlash, on Monday night, Abloh released a statement of apology. He reflected on the adversities he's faced as a Black man, acknowledging that he's felt the same feelings that the protesters feel: anger, sadness, and pain.
"I apologize that it seemed like my concern for the stores outweighed my concern for our right to protest injustice and express our anger and rage in this moment," he wrote.
A handful of other high-end fashion brands, including Michael Kors and Tory Burch, have made statements against racism. Vogue editor-in-chief Anna Wintour made a statement on Vogue.com suggesting that a woman of color should be Joe Biden's pick a running mate in the 2020 presidential election.
Like Abloh's, Wintour's statement was met with criticism. People pointed out that she helmed the publication for 30 years before a Black person was chosen to shoot the cover of Vogue—and that Beyoncé chose the photographer.
READ MORE:
H/T New York Times