This story contains a viral photo of the assaulted couple.
A horrifying photo of two women, reportedly beaten and bloodied by a group of men, became a viral flashpoint for violence against the LGBTQ community Friday morning.
The image depicts Melania Geymonat and her girlfriend Chris, who were on their way home from a night out in London on May 30 when the alleged attack occurred. According to Geymonat, the couple was on a double-decker bus. When a group of men behind them realized they were a couple, they began demanding that the women kiss, she said.
Upon being refused, the men reportedly turned to violence.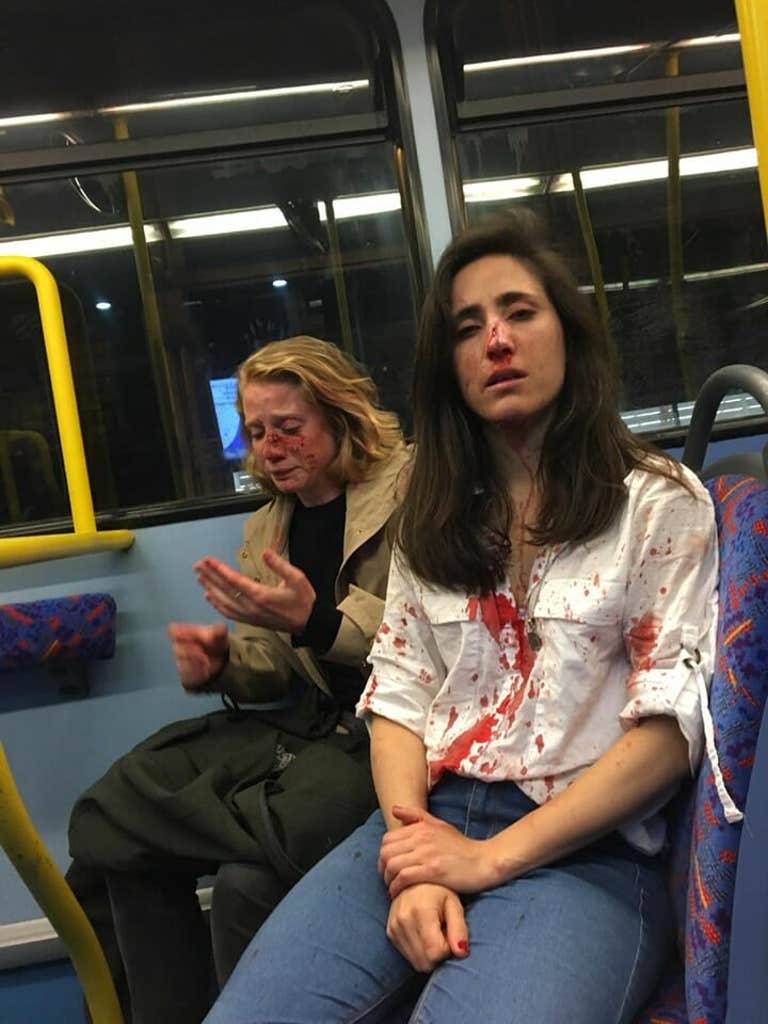 The 28-year-old Geymonat shared her attempts to calm the situation as it began to escalate.
"They wanted us to kiss so they could watch us," she told Metro. "I tried to defuse the situation as I'm not a confrontational person, telling them to please leave us alone as Chris wasn't feeling well."
The reported group of at least four men was not so easily dissuaded: After the women refused to kiss for their entertainment, the group of men in their mid-20s or 30s began throwing things. Not long after, according to Geymonat, the men—one of whom spoke Spanish, the others speaking in British accents—began attacking Chris. "The next thing I remember was Chris in the middle of them and they were beating her," Geymonat told Metro. "I didn't think about it and went in. I was pulling her back and trying to defend her so they started beating me up."
She noted that she doesn't recall whether or not she was knocked unconscious. "I felt blood. I was bleeding all over my clothes and all over the floor," she said. "We went downstairs and the police were there."
The Metropolitan Police confirmed to Metro that they've opened an investigation into the attack. "Police are appealing for witnesses and information after two women were assaulted and robbed in a homophobic attack on a bus in Camden," a spokesperson told Metro. "The incident happened at approximately 02:30hrs on Thursday, 30 May after the two women, both aged in their 20s, boarded a N31 bus in West Hampstead."
The statement from police notes that the attackers robbed the women following the assault. "The women were then attacked and punched several times before the males ran off the bus. A phone and bag were stolen during the assault," the statement reads. "Both women were taken to hospital for treatment to facial injuries."
Geymonat was still waiting to hear if her nose was broken as of the Metro article's release. An employee for Ryanair who is on a yearlong sabbatical from her medical studies, Geymonat said London always felt safe to her as a gay woman. In a post on her Facebook page, the flight attendant decried the violence that landed she and her girlfriend in the hospital.
"VIOLENCE HAS BECOME A COMMON THING," she wrote. "Sometimes it's necessary to see a woman bleeding after having been punched to feel some kind of impact. I'm tired of being taken as a SEXUAL OBJECT, of finding out that these situations are usual, of gay friends who were beaten up JUST BECAUSE. We have to endure verbal harassment AND CHAUVINIST, MISOGYNISTIC AND HOMOPHOBIC VIOLENCE because when you stand up for yourself shit like this happens."
Sadiq Khan, the mayor of London, weighed in on the attack via Twitter. "This was a disgusting, misogynistic attack," he wrote. "Hate crimes against LGBT+ people will not be tolerated in London." He called for anyone with information about the attack to report it to police.
This was a disgusting, misogynistic attack. Hate crimes against LGBT+ people will not be tolerated in London. The @metpoliceuk are investigating. If you have any information about this call 101 to report it.

— Mayor of London (@MayorofLondon) June 7, 2019
We've reached out to Geymonat.
READ MORE: 
Got five minutes? We'd love to hear from you. Help shape our journalism and be entered to win an Amazon gift card by filling out our 2019 reader survey.
H/T Metro