A man who was caught on camera being racist is facing the heat as a business allegedly owned by him is getting review-bombed on Yelp.
Video shared to Twitter by Kimberly Starr shows a white man in a Ford F-350 flipping her off at a stoplight, and then getting out of his vehicle to yell at her when he sees she's recording.
He demands to know what she's going to do before calling her the N-word, getting back in his car, and driving off. 
Starr, who is Black, also shared the man's license plate and the location of the incident, which occurred in Broward County, Florida.
The video was originally posted by @steeziJ on Starr's behalf, and screenshots of their conversation detail more of her side of the story.
Starr claims the man was following her in his car, calling her names, and honking. He eventually pulled up next to her as seen in the video. Subsequent footage shows him catching up to her again, and Starr says the interaction only ended after two Black men saw what was happening and jumped out to protect her.
After the video went viral, folks identified him as Daniel Michael Merola of Oakland Park, Florida.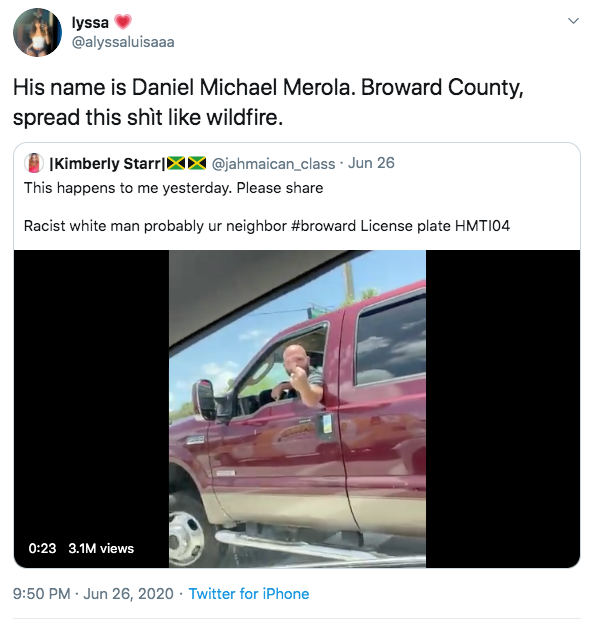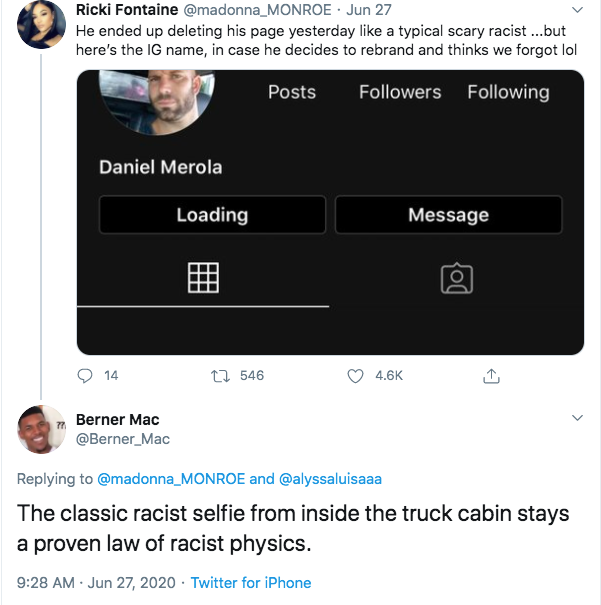 They also discovered that he appears to own a business called Junk Guru, which people immediately started bombing with one-star reviews on Yelp, blasting screencaps from the video all over the page.
According to internet sleuths, Merola's Facebook page has been deleted and the number for his business as listed on Yelp has been changed.
This is only one of a number of recent instances where racists have been recorded throwing tantrums and had them blasted to social media, often resulting in folks identifying them and contacting their employers and/or families.
And just earlier this month, a Lyft passenger who got angry over being asked to wear a mask went on a violent and racist rant against his driver, resulting in him being banned from using the service again in the future.
READ MORE: