Jeffree Star allegedly paid tens of thousands of dollars to a man who had accused him of sexual assault and retracted his statement soon thereafter, according to Insider.  
A screenshot of the alleged payment was shared to Twitter by celebrity gossip website Sticky Drama. It shows a Bank of America check that was made out to Andrew Arthur for $45,000. 
A settlement agreement shows that Arthur, who goes by his middle name Gage, would receive $25,000 within two days of the agreement being signed—and an additional $25,000 on the condition that Insider, which initially broke the story, does not publish an article about Star in the coming three months.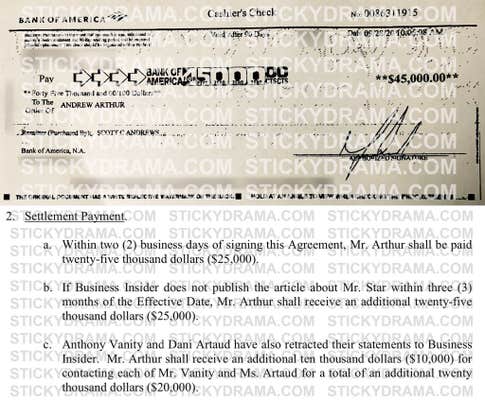 In October, Insider reported on a slew of allegations against Star in a story that included testimonies from friends and those who knew him. The article included an accusation by Arthur, who said Star assaulted him in 2009, a year after the two met. 
When Arthur first moved to Los Angeles in 2009, he was homeless, and Star reportedly invited Arthur to stay with him. Arthur alleged that Star gave him Ambien until he was intoxicated and then "performed nonconsensual oral sex on him," according to the October report. 
The report came a few months after another exposé was published by Sticky Drama, in which Arthur claimed Star "drugged, tased, and raped" him. 
Following the October report, Arthur reportedly tried to retract his allegations because Star's lawyers contacted him, according to Insider. 
Arthur also allegedly received an additional $20,000 for reaching out to two other accusers and convincing them to retract their statements, according to the agreement shared by Sticky Drama.
Insider cross-checked the claim with others, including the individual who shared the screenshot of the payment, but their names were kept private due to fears of retaliation. 
Insider also shared photos of a physical copy of the cashier's check. However, the date on the check appears to be Sept. 28—after the Sticky Drama report was published but three days before the Insider exposé was published. 
In both receipts, the check was purchased by one Scott C. Andrews, who is listed as the chief financial officer for Star's Jeffree Star Cosmetics.
---
Today's top stories
H/T Insider