I don't need an app to know that I waste far too much of my life on Facebook. Hell, I've got real-life apps that do that for me: They're called my friends and family.
But Time went ahead and make a plugin that actually quantifies this wastefulness into a nice, round, enormous number. So thanks for that.
Time explains that while Facebook doesn't hand over data on how often someone logs in, it does give access to timestamps on our posts. So this app runs through your posts, from the earliest to the latest, to give you a fairly accurate estimation about how much time you're spending on Facebook. This does mean, however, that all your hours spent idly lurking are not accounted for. 
So yeah, go ahead and add something like a million hours to whatever number this spits out. 
Of course, curiosity got the better of me and a handful of my colleagues. We turned to Time's widget to find out who was the most Facebook-obsessed*.
 
Kate Knibbs: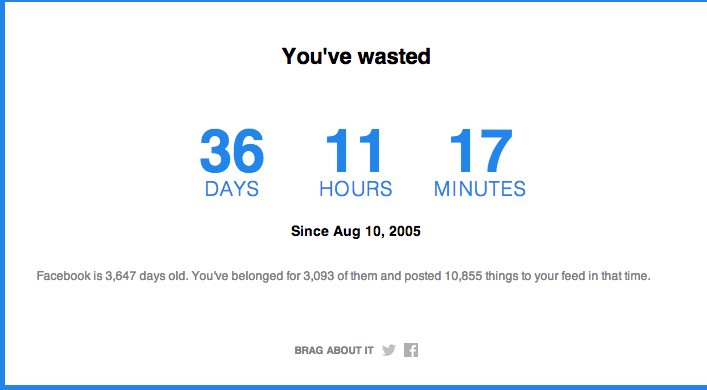 Cooper Fleishman: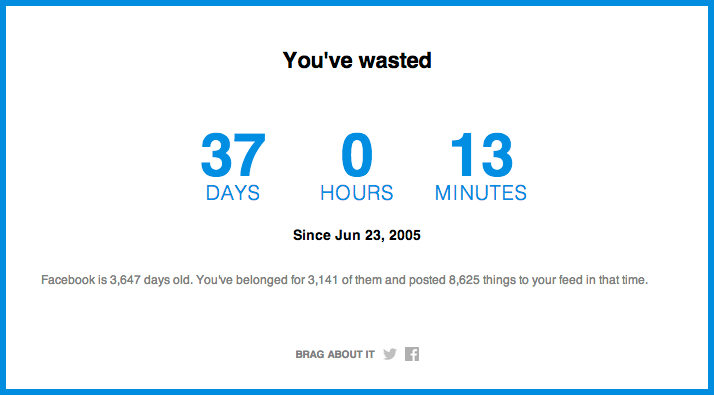 Sarah Weber: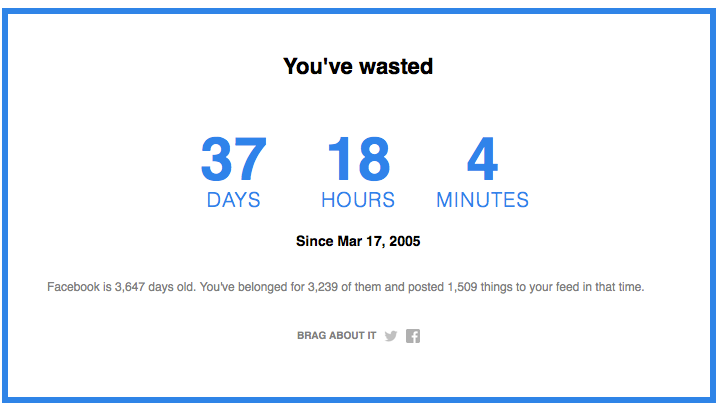 EJ Dickson: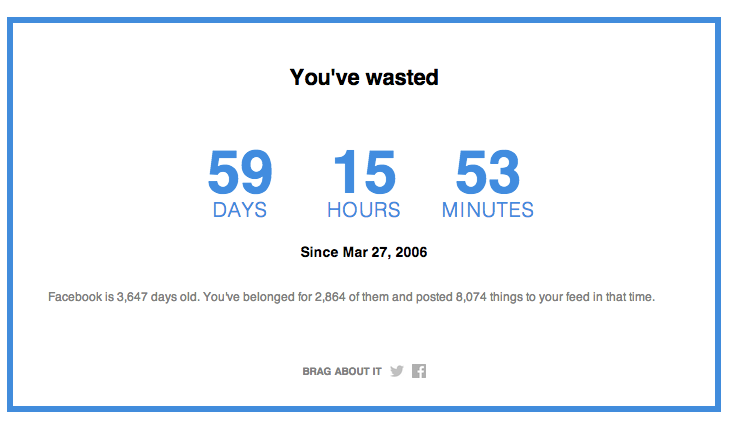 Me…
OK so I was honest (and I reserve the right to think a few of the aforementioned are lying—except for EJ, for which I am very grateful). I definitely use Facebook for more than 17 minutes a day (which is how much the average user is logged on and what the app defaults to).
Thirty minutes a day makes sense: I have to instant-message with my friends who live out of state, check my Other inbox to see what weird fodder is in there, do a quick patrol of my notifications and Timeline Activity (I've got that noise on lockdown; nothing goes to my profile without my approval), and then skim the News Feed until the surplus of BuzzFeed quiz results and Imgur shares eventually make me log out.
And then I have to do that, like, 10 more times today.
OK, I hear it now. Turning off Facebook notifications for awhile. 
*Just kidding. I forced them to do it because I wanted to see if my score was weird or not.
H/T Time | Photo via Paul Walsh/Flickr