In celebration of Hispanic Heritage Month, Reddit administrators are cracking open cervezas and sharing some stats on which Spanish-speaking countries drive the most traffic to the site.
These are the top countries in terms of pageviews for August:
#22: Spain – 1.1 million pageviews (/r/es; /r/spain) 
#25: Mexico- 1 million pageviews (/r/mexico) 
#41: Argentina- 500,000 pageviews (/r/argentina) 
"If you live in the US and have Hispanic/Latino roots— whether they are Argentinian, Mexican, Puerto Rican, Guatemalan, Salvadoran, Paraguayan, Chilean; if you speak Spanish, English or are bilingual; you form part of the largest racial minority group in this country," wrote Lia Navarro, who handles Reddit's entertainment sales and strategy. "That means that 17 percent of the population, or 53 million of us, are of Hispanic/Latino origin as confirmed by the United States Census Bureau. To give you a better idea, that would be the entire population of Colombia and Nicaragua combined."
A Pew Research study from July shows 11 percent of Hispanic Internet users in the U.S. are on Reddit, meaning Hispanics are more likely than non-Hispanics to be redditors. Meanwhile, 17 percent of Reddit's own staff is Hispanic/Latino.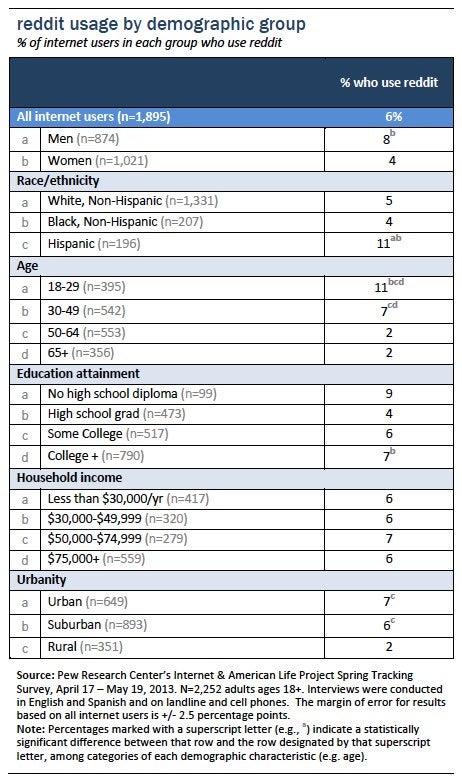 Here are the top subreddits browsed by Spanish-speaking users (in no particular order):
Video games, funny videos, and cute animal pics? Looks like Reddit culture is the same no matter where you're from.
Illustration by Fernando Alfonso III