A San Francisco bar's Yelp page was review-bombed—and subsequently temporarily disabled—after it was accused of anti-Asian racism against a teen in a now-viral TikTok video.
The 18-year-old's mother, Sofia Enguillado, is the one who posted the video to TikTok on April 4, and it has since been viewed over 850,000 times. The video details an attack on her son that took place outside of the bar, Gino and Carlo. The Daily Dot has reached out to Enguillado.
In the video, Enguillado included photos of her son's eye looking bruised and swollen. She also included photos of Gino and Carlo and its owner, Frank Rossi, along with Rossi's Facebook profile. "Get the fuck out of here. You don't even belong in here in the first place," she alleges Rossi said to her son, who local news outlets have identified as C.J. Enguillado.
"If you're Asian, this is the type of service you get waiting for pizza in Little Italy North Beach, San Francisco," the TikToker says, using the text-to-speech effect and including hashtags such as #stopasianhate and #stopasianhatecrimes.
As SFGATE noted, a pizzeria is located next to Gino and Carlo, though it remains unclear if that's where the family was intending to order pizza from.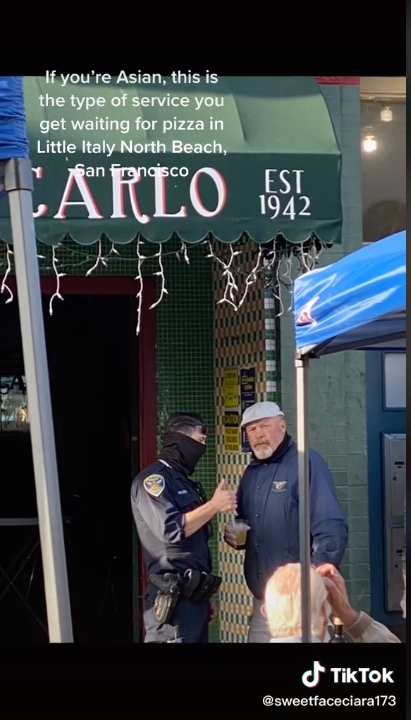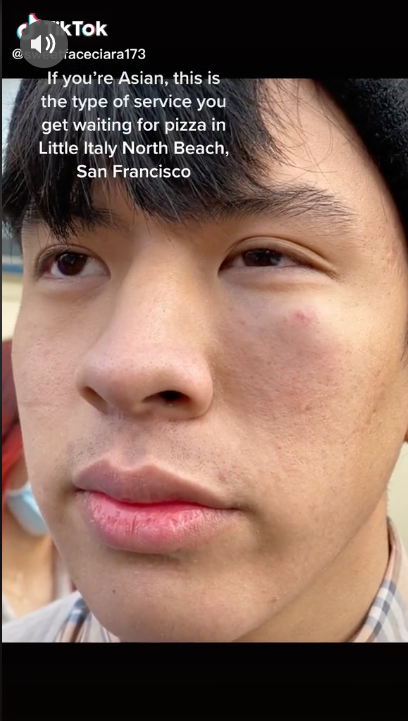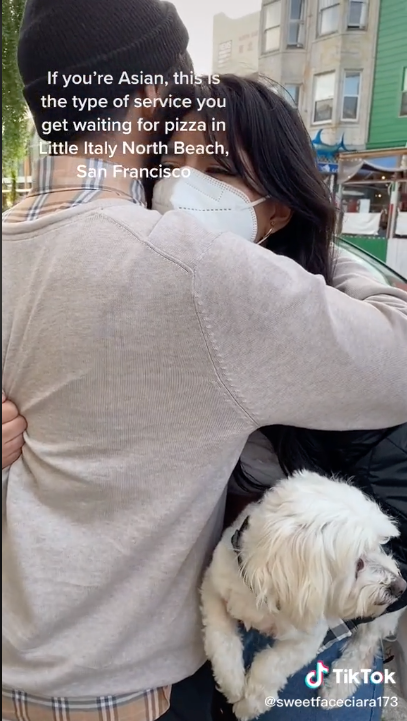 According to SFGATE, a man not affiliated with the bar was arrested for the attack on Enguillado's son. Enguillado alleged on Facebook that Rossi tried to get her son, who was apparently sitting in the bar's outdoor seating area, to leave due to him being underage, eventually calling on another person for backup. That person, she alleged, shoved the family's dog before punching the teen. "He called my son a dumbass hovered over my son & punched him," she wrote.
Enguillado also alleged Rossi then blamed her son's attack on him "for not leaving the premises."
"I just couldn't bare the thought that my son who was not in a provocative state at all was picked on by these two grown assholes," she wrote.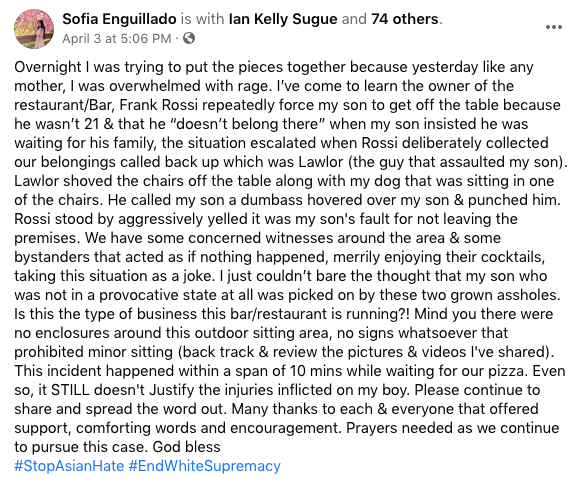 She said the incident occurred on Friday. Police confirmed with SFGATE that the physical altercation took place on the sidewalk and that a suspect was arrested on assault and battery charges.  There has been a rise in anti-Asian violence across the U.S. in recent months. However, police told KPIX 5 in a statement: "We do not have evidence to believe this incident was predicated by hate."
Rossi also told the Daily Dot in an interview that he does not believe the attack on the teen was racially motivated.
Rossi said he asked the teen to leave about "four or five" times due to the teen's age and the fact that he wasn't a customer. "Those tables are for our customers. And he wasn't a customer," Rossi said. 
When asked if he asked the customer who was eventually arrested for backup, Rossi said: "That is completely false. I would never do that." 
He said the customer took it upon himself to try and get the teen to leave the premises. "I don't know what he was thinking. I would never (ask him for backup). I didn't need anyone to help me out with the situation. I know how to handle those situations," he said.  
He also said he didn't blame the teen for his own attack. "When the customer hit him, I got in between them and protected (the teen)," Rossi said. "I yelled … at the customer 'cause I could not believe what he did. This 18-year-old was no threat. … It was obvious he was no threat."  
In an interview with KPIX 5, C.J. Enguillado said he was waiting for his parents in the area outside the bar, thinking it was open seating, and acknowledged that Rossi asked him to leave several times. He also acknowledged that he refused to leave. "By the way it sounded, he said, 'Get the fuck out of here, you don't belong here," that's what he said, and I cannot forget those words," he recalled. "That's, like, traumatizing to me."
In her Facebook post, Sofia Enguillado said the man who attacked her son is retired pro boxer Pat Lawlor, who is reportedly a regular at the bar. The San Francisco Chronicle has also since confirmed Lawlor's identity. The Daily Dot has reached out to the San Francisco Police Department. 
Gino and Carlo was review-bombed after the TikTok video went viral, with many people including screenshots of it in their negative reviews. "Imagine coming to get pizza but ending up with an eye contusion bc of xenophobic & racist owners," part of one review said.
"It's a shame the owners and employees of this establishment are racist and violent," another read. "Please avoid this restaurant. They have publicly inflicted violence against Asians."
Rossi told the Daily Dot that it's too soon to tell if the bar's Yelp page getting review-bombed is the only way this incident has affected his business. Rossi said he is concerned for his employees' safety and that the bar is putting safeguards in place for them. "I'm concerned about my employees when they're off of work late at night. What's going to happen to them? Is there a chance somebody would do something? That's a concern," he said. 
He also said he's been on the receiving end of death threats via email, phone, and social media. "My daughter … called me crying because she saw the death threats (against me) online," Rossi, who claimed he filed a police report regarding the threats, said. "It's really hard. It's really had an impact on my family."  
Following the influx of negative reviews, Yelp temporarily disabled the ability to leave a review on the page as it investigates "the content."
"While racism has no place on Yelp and we unequivocally reject racism in any form, all reviews on Yelp must reflect an actual first-hand consumer experience (even if that means disabling the ability for users to express points of view we might agree with)," part of Yelp's "public attention alert" on the page reads.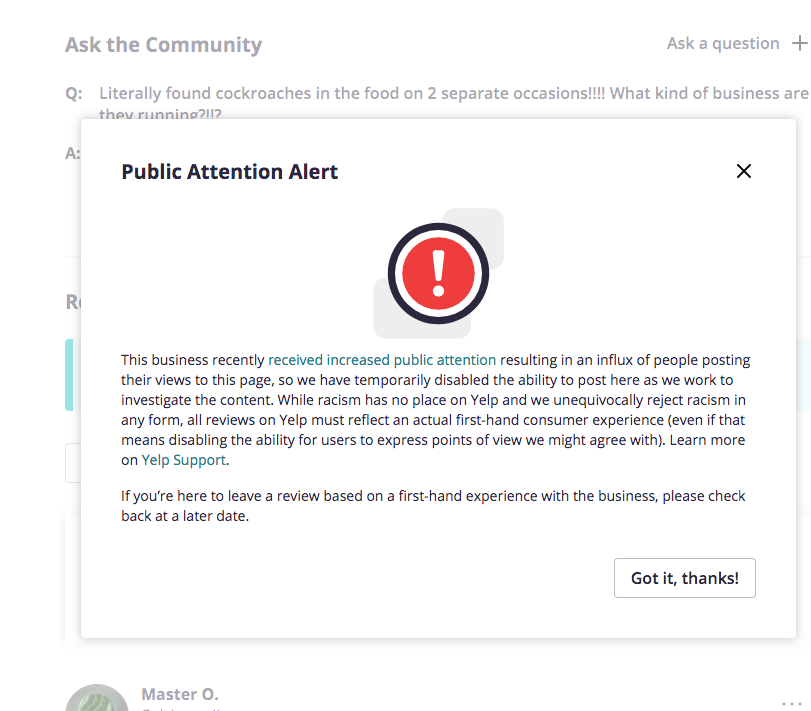 Gino and Carlo released a statement via its Yelp page on April 4. "An unfortunate incident occurred on our property between two patrons when an underaged guest refused to leave," it reads. "No Gino and Carlo employees were involved in the physical altercation. We don't condone violence or racism of any kind. Sincerely, Frank Rossi and Gino and Carlo staff."
Rossi said Gino and Carlo has received "a lot of community support" since the incident occurred and that the business is receiving even more support ever since he went public with his side of the story.
"A bad reputation? How do we get that back?" Rossi said. "It's hard enough (with the) pandemic, and now we have to deal with this when we did nothing wrong. It's really hard to handle." 
"I'm not a racist," he added.  
This story has been updated to include comments from Frank Rossi.
---
Today's top stories
H/T SFGATE