Twitter has failed to remove tweets calling for violence toward the LGBTQ community in Ghana following the closure of a civil rights center.
Ghana's LGBTQ community came under the spotlight following the opening of an LGBTQ rights office in its capital, Accra, on Jan. 31. The community center was shut down on Feb. 24 following a month of opposition from many locals as well as the government officials, who reiterated that same-sex relationships are criminalized in the country and will remain so.
As tension brewed in the country surrounding this issue, many tweeted their opposition to the LGBTQ community's rights, some explicitly saying they would harm members of the community.
One of the most antagonizing statements is from a user with more than 30,000 followers whose tweet said they would beat members of the LGBTQ community if same-sex relations were legalized in the country.
The tweet, more than a week old received more than 2,000 "likes" on Twitter. It also generated comments that threatened further harm upon the community.
"Killings go happen when that shit is legalized," one user said. Another user defended this response, saying members of the LGBTQ community are not "humans."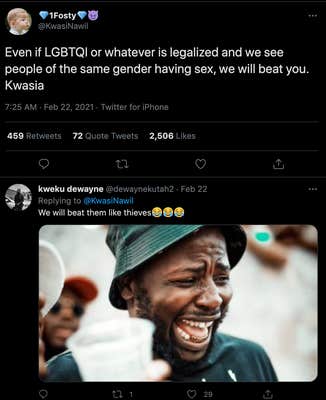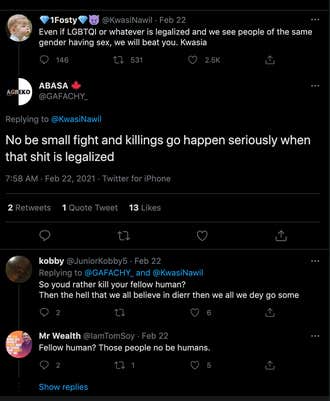 The anti-LGBTQ rhetoric is so widespread on Twitter that when the Daily Dot searched for "LGBTQI Ghana" on the site on Monday, anti-LGTBQ pages showed up.
Other commenters compared the members of the LGBTQ community to scammers, and some users made homophobic statements with the hashtag #StopLGBTinGhana.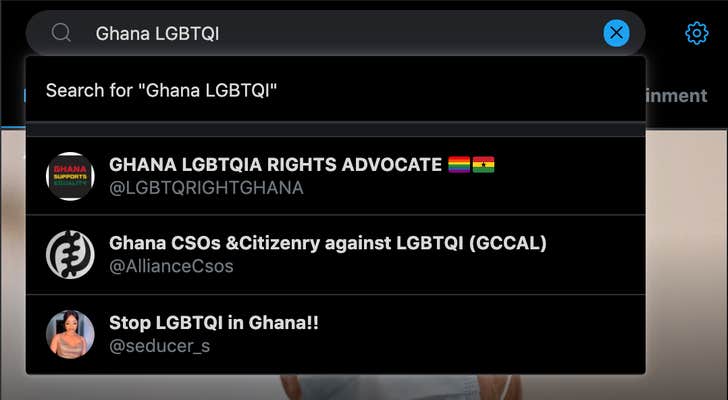 One Twitter account, "Ghana CSOs & Citizenry against LGBTQI (GCCAL)," was created to specifically advocate against the LGBTQ community. The account linked to a statement that in part called on the "Judiciary to prosecute all who indulge in acts of homosexuality in Ghana according to our current laws."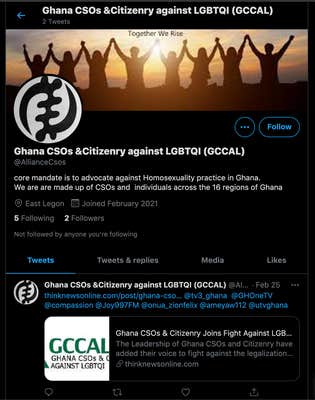 A chilling image circulating on Twitter calls to kill LGBTQ+ persons "one by one." "Every Ghanaians hates them and we will be applauded we won't be jailed even when we are caught," reads part of the text. "We will kill them and burn them."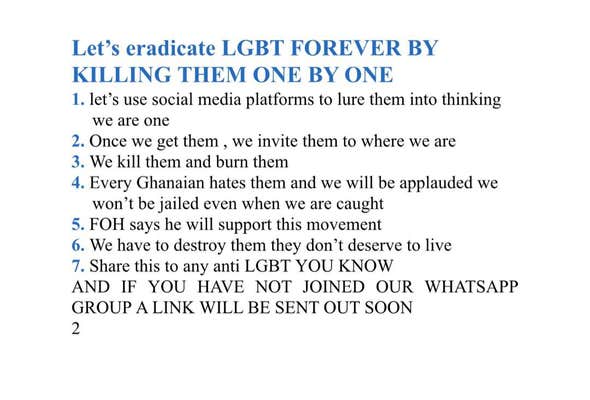 The homophobic tweets, many of which are explicitly harmful, have remained on the platform for over a week despite Twitter's community guidelines that prohibit such content.
The #StopLGBTinGhana hashtag reached more than 97,000 people by Monday, according to Track My Hashtag.
As the hateful commentary continues, many members of the LGBTQ community and their allies are calling for help. In an emotional video posted on Wednesday, Ghanaian YouTuber Ama Governor issued a desperate plea.
"No one is willing to protect us, we need help. Please send help," she says in the 18-minute video. "Please, please send help."
"Anything that slightly suggests that we are part of the community, we could be subjected to very cruel treatment," she added.
Governor's video has been viewed more than 29,000 times but received largely negative responses, many commenters saying she was "exaggerating" and that "God" could help her.
Some Twitter users shared solidarity with the community with the hashtags #silentmajoritygh and #QueerGhanaianLivesMatter. The former refers to a petition that was created to show support for the country's LGBTQ community.
The Daily Dot has reached out to Twitter and will update this report with its response.
---
Must-reads on the Daily Dot