A number of high-profile celebrities and influencers are promoting a music festival in Saudi Arabia, and people are confused.
The celeb's social media posts were published just days following news of the sentencing of five men in conjunction with Jamal Khashoggi's death. The Washington Post columnist was killed at the Saudi consulate in Istanbul in 2018. His death is widely considered to be linked to Saudi Crown Prince Mohammad bin Salman.
The sentencing brings bad press to a country already fraught with negative news. The social media campaign promoting the MDL Beast music festival, and travel to Saudi Arabia, has been widely criticized. But some of the campaign's most vocal critics are fellow influencers, many of whom say they turned down offers to participate in the promotion.
Emily Ratajkowski, a model and prominent influencer, joined fellow model Teddy Quinlivan in her criticism of the promotion. "If you're been thinking you're seeing a lot of influencers in Saudi Arabia you're not wrong," Quinlivan wrote in her Instagram story. "The Saudi Arabian Government is paying influencers to positively promote travel and events in Saudi Arabia. To save face after the brutal assassination of Journalis[t] Jamal Kashoggi (sic)."
She called out influencers for "promoting tourism to a place to (sic) openly kills journalists and LGBTQ people."
Ratajkowski agreed. "I have always wanted to visit Saudi Arabia, but when a recent opportunity came to me involving making and promoting an appearance there, I had to decline," she wrote in her own Instagram story. "It is very important to me to make clear my support for the rights of women, the LGBTQ community, freedom of expression and the right to a free press. I hope coming forward on this brings more attention to the injustices happening there."
Teddy Quinlivan and Emily Ratajkowski posted about the recent influx of influencers visiting Saudi Arabia. Ratajkowski revealed that she turned the trip down. pic.twitter.com/6XXpf5vivR

— models daily (@supermodeldaiIy) December 22, 2019
Several high-profile names were among the influencers paid to promote the music festival. Sofia Richie, Winnie Harlow, and Armie Hammer were among the promoters. They populated their social media pages with photos and stories of the electronic music festival held in Riyadh, Saudi Arabia over the weekend. Criticism quickly flooded the comment sections of the posts. "How much did Mohammed Bin Salman pay you to say this," one commenter asked of Hammer.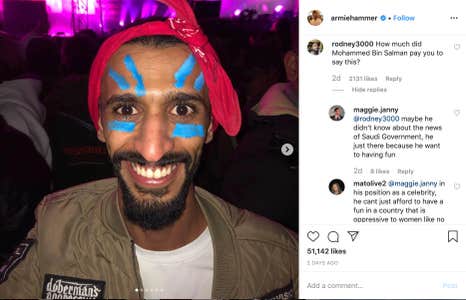 He wasn't the only influencer to receive criticism. Commenters harshly went after each of the social media figures who promoted the MDL Beast festival. There were those who came to the celebs' defenses as well, but far more disapproving comments populated the posts. Saudi Arabia has been criticized in recent months for its human rights violations. People brought up issues like Khashoggi's death, the recent capture of two gay journalists, and the country's historic violations of women's rights.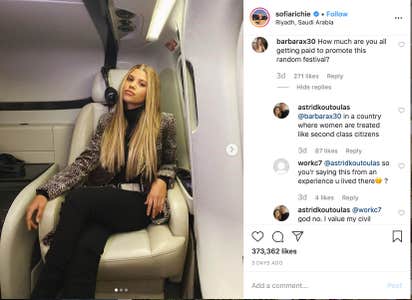 In response to many of her colleagues supporting the music festival, Quinlivan spoke to BuzzFeed News about her decision to turn down her invite and criticize those who attended. "Many of these influencers I know personally and are amazing people," she said. "I assumed many of them had no idea what they were promoting because maybe they'd been misinformed or hadn't been paying attention to current events. I was shocked to see no one talking about it and I felt I needed to speak up."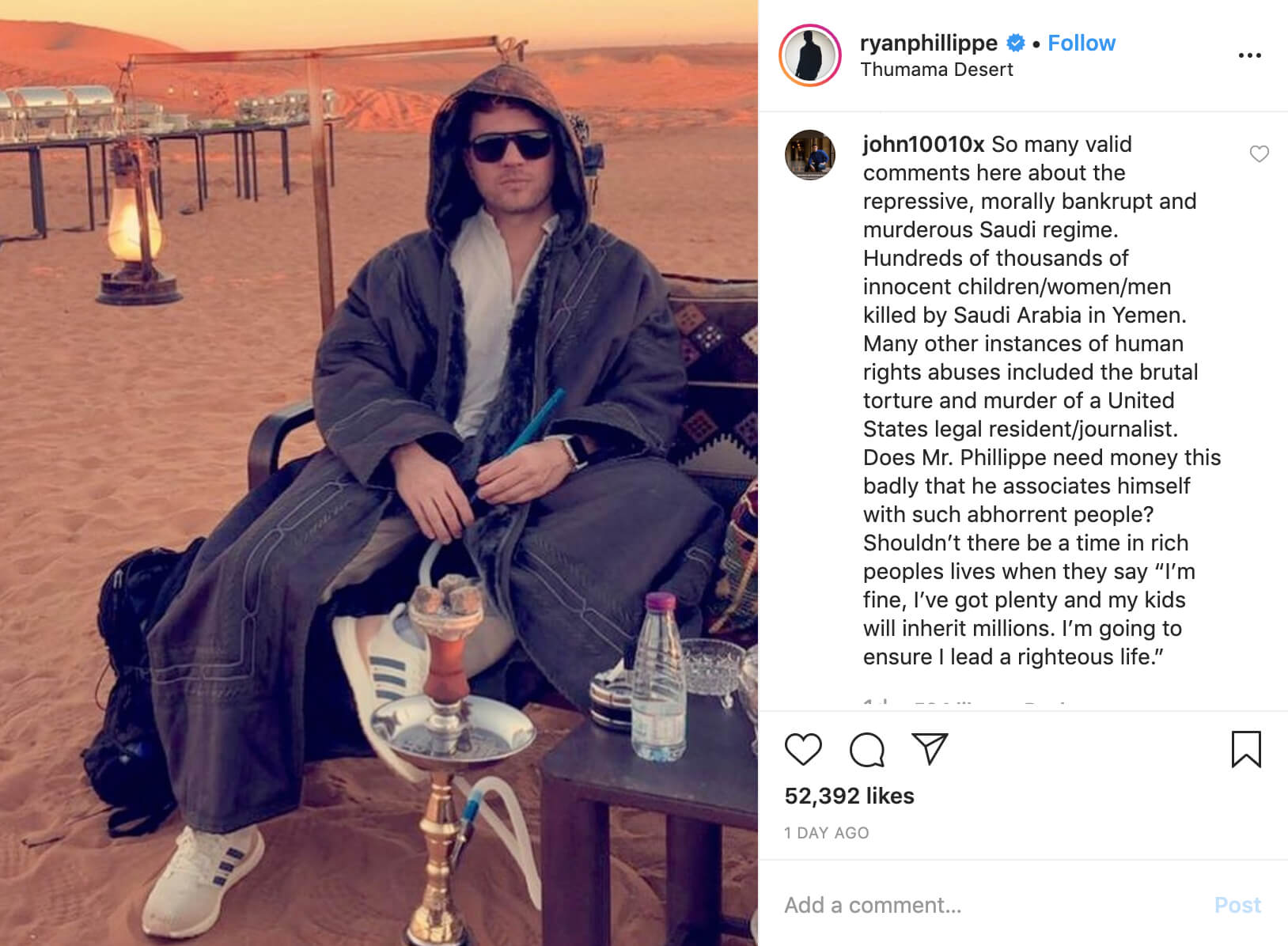 Actor Ryan Phillippe took to his own comment section to vehemently defend his decision to attend. "Fuck off pos," he told one critic. "You believe every thing put in press. you're brainded. go see cats." His responses to most critics followed the same vein.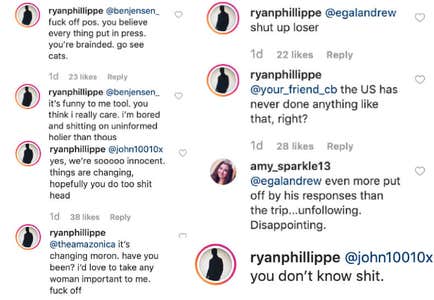 As of Tuesday, the criticism just keeps flooding in for celebrities who attended.
READ MORE:
H/T BuzzFeed News