A detective from Washington was placed on paid leave after posting photos on Facebook that mocked Black Lives Matter protestors. 
Facebook user James Bible shared a screenshot showing the detective's post that depicted a car running over three people and said, "All Lives Splatter. Get Your Ass Off The Road."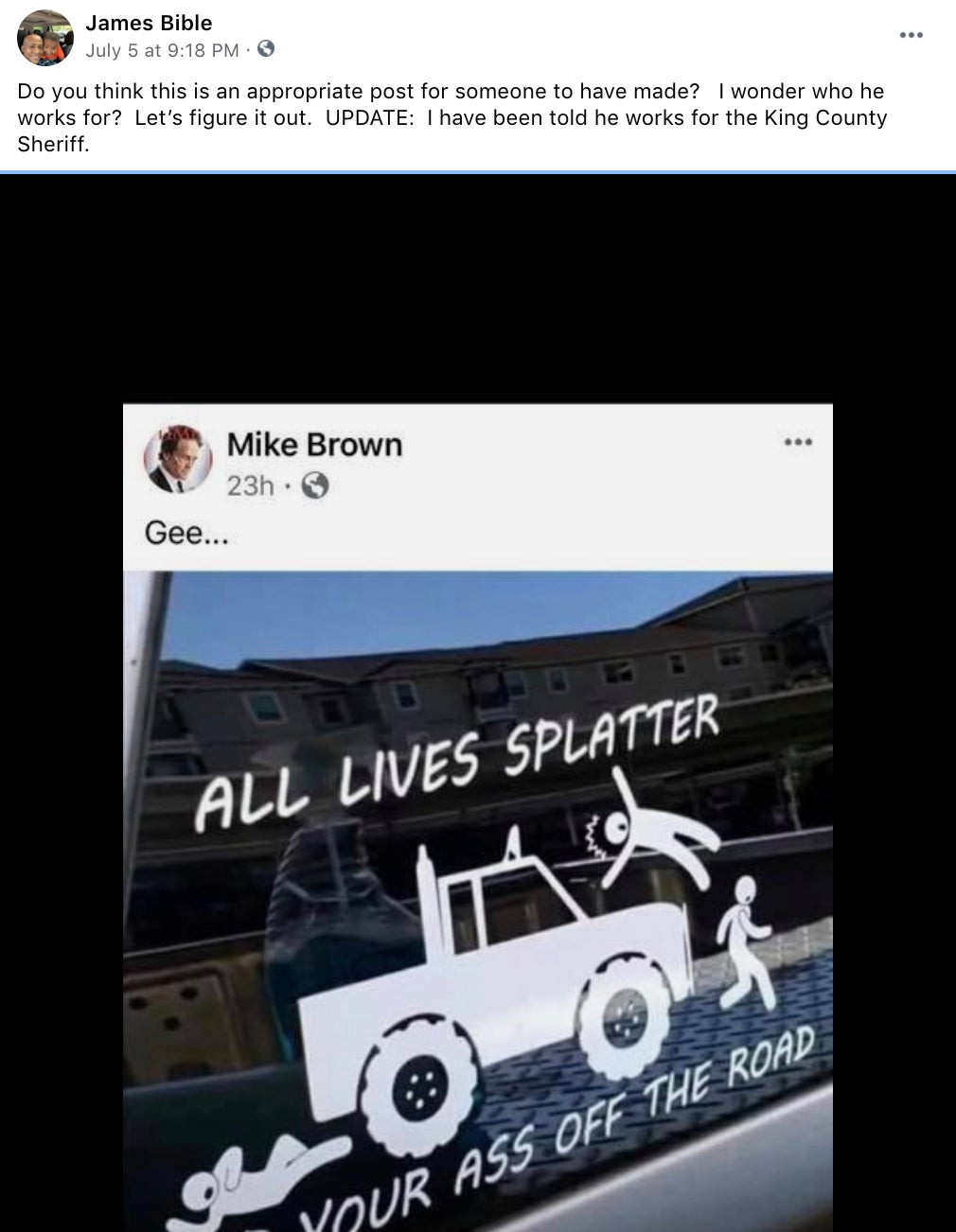 The King County Sheriff's Office said it was notified of Detective Mike Brown's posts on Sunday, according to CBS News. The now-deleted posts are under review in an expedited investigation including the sheriff's office and the Office of Law Enforcement Oversight.
"This has taken priority with me. And I've asked the undersheriff to make sure that our internal investigation command understands this is their top priority right now," Sheriff Mitzi Johanknecht told KIRO 7.
Incidents of police posting racist or insensitive things on Facebook is nothing new. According to King 5, the Office of Law Enforcement Oversight said an "unprecedented" number of people have inquired about the comments.
Brown's Facebook page appears to no longer be available.
In the comments, another user posted a screenshot appearing to show another of Brown's posts.
"I see a couple of people got infected with Covid-19 from the hood of a car on I-5 last night," the post said.
The posts appear to be mocking an incident involving a driver hitting two protestors, killing one and seriously injuring the other, that occurred in Seattle a few days prior.
Johanknecht told KIRO 7 other office employees who reacted to the post will be included in the investigation.
Washington Governor Jay Inslee tweeted about the posts Tuesday night and called the language "unacceptable and just flat wrong. Brown is Inslee's cousin and has worked for the sheriff's department for over 40 years.
READ MORE:
H/T the Root