Spanish model Daniel Illescas' Instagram is littered with photos of his ongoing trip to Kenya, many of which include Kenyan children, and one, in particular, is setting off alarms.
In a since-deleted photo shared on the 'gram, Illescas lies on top of a Kenyan girl, both of whom are topless.
"I missed you my little princess #Effi," he captioned the photo, along with the red heart and heart-eyed emoji.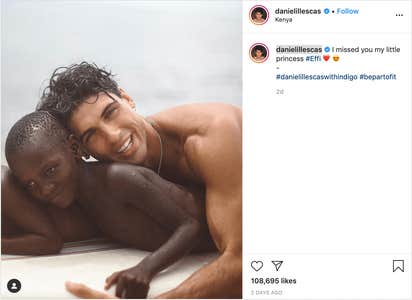 The post also included a hashtag for his new book, Be Part of it, which chronicles his work as a volunteer in Kenya, starting in 2018.
Illescas claims the trip changed his life, according to the book's synopsis. He also claims the children stole his heart and is trying to improve their lives by utilizing his large social media presence. Illescas has nearly 1 million followers on Instagram.
For No White Saviors, an advocacy group based in Uganda trying to put an end to white volunteerism in Africa, Illescas' life-changing experience in Kenya is a blatant example of "white saviorism," which it calls a "dangerous power dynamic." The group is also concerned about the well-being of the children photographed with the model.
"White people coming here in the name of 'doing good' are rarely questioned or monitored, which is what makes people like Daniel an even bigger threat here than he would be at home," No White Saviors told The Daily Dot via email. "We can't know for sure the nature of his relationship with the children in Kenya but we do know that we have real concerns. We have seen too many foreign men come into our countries and take advantage of the power they hold in disgusting ways."
No White Saviors says it wants Illescas investigated over the image and others like it.
"He has a history of sharing very troubling images like this with this same girl in Kenya," it added.
The group shared other videos and photos from Illescas' social media that it believes are problematic.
"If you need more convincing regarding our concerns with Spanish model,
#DanielIllescas
check out his story highlight 'My Princess' he is shown, mostly shirtless, kissing on, holding, exchanging gifts, laying in bed with etc with a small Kenyan girl who can not be more than 10," it tweeted.
https://twitter.com/nowhitesaviors/status/1219658404467216384
The Daily Dot reached out to Daniel Illescas but did not receive a response by publication time.
READ MORE: