Influencer and actress Joanna Theng is facing online backlash for making homophobic statements in an IGTV video filmed in collaboration with a Christian group.
In the video, Theng said gay people are influenced by Satan and that the LGBTQ+ movement is a manifestation of the devil's plan to insult God, Yahoo Singapore reported.
Theng, who has a following of nearly 200,000 people across Instagram and TikTok, appears alongside Jaime Wong, founder of City Revival. The group describes itself as an "inter-generational" and "inter-denominational" Christian community on its website.
Wong went so far as to correlate the rainbow flag having six colors, as opposed to seven like in the bible, as an example of biblical deviation, AsiaOne reported.
"The biblical rainbow has seven colors and seven is a number symbolic for perfection in the Bible," Wong said. "…On the contrary, the mark of the beast is the number 666."
Theng agreed with Wong's comments.
"Is it a coincidence that the gay pride celebrates taking pride in distorting the true symbol of the love and peace of God with the six-colour rainbow flag?" she speculated according to AsiaOne.
When the iconic Pride flag was designed in 1978 by queer artist Gilbert Baker it actually had eight colors. It has since seen a number of iterations including the common 6-color design; a more inclusive 11 color style with colors to represent Black, Brown, and trans people; and a number of flags for specific identities like non-binary and pansexual.
The rainbow flag in all its colors has been known as a symbol of pride, resistance, and allyship since its inception.
The video was part of three-part series about the Book of Revelations, the last book in the Bible. The first two episodes each got more than 15,000 views, a significant boost in attention for the Christian page whose IGTV videos get anywhere between 570 and 6,000 views.
The influencer released a statement on her Instagram story Thursday, but it has since mostly disappeared (as is the nature of an IG story).
In the slide of her story that's still viewable, Theng apologized for her phrasing and said it wasn't her intention to hurt anyone—but she stopped short of taking back her homophobic comments.
"As a Christian, my heart is to love God and love people, and I was sincerely trying to share His truth with others. I am sorry that the way it was shared caused so much hurt. I sincerely apologise for that," Theng said. "I agree that the script of the video could have been phrased differently and I will continue to learn how to better express and speak my truth."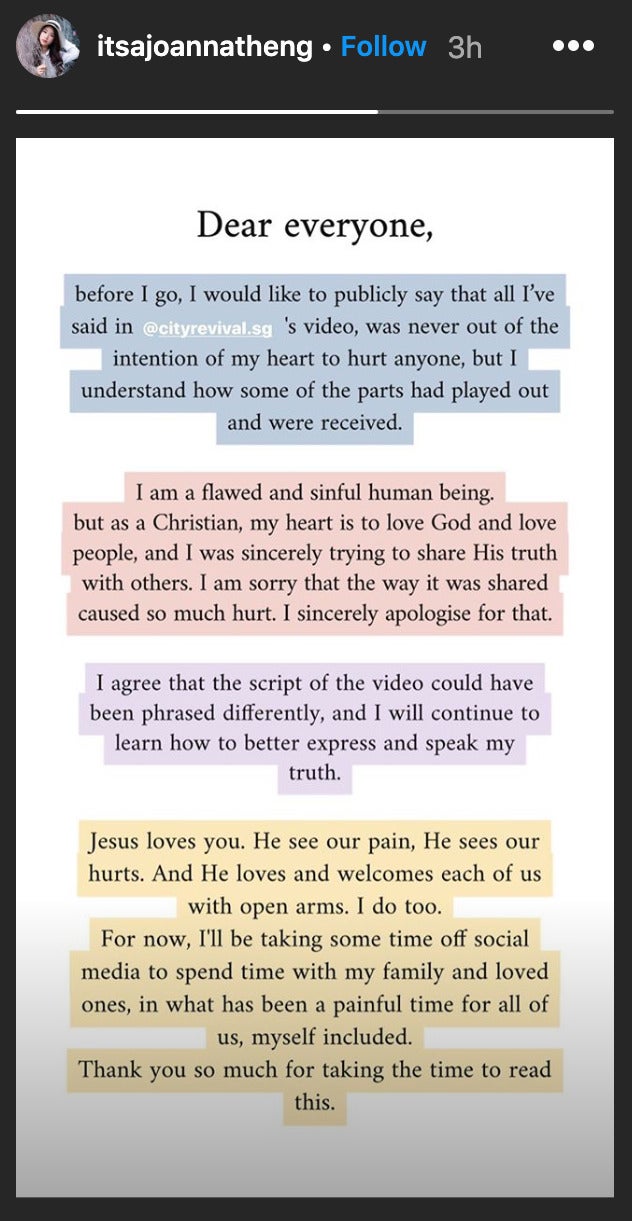 READ MORE:
H/T Yahoo