An anonymous redditor posting under the handle u/CountryMamaLynn garnered praise over the weekend for the way she handled her son's decision to come out. While her story hasn't been verified and identity remains a secret, the story she told over the course of several entries in the r/lgbt subreddit has nevertheless proved inspiring to members of the community.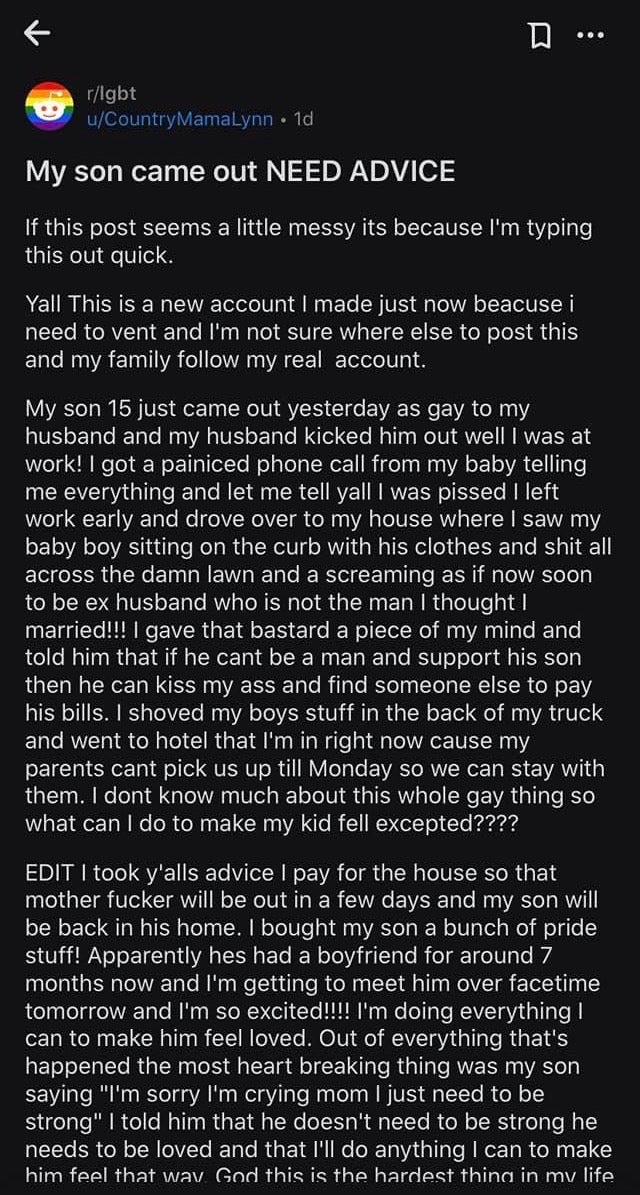 In her first post, u/CountryMamaLynn describes her husband's negative reaction after their son came out to him.
"My son 15 came out as gay yesterday and my husband kicked him out while I was at work!" Lynn wrote. "I left work early and drove over to my house where I saw my baby boy sitting on the curb with his clothes and shit all across the damn lawn."
Lynn noted she was posting on a disposable account because family members of hers followed her real one. She said her husband was screaming in the yard when she arrived, and he was "not the man I thought I married." She also revealed that she pays the bills for the house and threatened to stop doing so.
"I gave that bastard a piece of my mind and told him that if he can't be a man and support his son then he can kiss my ass and find someone else to pay his bills," Lynn continued in the post.
She then wrote that she packed her son's stuff in the back of her truck and took him to a hotel where they planned to wait for her parents to pick them up. In an edit to the original post, Lynn said she decided to kick her husband out—since she pays for the house—and said she gave him a few days to get all of his stuff out.
She elaborated on her husband's reaction in a new post, where she identified him as "Mark" and said she agreed to meet up with him in person—wielding some protection.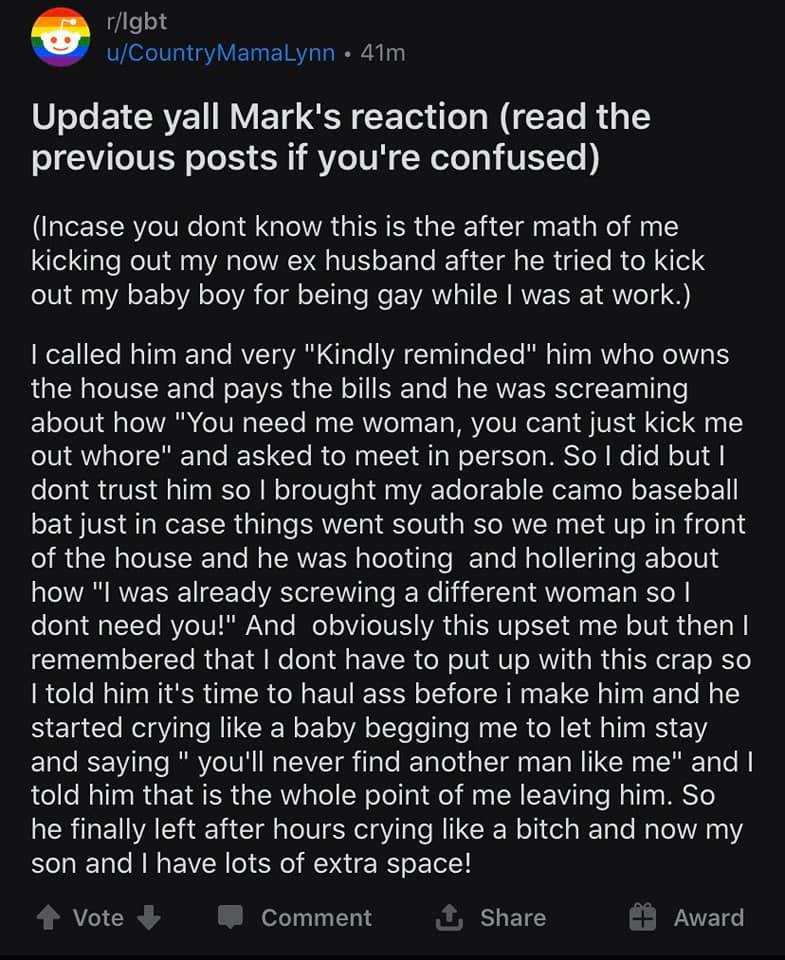 "I don't trust him so I brought my adorable camo baseball bat just in case things went south," Lynn wrote.
In addition to being homophobic toward their son, Mark also allegedly revealed to Lynn during the meetup that he had been having an affair. This was the final straw for Lynn, who said she told him to "haul ass before I make [you]."
"So he finally left after crying like a bitch and now my son and I have lots of extra space!" Lynn said. In further updates, Lynn said she was excited to meet her son's boyfriend over FaceTime and may have even realized she was bisexual.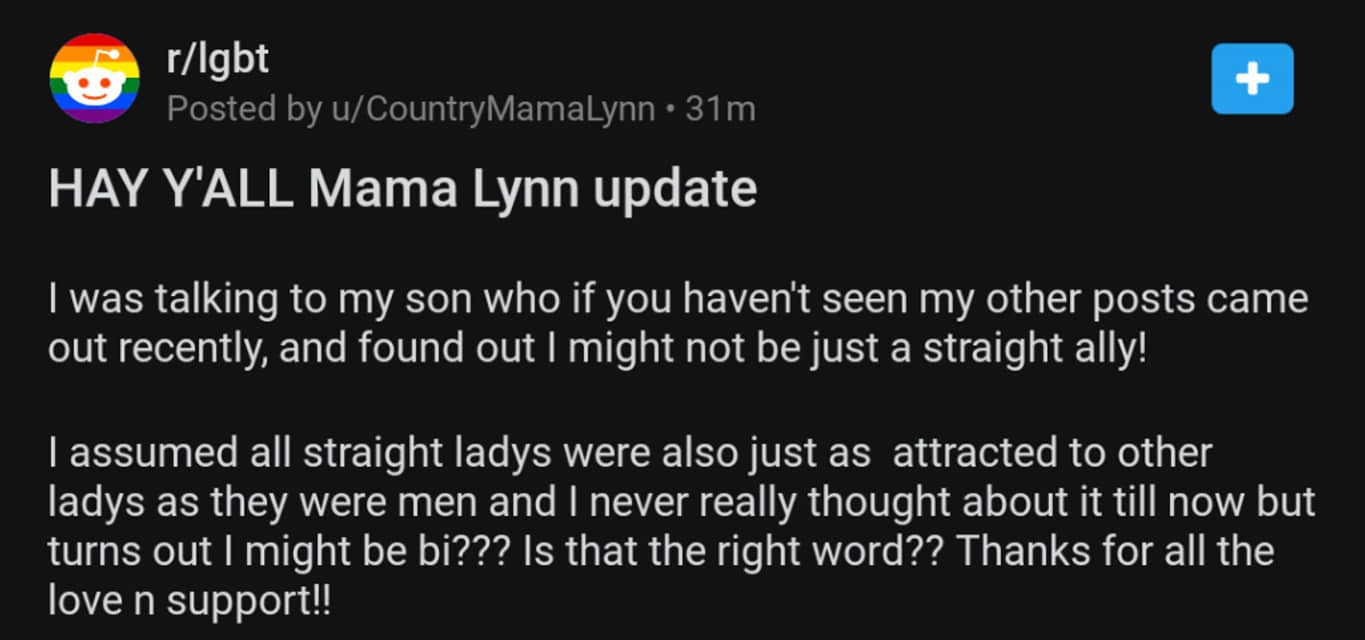 When the story was finished being told, u/CountryMamaLynn deleted many of her original posts as well as her account but seems to have forever kept the adoration of the Reddit community.

"Your son may not have the father he deserves, but God damn, he's got the mom he needs and deserves," user u/Its-aMeTheodora posted. "Fuck Mark."

Some were more straightforward in their messages of support, such as u/swiggityswaygreenday, who simply wrote "FUCK MARK 2020."
Others mourned the loss of u/CountryMamaLynn's account while wishing her and her son the best.

"She deleted her reddit account? Sadness," wrote u/JadedElk. "May she and her son live in happiness in the great big house they kicked the dad out of."
READ MORE: