Trans porn creators say they're getting suspended on Twitter over false accusations of revenge porn being leveled against them by transphobes.
Trans porn star Carta shared screenshots from another trans porn actress Chloe Corrupt, revealing that Twitter suspended Chloe's account on the grounds that Chloe shared intimate images of someone without consent.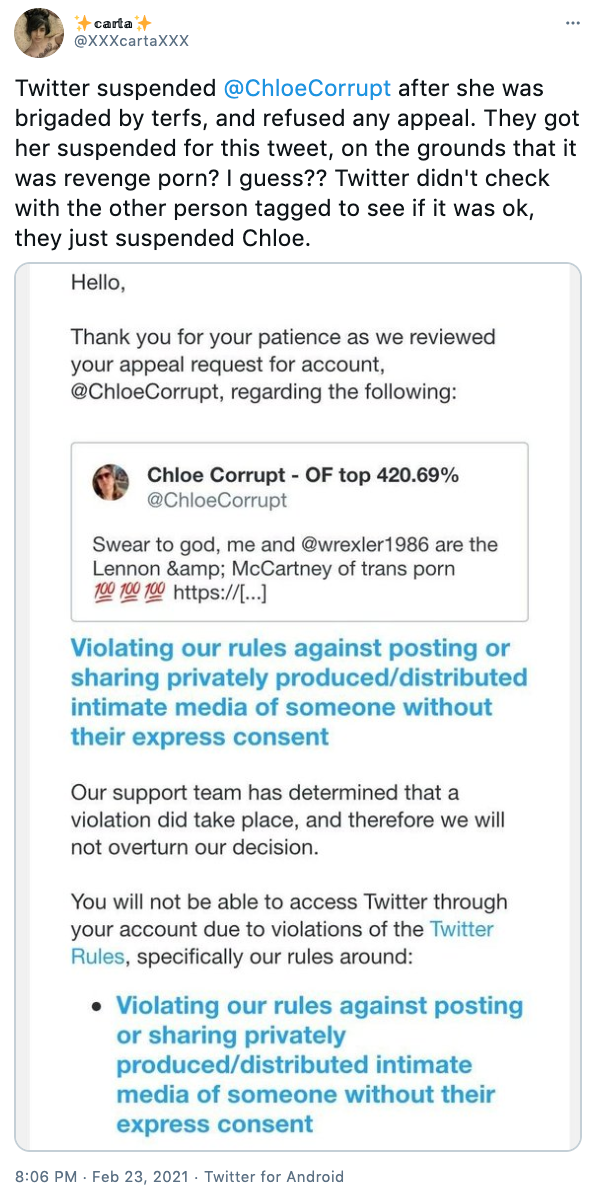 The two tweets Chloe was suspended over, one of which is included in Carta's screenshot, features video and stills from a consensually produced porn shoot featuring another trans porn actress, Wrexler.
Wrexler has also been sharing extracts from the shoot to her account, as well as retweeting and responding enthusiastically to Chloe's tweets about it.
When Chloe tried to appeal the suspension on the grounds that the content was shared with Wrexler's consent, Twitter failed to check in with Wrexler for confirmation, Chloe told the Daily Dot. Chloe said that Twitter instead chose to double down on its initial stance by upholding the suspension.
Chloe said she was suspended after going up against transphobic Twitter users. She discovered that famous TERF Graham Lineham joined the WLW dating site Her in order to publicly expose trans women using it. After reading Her's response to his behavior, and seeing numerous TOS violations from TERFs in the replies, Chloe said she quote-tweeted it, commenting that it posed an opportunity "to get some bigots deplatformed."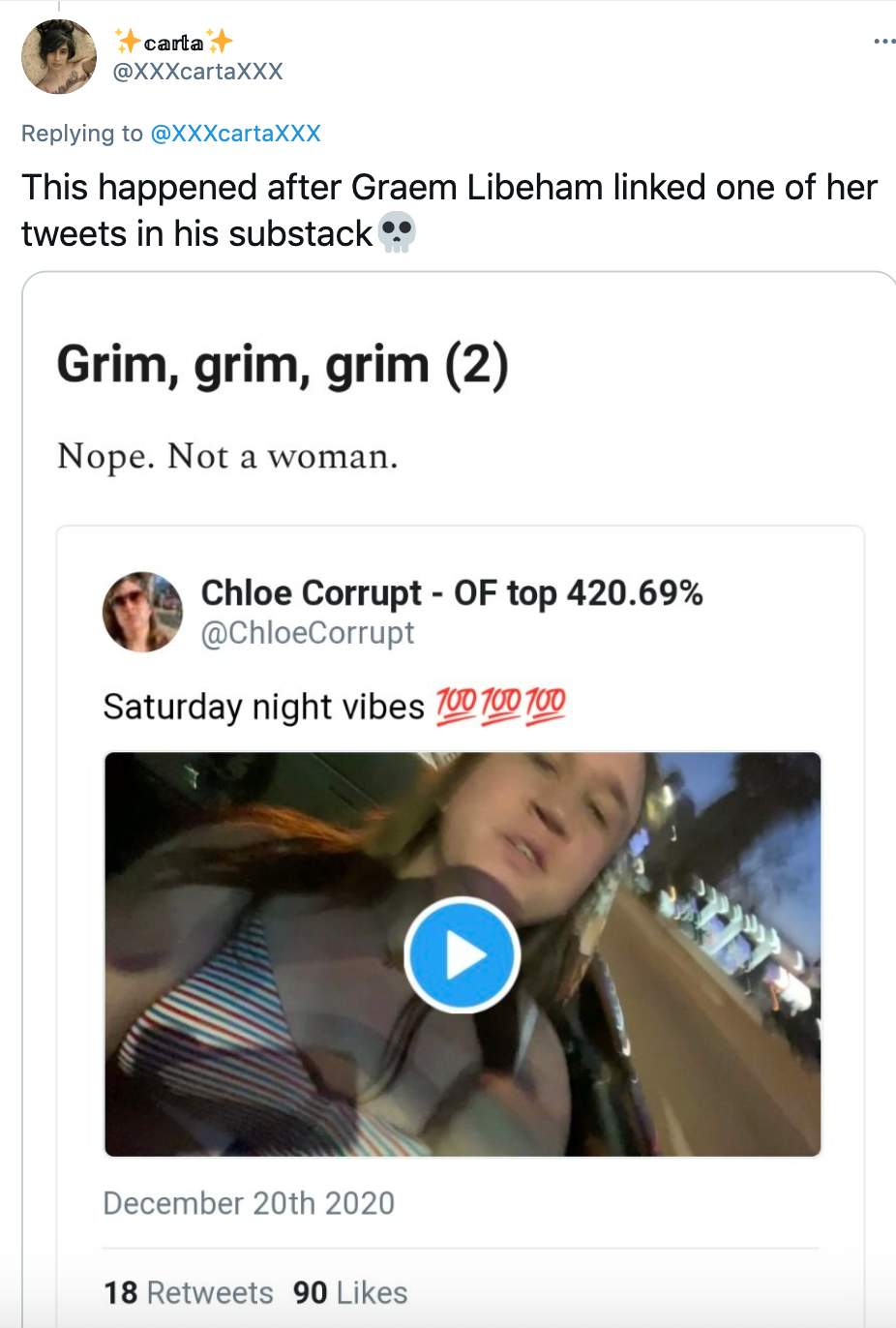 Twelve hours later, Chloe said her mentions were "inundated with random terf accounts misgendering me, talking about my appearance, etc." During this period, Lineham shared one of Chloe's tweets to his Substack, with the caption "Grim, grim, grim (2) Not a woman," which probably significantly contributed to the harassment she received.
Then, less than 24 hours later, her tweets were reportedly mass-reported with the false accusations of "revenge porn," and her account was suspended.
Chloe is not the only trans porn actress whose account was suspended under seemingly nefarious circumstances. Bella Bates responded to Carta's thread, sharing that her account was suspended for the same reason. "Same shit happened to me," Bates said.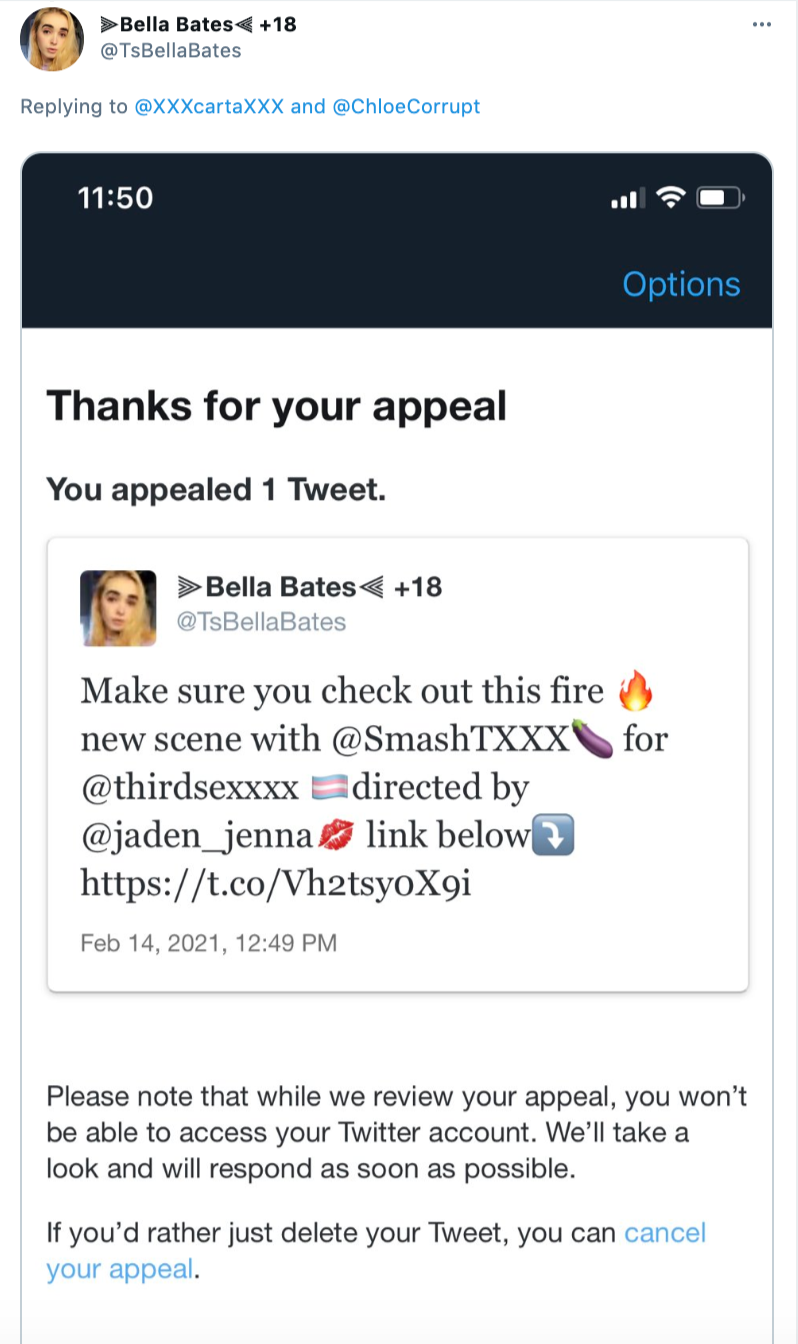 Chloe emailed Twitter once more to challenge her account's suspension but has yet to receive a response. Chloe told the Daily Dot that she doesn't expect Twitter to reinstate her account. "They have such a poor record of actually responding to appeals, I have little to no faith. But it would be a nice surprise if they did," she said.
Carta, who brought attention to Chloe's suspension, told the Daily Dot that TERFs being able to successfully get creators deplatformed via mass-reporting "wouldn't work if Twitter had a moderation system that made any sense."
"Under Twitter's current design, there's no way to 'prove' that a second person consented to being tagged in a post, and it's absurd that they would suspend an account based on outside parties reporting a tweet without even bothering to check with the person who is tagged in it and ostensibly having their rights violated," Carta said.
Chloe added that "Terves game the system precisely because they know that mass reporting works and nobody checks to see if the reports are valid."
The Daily Dot has reached out to Twitter.
---
Today's top stories