Popular Tiktoker Anna Shumate, 18, is in hot water after being reportedly found making racist comments on a secondary account known to be hers, Dexerto reports. Many of her fans aren't pleased with her actions or explanations.
Shumate, a master of the viral video, has over 10.5 million followers on TikTok. However, it appears she's been using her second account for harmful activities. Under the handle @b00nanuh, Shumate wrote one anti-Semitic "joke" that said, "I like my bacon how I like my Jews. Burnt and crispy." It's an apparent allusion to the gross cruelties against European Jews in Nazi concentration camps during World War II.
She also liked a comment that said, "I'm not racist I have an African-American in my family tree… it's just hanging."
In her TikTok "apology," Shumate called her racist and xenophobic jokes "dark humor" jokes. She said her making and commenting on the jokes was "unacceptable."
In part two, Shumate claims that "in no way was I trying to be malicious; I was just trying to make a joke."
Additionally, Shumate continued with her apology via her Instagram Stories, noting that she understands that many people will not accept her apology.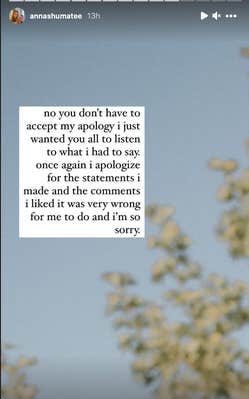 In one Story, she writes: "At the end of the day I am human and this is a very large mistake that I will be learning and growing from."
Shumate also calls out people "calling people sensitive/snowflakes because this is a very serious topic."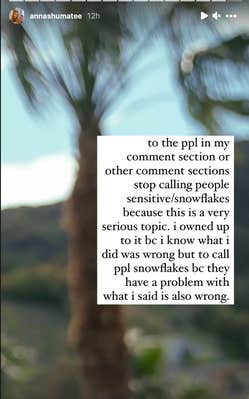 "I owned up to it bc I know what I did was wrong but to call ppl snowflakes bc they have a problem with what I said is also wrong," she added.
---
Today's top stories