Twitch streamer Anisa Jomha's account has been banned following the controversy surrounding her decision to create an OnlyFans account.
OnlyFans allows people to share adult content with paid subscribers or "fans." It's unclear the reason why her account was banned from Twitch, a live streaming service for gamers.
"I'm very excited to announce my lewd onlyfans launch," Jomha wrote on Twitter. "I'm very excited to provide cute cosplay photo sets and more."
Anisa Jomha's OnlyFans draws negativity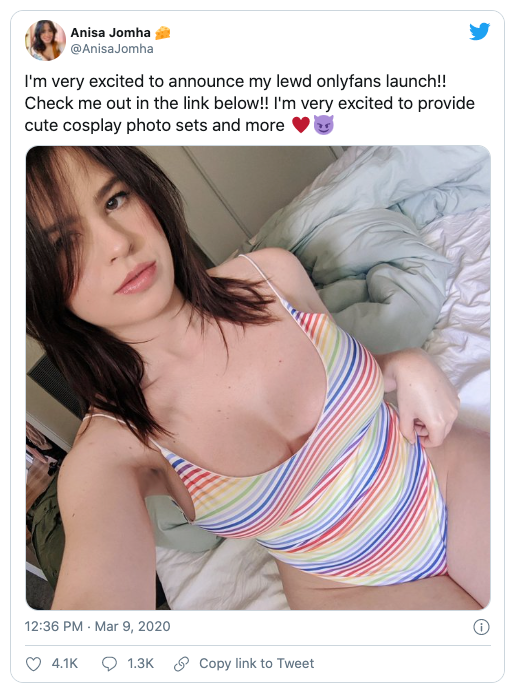 Her decision was quickly criticized by fans of her boyfriend Ian Carter, better known for his popular YouTube account iDubbbz. He's known for his comedic "content cop" series. His fans quickly began calling him the misogynistic name "simp," or someone who "puts a woman on a pedestal."
About two weeks ago, the YouTuber made a video defending Anisa Jomha and explaining why he supports sex workers. Although riddled with some ableist wording, the YouTub video made it clear that iDubbbz is 100% behind his girlfriend's decision.
"There's some dude in the back that are shouting out their opinions," iDubbbz said in his video. "Instead of ignoring that and just moving on with my lecture, it might be a better idea to point those people out and say 'yeah, I actually don't agree with that shitty opinion.'"
Leafy starts drama despite iDubbbz's support of Anisa Jomha
The drama only increased from there. Popular YouTuber Leafy, who has been on a hiatus for about two years, came back to the platform just to drag iDubbbz's video. The two have long been enemies.
Leafy's video was only about 30 seconds long. The video starts with a snippet of iDubbbz's video in which he says he's OK with other men seeing sexual pictures of his girlfriend. Leafy cuts from the video and says, "You're a fucking cuck." (The video has since been removed.)
That's when the YouTuber couple from H3H3 weighed in on the controversy. H3H3's Ethan Klein called Leafy and YouTubers like him who are criticizing Anisa Jomha "bitterly unattractive" for their misogynistic statements.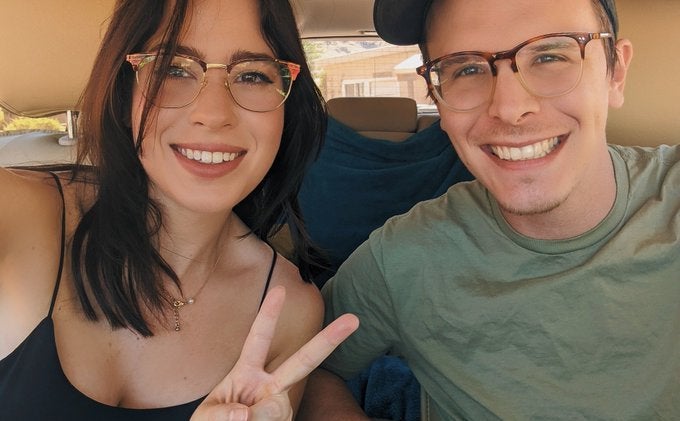 In response, Leafy made another video, which was similar to his first against iDubbbz. He used a part of H3H3's video criticizing him and then added a voiceover to call Klein a "fucking disgusting piece of shit."
Jomha pays little mind to her critics
Throughout all of this, Jomha has been relatively quiet. She hasn't released a statement about why Twitch took down her account, but she did clap back about the criticisms of her OnlyFan account. (Twitch does not comment on individual suspensions.)
"COVID pandemic is going on and some of you are acting like my pussy being exposed on the internet is the real tragedy," she wrote on Twitter.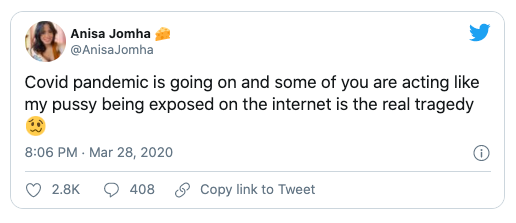 UPDATE February 9, 2021: Anisa Jomha tweeted that she was given a three-day suspension on Twitch for broadcasting a British television show that displayed nudity, and denied she had promoted her OnlyFans on Twitch.
READ MORE: