Asian Americans are demanding that social media users refrain from posting a "yellow square" in light of Tuesday's killing spree that left eight people dead and was allegedly carried out by a white man.
Robert Aaron Long, 21, was charged with eight counts of murder after allegedly going on a shooting rampage at three different massage parlors in and around Atlanta, Georgia. Six of the eight victims were Asian women.
Many Asian Americans are now expressing their shock and grief on social media. To express solidarity with the community, some began sharing images of a "yellow square."
88Rising, a mass media company known for representing Asian American hip-hop artists, seemingly attempted to start the yellow square movement.
Early Wednesday morning, 88Rising uploaded a "yellow square" photo and expressed its outrage over the killings.
"Enough is enough. Heartbroken with the disgusting and senseless violence in Georgia tonight," read the description next to a plain yellow box. "Violence against the Asian community has to stop. Let's protect each other and stand against hate."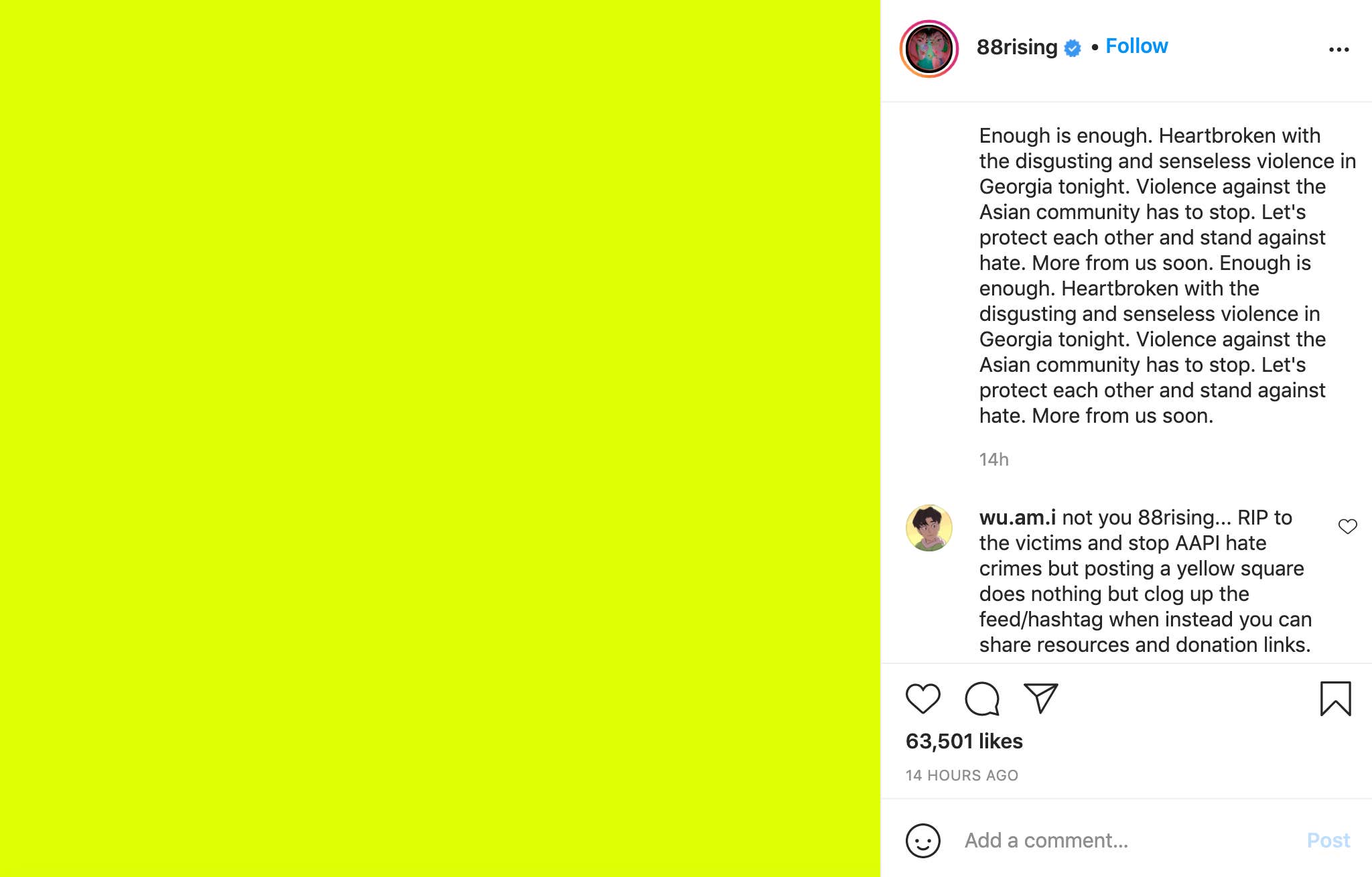 The post was taken down soon after the Daily Dot reached out to 88rising for comment.
By Wednesday afternoon, people were expressing their outrage over the image, which is being called racist and tone-deaf.
Many were quick to point out the inherent racism in associating Asian Americans with the color yellow. "Posting a yellow square to show your 'support for asians' is both performative and offensive so please don't do that?" one user urged.
Attributing the color yellow to Asian Americans has a lot of racist undertones. Not long ago, some of the Western world referred to Asian Americans as "yellow peril," deeming them "unclean and unfit" for U.S. citizenship. In recent times, there has been backlash against casual racism wherein the term "yellow" is used when talking about Asians.
"Asian people aren't 'yellow'" wrote one user on Twitter.
Some pointed out that it's simply tone-deaf to use such a racist reference to show solidarity with a community that is grieving. "Wait…. PLEASE god don't tell me the yellow square posting is for asian people. Please tell me people aren't that fucking tone deaf," one said.
The posting of yellow squares appears to be an attempt to replicate the "black square" movement, which had Instagrammers flooding the platform with black squares during the Black Lives Matter protests of 2020.
Some called it "Blackout Tuesday." At the time, activists rang alarm bells as soon as the trend took off. They warned users that it was deflecting from the main message about George Floyd's death, which spurred the BLM protests, and, in some cases, flushed out relevant information and resources regarding protests.
People are now similarly claiming that the posting of yellow squares is performative.
One user pointed out that apart from it being "fucking weird to call Asian ppl yellow," the square excludes dark-skinned Asian Americans, signifying one of the larger problems regarding the conversation surrounding Asian Americans: It's viewed as a monolithic group by many. A 2020 report claims that about 20 million Asian Americans can trace their heritage to 19 different Asian countries, a testament to the diverse set of ethnicities under the umbrella term.
Some used the opportunity to share a bit of humor during what is a dark day for America.
Others shared reading lists and resources for people to access.
88Rising did not respond to the Daily Dot's request for comments on Wednesday afternoon. However, it removed the post by the evening and said in a new post that it "recognize(s) the effects of our actions and apologize."
It went on to claim that its intention was not to spark a "yellow square movement though we understand how it was misinterpreted."
---
Today's top stories