It may not be magazine-perfect yet, but it's on its way.
Reddit's live interview section, r/IAmA, may very well be the best part of the social news site, what with celebrities, politicians, luminaries, and the absolutely normal dropping by every day answer just about any question redditors upvote their way.
Of course, the section suffers from the same problem as the rest of Reddit: It ain't pretty. There's a new site, however, that's attempting to prettify the r/IAmA experience, to swap Reddit's tiered, practical commenting system with something more suitable for a magazine layout.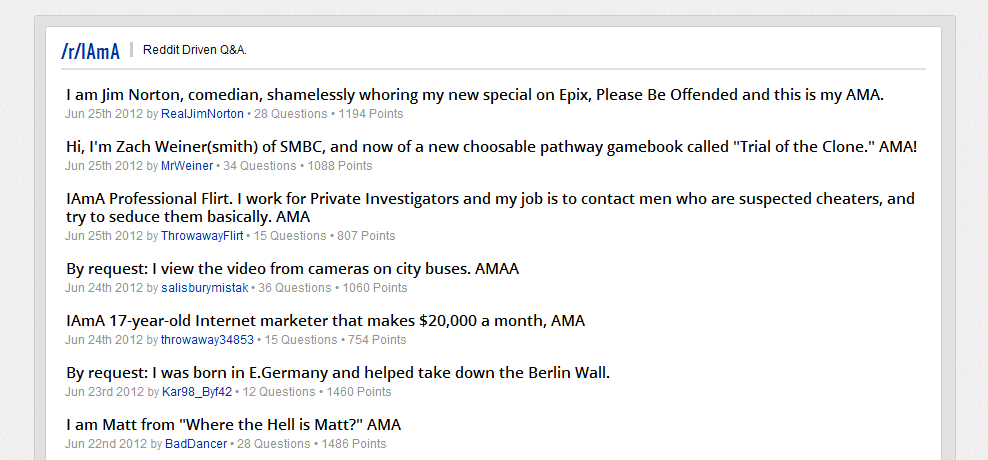 Called TopIAmA, the project is a labor of love by Brant Tedeschi, a New York-based developer who wrote that he loves Reddit and the r/IAmA, in particular.
His site isn't beautiful, but it certainly does make it easier to scan through the interviews. At present, it only collects the top-voted submissions, though Tedeschi did release a trick that allows you to pass any AMA through the site's filter (check that out here).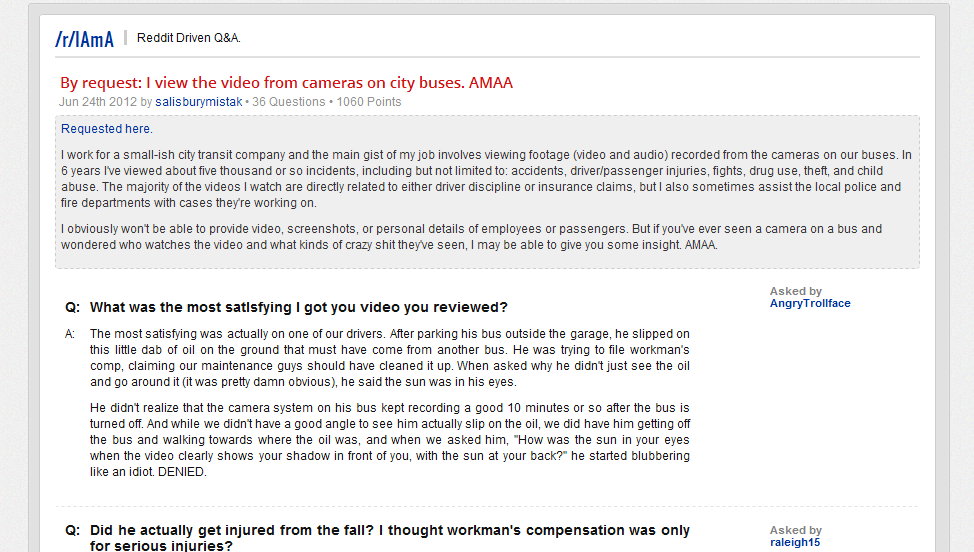 The project isn't entirely original. The subreddit r/tabled also turns the interviews into a Q&A format, and third-party browser add on Reddit Enhancement Suite has a simple-to-use navigation feature for AMAs.
Tedeschi wrote he's a "not entirely sure" of the project's legality, but for the time being it seems he has nothing to worry about. I asked Erik Martin, Reddit's general manager, if the company had any problem with the idea.
"Cool project," Martin wrote. "There have been others over the years. Hope it paves the way for topwoahdude.com."
That's a reference to the subreddit r/woahdude, which boasts "The best links to click while you're stoned!"
There you have it, Tedeschi: No worries. They don't have a problem with it, but they did throw down a new challenge for you.
Photo by Mechatronics Guy
Pure, uncut internet. Straight to your inbox.