Alright, folks, it's time to grab your baking sheets and spell books – Halloween is only a few weeks away! So if you have a party to attend or rather bake your own treats than buy them, this cookie cutter is perfect for the season.
The voodoo doll cookie cutter creates some low-level magic in your very own kitchen. No cauldron or potions needed! The cursed cookie cutter works similar to a stamp. It carves out the shape of a voodoo doll on one side while impressing details on the other, all using the pressure of your hand.
Made from food-safe ABS plastic, it's safe to use on all your favorite homemade treats. From cookie dough to fondant, this voodoo doll mold adds some folk magic to your otherwise mortal meals.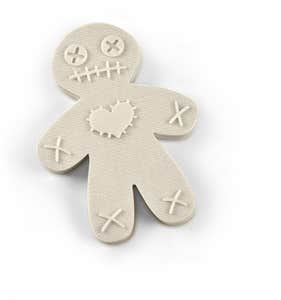 The Voodoo doll cookie cutter is available through Amazon for just under $20. Sticking pins in the voodoo versions of your enemies is so yesterday. You may as well just bite their heads off.
MORE BAZAAR DEALS:
The Daily Dot may receive a payment in connection with purchases of products or services featured in this article. Click here to learn more.