The European Parliament approved controversial legislation on Tuesday intended to bring copyright laws into the 21st century. But critics say the new measure, known officially as the Copyright Directive, will ultimately curtail free expression online—particularly Article 13, which relates to uploading copyrighted material. What is Article 13, and what does it mean for the future of the internet? Is it really a meme ban? Here's everything you need to know.
What is the E.U. Copyright Directive?
Often referred to as the "meme ban" or "Article 13," the Copyright Directive will hold major tech companies reliable for copyrighted material posted on their sites.
Currently, in countries like the U.S., tech businesses such as Facebook cannot be held liable for content uploaded by users. But European Union member states now have two years to turn the new directive into national law following a 348-274 vote in favor of the EU Copyright Directive.
The most contentious sections of the law include Article 11, also known as the "link tax," and Article 13, described as the "upload filter."
What is Article 11?
Article 11 allows publishers such as media organizations to charge content aggregators like Google News for simply displaying and linking to their stories.
Critics say Article 11 could dramatically alter and even outright destroy news aggregators. Google News, for example, was shut down altogether in Spain after similar rules were implemented in late 2014.
What is Article 13?
Article 13 demands platforms such as YouTube stop copyrighted material from being uploaded or be held liable. Both sections would require tech platforms to acquire special copyright licenses before allowing protected content to appear.
Similarly, those opposed to Article 13 say such stringent rules would force major tech hubs like Facebook to begin using upload filters to stop any copyrighted content from being posted by users to their platform. An exemption was made for copyrighted content used for the purpose of criticism, parody, and review to quell fears of a "meme ban." Still, opponents of Article 13 argue that such content filter technology is prone to error and could end up stifling users.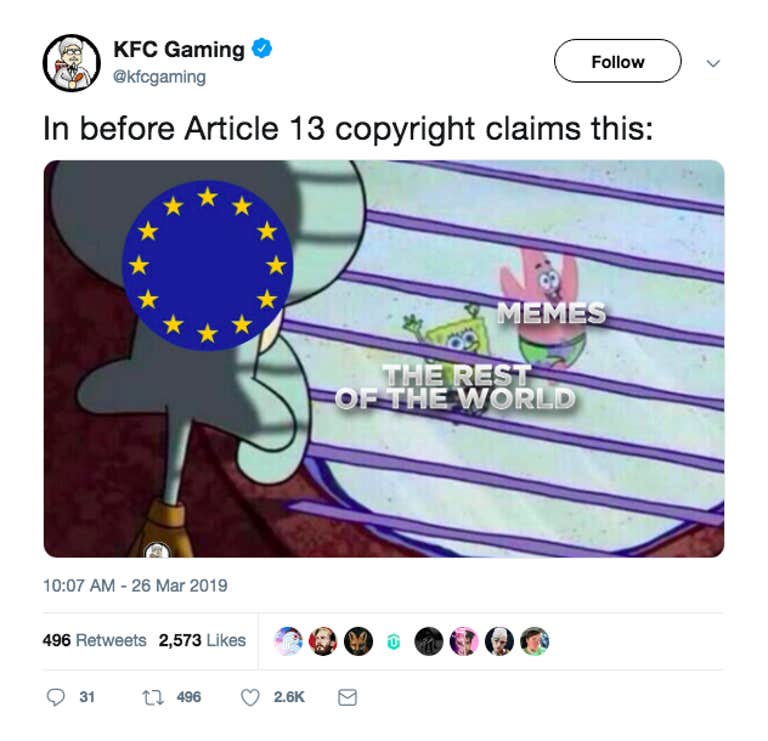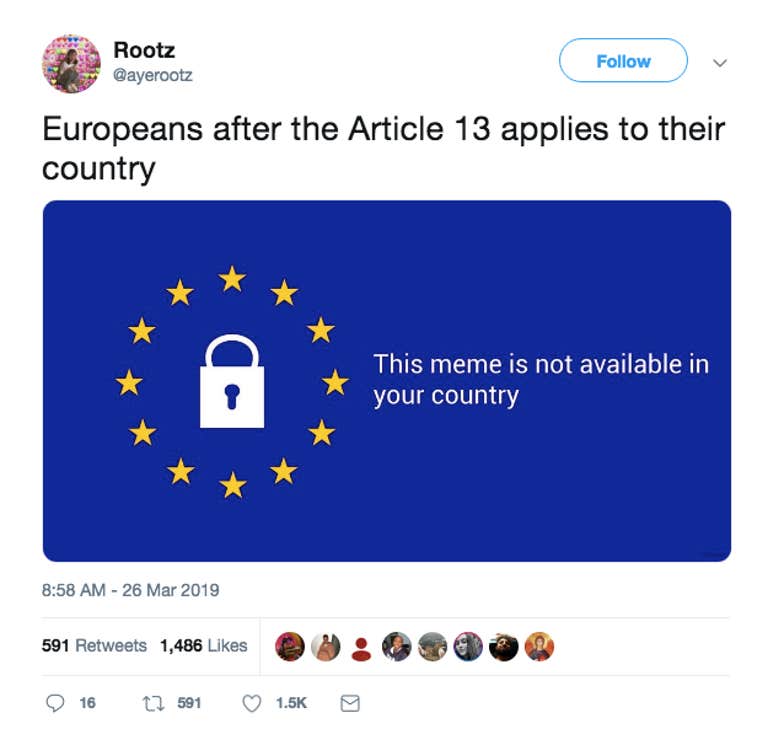 Additionally, smaller platforms may not have the resources to comply with Article 13, essentially ensuring that the most powerful and wealthy tech sites continue to monopolize their respective fields.
READ MORE:
Is the Copyright Directive an end to the "digital Wild West?"
Those in support of the Copyright Directive, primarily record labels, artists, and media groups, have accused their detractors of fear-mongering and say the new rules are necessary to protect their content.
Antonio Tajani, president of the European Parliament, went as far as to say that the new legislation would "put an end to the existing digital Wild West by establishing modern rules."
What comes next?
Google, which argues that the directive will "lead to legal uncertainty and will hurt Europe's creative and digital economies," plans to offer assistance to E.U. countries that will ultimately decide how the laws are applied.
"The details matter, and we look forward to working with policymakers, publishers, creators and rights holders as EU member states move to implement these new rules," the company said.
How the laws will be applied in each E.U. member state remains to be seen, but they'll likely be cultivated by intense legal battles between tech companies and supporters of the Copyright Directive. Given the more-or-less borderless nature of the internet, the Copyright Directive—particularly Article 11 and Article 13—will undoubtedly have some sort of effect on American users as well.