Texas state senator Wendy Davis may be responsible for the world's first crowdsourced filibuster, but her newly launched campaign bid for governor is going to require even more stamina than that 11-hour protest: the sustained attention of the Internet.
On the Web, Wendy Davis is a hero—no, literally. But in Texas, she fights an uphill battle against the state's widespread conservative coalition. Her most likely opponent is Texas Attorney General Greg Abbott, who's already amassed over $25 million for his campaign run. Davis, by contrast, barely had $1 million when she announced her campaign on Thursday.
On Friday, Davis plunged into the race with a "Day of Action," an all-day fundraising event that appealed directly to the worldwide fanbase she amassed over the 11 hours she spent filibustering the state Congress in July:
Today, we're holding an online Day of Action to kick start our grassroots efforts!

The smears from the super PACs and special interests have already started. We need all of us fighting to win this uphill battle.

The goal is to reach $500,000 by the end of the day. Can you help?
The viral mechanisms of Tumblr, Twitter, and the democrat communities of the Web kicked in.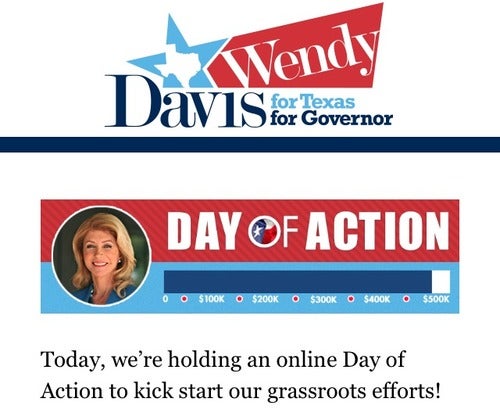 But in the middle of a government shutdown, and without the immediate headline-getting pull of a Veronica Mars Kickstarter, for example, Davis appears to have fallen just short of her goal. Reports suggest that at midnight she was a few thousand dollars shy of the $500,000 goal.
Perhaps even more discouraging for Davis: at the end of the day, her Facebook page had only 300,000 likes.
The question of whether Davis can successfully run a campaign against a Texas Republican whose funding outnumbers hers twenty times over hinges upon the amount of grassroots support she can muster. But while outside of Texas, Twitter's #StandwithWendy hashtag looks universally like this—
I dont like USA politics but MAKE WENDY DAVIS GOVERNOR OF TEXAS #TeamWendy

— Kapreysun ? (@Ayshiboo) October 5, 2013
—the tweets coming from Texas are much angrier.
@WendyDavisTexas Her claim to fame is murdering innocents! #TeamWendy #teaparty #tcot

— Tom Sullivan (@TomSull54155247) October 5, 2013
Or 6,7,8,9 RT @SkiGarmisch: When I see #TeamWendy, I think how #WendyDavis supports abortions at 5 months. FIVE months. #Stand4Life

— Dan McDonald (@hays127) October 5, 2013
A groundswell of support for Davis' campaign outside Texas can only do so much. After all, while supporters from all over the world participated in Davis's filibuster and extended women's rights protests, the Internet can't follow Texans into the voting booth.
But it can influence them before they get there. Beyond the typical methods of campaign fundraising, local canvassing, and yard signs, that may be where Davis' last best hope truly lies.
She just has to hold its attention.
Photo via WendyDavis.com