Hey, websites asking you to download a separate mobile app, the Internet has a message for you: We don't want your f**king app.
Having an app to browse a website is dumb. A well-designed website is far better. Yet some companies insist on cluttering your phone with crap you'll never use. F**k.
A single-serving Tumblr named I Don't Want Your F**king App, because swearing is funny and helps hammer home the point, highlights websites that urge (via annoying popups) mobile users to download their apps.
The blog's creator, Terence Eden, is a U.K. developer and "mobile enthusiast." He explained his frustration about the app prompts in a blog post. 
Not only is taking over an entire screen to let people know about a mobile app extremely annoying, it's easily avoidable. Apple offered developers the option to include a banner at the top of the screen to let iPhone users know that a website has an accompanying app. These sites don't seem to have gotten the f**king message.
F**king LinkedIn:
F**king IMDb: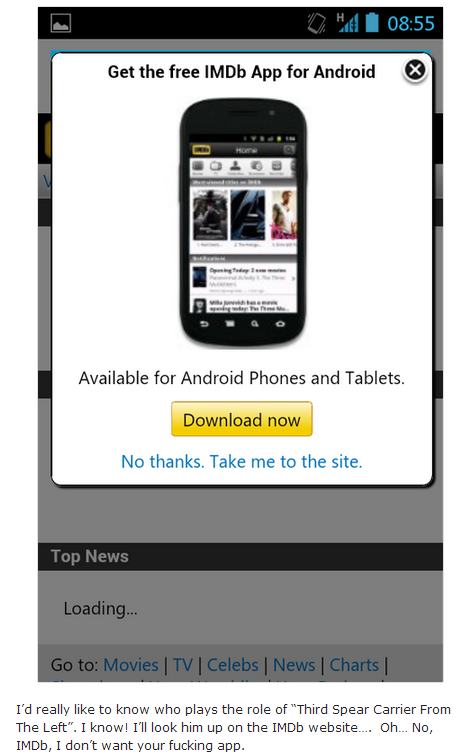 F**king Amanda Palmer: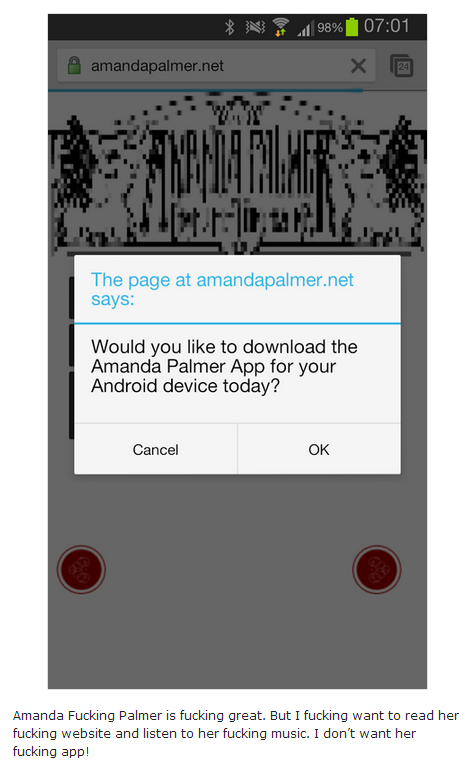 F**king Bleacher Report: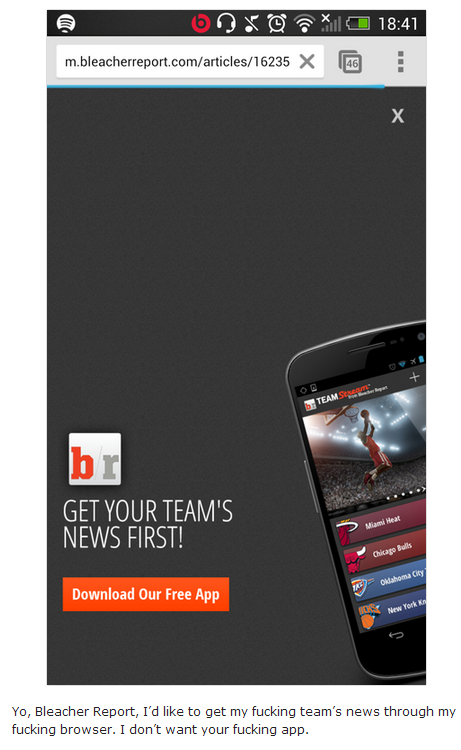 Other offenders include Flickr, the Daily Mail, and Google+. 
Then there's Quora. F**king Quora. You might just be the worst of all. 
The f**king Quora mobile site does not let you read a question-and-answer thread beyond the first f**king answer, despite loading all of that content underneath its popup. One programmer pointed out earlier this year that Quora was sucking data usage out of his mobile plan to download full threads to the mobile site without actually displaying it. Quora is easily the f**king worst in this department.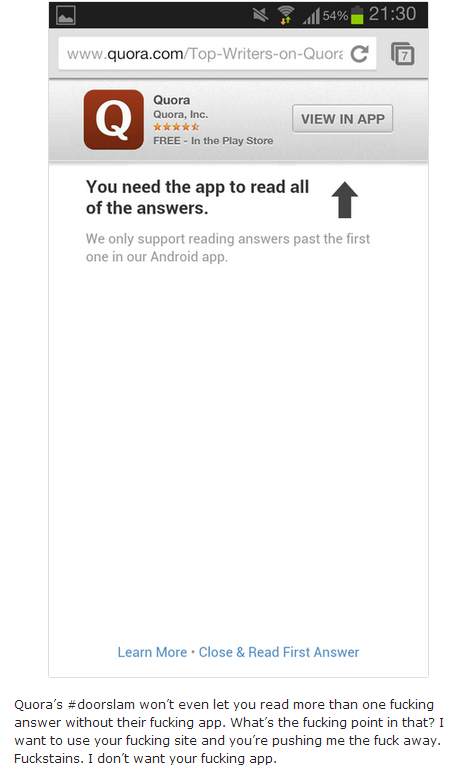 Ironically, it's not exactly easy to start following  I Don't Want Your F**king App from a mobile site. Of course, Tumblr tries to redirect you to download its mobile app.
Eden points out that a popular Hacker News thread about his Tumblr segued into a discussion of all the f**king swearing. I's perfectly fine to express your passion for something through appropriate language, he argued.
And to be f**king honest, Eden wouldn't have to swear so much if companies were less persistent in pushing their f**king apps on us.
Screenshots via I Don't Want Your Fucking App/Tumblr