Twitter users were greeted with a "something is technically wrong" message on Thursday afternoon—just ahead of President Donald Trump's "social media summit" with a number of conservative voices online.
Trump is scheduled to meet with a number of conservatives and Republican lawmakers as part of the summit on Thursday afternoon. He is also expected to make a speech about it. Major social media sites like Twitter and Facebook were not invited to the meeting, according to reports.
Twitter told the Daily Dot it is investigating the issues with people accessing the site.
It's likely an unfortunate coincidence that the site went down just as social media was at the center of presidential discourse in Washington, D.C, making it impossible for people to tweet about the summit.
However, it didn't stop people from noticing the timing, with several posts going up on Reddit's r/conspiracy to discuss the situation.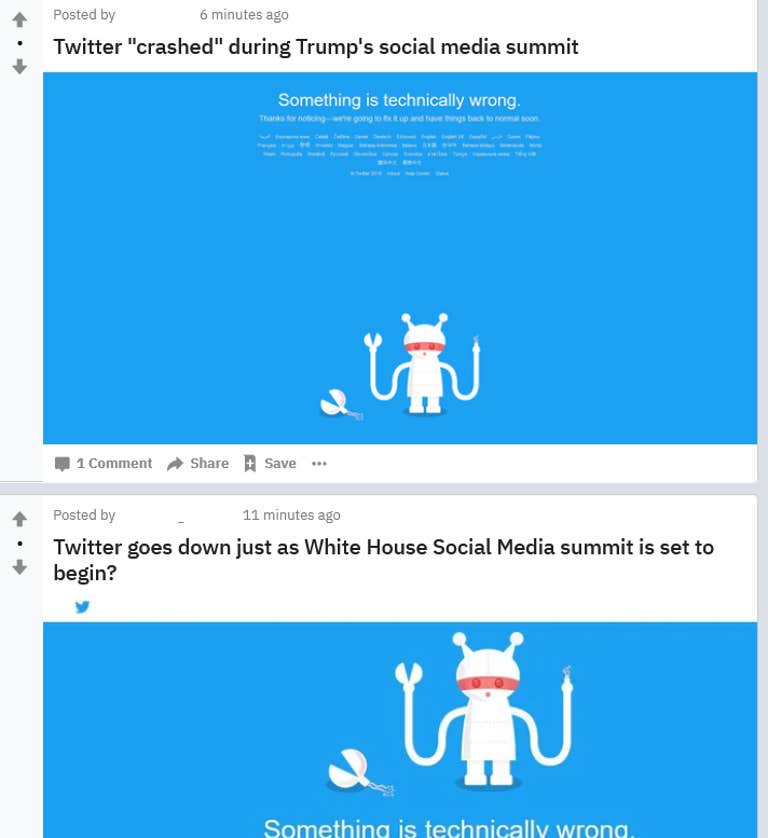 Reddit also experienced an outage on Thursday, according to Digital Trends.
Regardless, it's likely the president will use this as ammunition in his campaign against the tech giants.
Update 3:14pm CT, July 11: According to Twitter, "the outage was due to an internal configuration change" and it is working to restore access to users.
READ MORE: 
Got five minutes? We'd love to hear from you. Help shape our journalism and be entered to win an Amazon gift card by filling out our 2019 reader survey.