President Donald Trump might describe himself as a "very stable genius" and claim he has one of the highest IQs but, right now, he's making the top five image search results for anyone that types the word "idiot" into Google.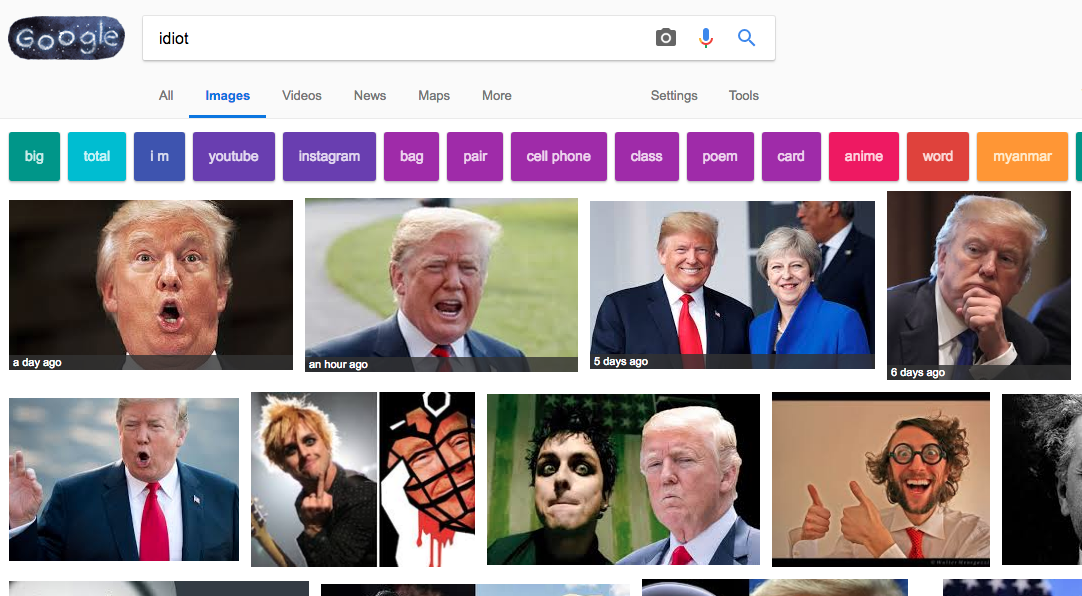 The discovery was made after the president's trip to the U.K., which sparked mass demonstrations and protest. As part of that protest, British activists even started a campaign to push Green Day's 2004 hit song American Idiot up the charts to number one in time for Trump's arrival. The effort failed, but activists can take solace that Google's algorithm now links the word "idiot" with his picture.
To be fair, the search results also turn up a picture of German theoretical physicist Albert Einstein—who, most definitely, was not an idiot.
The algorithm shows no mercy, or bias for that matter, and, while it seems that the "idiot" search result manipulation was unintentional, Google's search algorithm has been gamed in the past by online activists and trolls using websites like Reddit.
Ahead of the 2016 presidential election, for example, a Google image search for the word "rapist" showed several images of the husband to Trump's Democratic electoral rival, Hillary Clinton, the former President Bill Clinton.
That thread was pushed by controversial pro-Trump community subreddit r/The_Donald, whose members pushed images of the former president using extreme keywords in their text headlines that would manipulate Google's ranking methods.
Marketers have been exploiting Google's constantly changing ranking algorithm for years to get their clients or products in front of consumers, but using search engine optimization techniques as a subversive form of protest is fairly new.
When it comes to Google, what is a more trustworthy gauge of public interest and opinion is looking at the website's top searches. Unfortunately for Trump, this line of inquiry doesn't flatter him either.
Following Trump's press conference on Monday alongside Russian President Vladimir Putin, in which he infuriated the political left and right by refusing to accuse Putin of interfering in the presidential election, searches for the words "treason," "traitor" and "collusion" all spiked.