President Donald Trump's Twitter account briefly disappeared on Thursday evening, sending the social network into a frenzy of instant speculation.
The account, @realDonaldTrump, appeared to have been disabled for approximately 11 minutes. Anyone who visited the account saw only this page: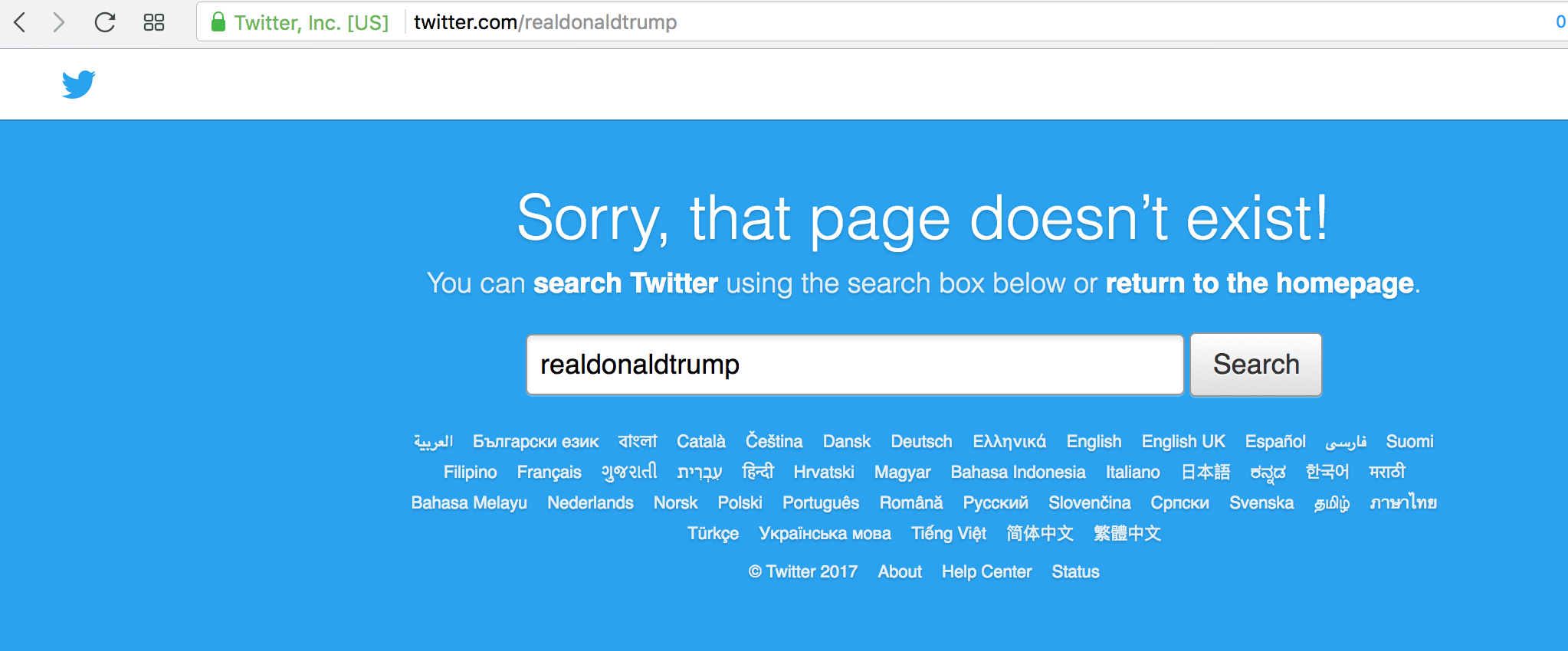 It was not immediately clear why Trump's account briefly disappeared or what could have triggered the account to suddenly become inactive.
Neither Twitter nor the White House immediately responded to our request for comment.
Trump uses Twitter multiple times every day to reach his followers and broadcast his thoughts to the world. He has credited the platform for his political success and says it provides him with a direct line of communication to the American people.
Just moments before the account went dark, Trump tweeted about his appointment of former hedge fund manager Jerome Powell's nomination to chair the Federal Reserve.
Today, it was my pleasure and great honor to announce my nomination of Jerome Powell to be the next Chairman of the @FederalReserve. pic.twitter.com/6aDuRy3zws

— Donald J. Trump (@realDonaldTrump) November 2, 2017
Many have long called for Trump to be banned from the social network for violating Twitter's terms of service, which forbid harassing language—something the president has long been accused of committing. It is not immediately known whether anything Trump tweeted resulted in the temporary suspension of his account.
We will update this post as more information becomes available.
Update 7:10pm CT, Nov. 2: Twitter says that the account was deactivated for 11 minutes due to "human error" by an employee.
Earlier today @realdonaldtrump's account was inadvertently deactivated due to human error by a Twitter employee. The account was down for 11 minutes, and has since been restored. We are continuing to investigate and are taking steps to prevent this from happening again.

— TwitterGov (@TwitterGov) November 3, 2017
Through our investigation we have learned that this was done by a Twitter customer support employee who did this on the employee's last day. We are conducting a full internal review. https://t.co/mlarOgiaRF

— TwitterGov (@TwitterGov) November 3, 2017
Correction: An earlier version of this article underestimated the amount of time Trump's Twitter account was offline. According to Twitter, it was down for 11 minutes. We regret the error.