Yesterday, Xavier Rotnofsky released the mini-doc, "Sunday Afternoon at Denny's." Both the longer, six-minute version on Vimeo and shorter one on Twitter are getting rave reviews.
In less than 24 hours, the video on Twitter has racked up 173,000 views.
A MAGA gathering at Denny's tears itself apart when a rival alt-right group tries to spoil the meetup, this is a lil doc about a Sunday afternoon at Denny's

Full video here: https://t.co/xGhJJnb7VB pic.twitter.com/urYhDnl32P

— Xavier Rotnofsky (@xrotnofsky) November 21, 2019
The video begins with little inkling of the trouble to come. A small number of Trump supporters gather at Denny's for a working lunch and discussion of how to re-elect Trump and save America.
Attendees include Republican congressional candidate Errol Webber and internet personality Harim Uzziel, a Trump superfan with a large following on Facebook, where he frequently posts videos like the freestyle rap below.
https://www.facebook.com/LosAngelesCountyForTrump/videos/429139987807253/
Uzziel seems to be in a leadership position at the meeting.
By the time the food comes, a handful of other Trump supporters, decked out in American and Trump flag regalia, have congregated in the parking lot to protest their meeting.
Things quickly go off the rails.
An attendee reveals that the people outside "are far-right radicals, I would say alt-right radicals that basically side with neo-Nazis." Uzziel claims that the man leading the protest "is an anti-Semite. He was at Charlottesville with white supremacists."
Although several, including Webber, aren't white, some are confused as to why they're being protested.
"These people are Nazis. What do they have against us? I mean we're not…." wonders one man, trailing off when he seems to recall that he's speaking into a camera.
In a plot twist, it's then revealed that they're protesting Uzziel specifically.
A man wearing a "The Deporter" shirt, says reassuringly, "No one's coming here to hurt him. We're coming here to confront him."
A woman explains that they used to be chummy with Uzziel, but had a falling out at some point. She says that he's accused her and others of being white supremacists and KKK sympathizers. She later claims that they'd "supported Harim in his lowest, darkest moments. And all he continues to do is throw each and every one of us under the bus."
When the group inside catches wind that Uzziel is the target, not them, some urge compromise.
By this point, the crowd outside has swelled to at least a dozen. Management decides they've had enough and asks them to leave. Webber wisely beats a path to the door, a fact he didn't seem to take too kindly to people pointing out on Twitter.
As he leaves, protesters circle Uzziel's car, shouting insults and expletives. Smiling, he flips them off and drives away.
The mini-doc, which contains enough straight gold to plate the fixtures in one of Trump's bathrooms, is earning Rotnofsky much praise.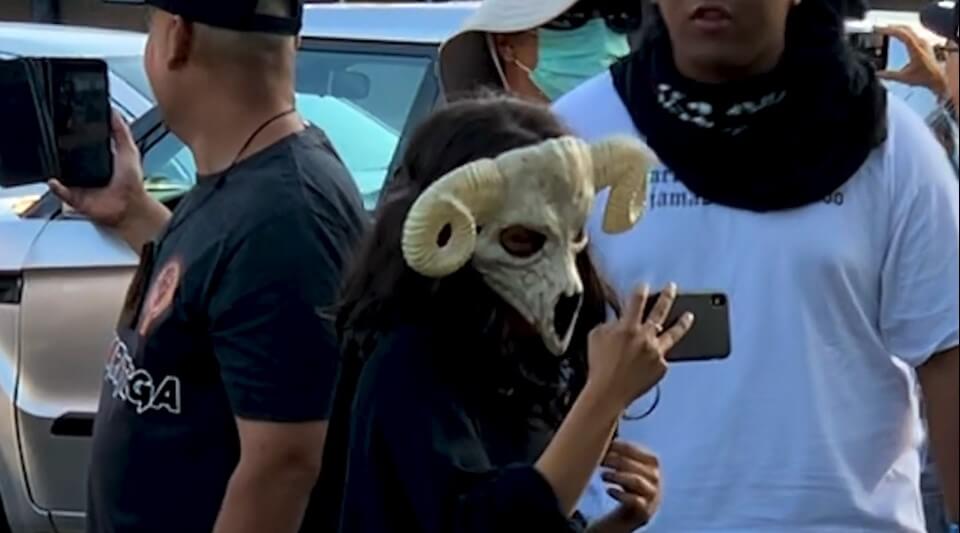 "This deserves an Oscar," gushed the Daily Beast reporter Will Sommer. "Beautiful work," Vic Berger IV tweeted.
"I can't decide what my favorite moment was. Was it the guy that is going to order a steak in these trying times? Was it the one that spilled all the beans about MAGA and Neo-Nazi relations? This video just keeps on giving. Thank you," said @LetsEatCake2020.
Twitter user @Litzz11 wasn't certain that Denny's was the proper setting for such a meeting of the minds. "Damn I can't believe this didn't happen at Cracker Barrel," they tweeted. (Sorry, Golden Corral, maybe next time.)
I GUARANTEE you they left one of these, but just left the corner sticking out to fool the waitress while they made their getaway pic.twitter.com/DaaYFmWdfP

— Zap "Action" Robs-dower (@RobuShiro) November 22, 2019
https://twitter.com/banditelli/status/1197882190542950401?s=20
This is definitely my favorite part.

— Don't worry about it (@fullyspectrumed) November 22, 2019
https://twitter.com/FungeonMaster1/status/1197870459230007301?s=20
It's not clear whether they had a chance to discuss how to re-elect Trump and save America.
READ MORE: