President Donald Trump long ago thought he could own an NFL team—he tried to buy the New England Patriots and Buffalo Bills—but now he's selling jerseys for a different team, the Stand Up For America's.
The official website for Trump's re-election bid, shop.donaldjtrump.com, is selling red, NFL-style jerseys that promote his attacks on players who kneel during the national anthem to protest police brutality against people of color.
The jerseys, which come in men and women styles, cost $99.
Both jerseys have the number 45 on them—a reference to Trump being the 45th president of the United States—and have "TRUMP" written on the back in white letters. The team name, it appears, is "Stand Up For America," which doesn't seem like it will fit on other merchandise.
They also feature an American flag on the sleeve.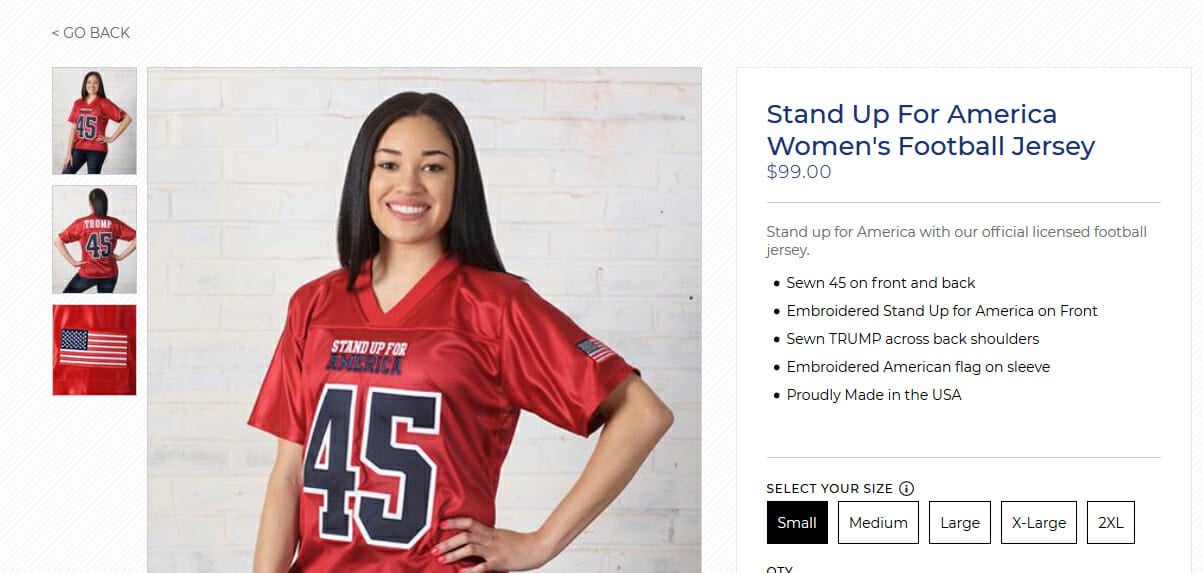 The New York Post reports that the jerseys went on sale last month after Colin Kaepernick, who first began the protests, was featured in a viral ad for Nike.
The president has railed against the protests for more than a year, and recently took a shot at the NFL for it ratings during the first game of the season. Last year, he uninvited the Philadelphia Eagles, the Super Bowl champion, from a traditional visit to the White House amid a disagreement about the protests.
Meanwhile, Vice President Mike Pence—who left an Indianapolis Colts game last year after players knelt during the national anthem—cost taxpayers an estimated $325,000 for his political stunt, according to the HuffPost. The costs included the hotel, travel, and security.
Maybe the $99 jerseys can be used to repay some of those costs.
READ MORE: