It's only fitting that the final scene of 2019 would feature ginned-up outrage and a bizarre conspiracy theory. Fans of Home Alone 2: Lost in New York and President Donald Trump have managed to accomplish both in one fell swoop.
For reasons that are not entirely clear, they believe that Trump's cameo in the 1992 flick was cut by the Canadian Broadcasting Corporation for nefarious or political reasons.
Movies are edited for length and content all the time, so the loss of a few seconds of a celebrity's vanity appearance onscreen ordinarily doesn't warrant much notice. This particular scene, in which Trump gives Macaulay Culkin directions at the Plaza Hotel, doesn't move the plot or develop a character, so it's a logical choice to cut.
But in 2019, no news cycle is complete without a Trump-centric controversy. So, once people started tweeting their displeasure over not getting to spend seven seconds gazing upon the president, a scandal was born.
Fox & Friends ratcheted up the anger on their Thursday morning show when hosts reportedly referred to the scene getting cut as "censorship" and evidence of Trump Derangement Syndrome.
Donald Trump Jr. tweeted an article that called it "pathetic" and went on a lengthy diatribe on Instagram.
His dad later weighed in with a presumably joking tweet accusing Canadian Prime Minister Justin Trudeau of making the CBC delete the scene.
I guess Justin T doesn't much like my making him pay up on NATO or Trade! https://t.co/sndS7YvIGR

— Donald J. Trump (@realDonaldTrump) December 27, 2019
And then it was off to the races.
Angry Trump fans caused such a ruckus that the CBC eventually clarified that, in fact, the scene was originally cut in 2014, well before Trump even launched his presidential campaign (but well into his racist birther attacks on President Barack Obama). Trudeau, for his bit part, declined to comment.
From his personal account, White House deputy press secretary Judd Deere retweeted a quote tweet that included Jack Posobiec's nonsensical comment, "Watch how they cut Trump out of Home Alone. This is 1984 level."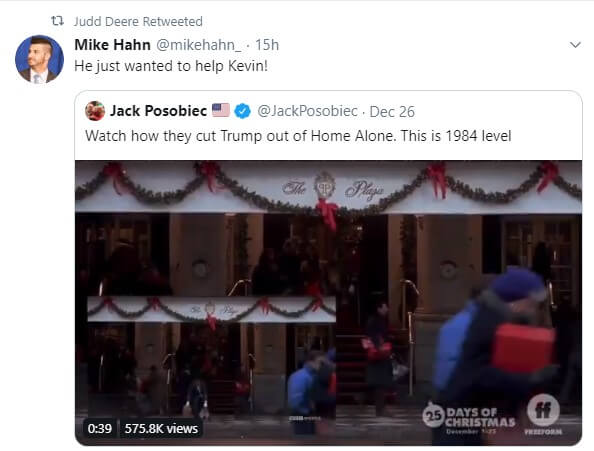 Andy Ngo said Trump was "censored." Charlie Kirk called it "shameful" and blamed "hate" from "the left" for the omission. Even though the movie has been airing in this form for years, Turning Point USA's Benny Johnson seemed to believe that the scene was removed after Trump mentioned the movie in a Christmas Eve teleconference with troops on Dec. 24.
Such complaints were met with exasperation and amusement.
Ken Olin tweeted, "As a director I have to confess that there's nothing more annoying – and frankly pathetic – than a bit player, especially a mediocre talent, confronting me and whining about being cut from a piece. I'm always like, 'dude get a life!'"
An enterprising video editor even altered the scene by superimposing the Trump baby blimp over him.
If they think Trump getting cut out of Home Alone 2 is an outrage, wait until they see what happens to his role in history.

— Schooley "Flatten the Curve" (@Rschooley) December 27, 2019
The best part of Trump being edited out of Home Alone 2 movie is the chance to remind everyone that the only reason he was in it is because he forced producers who shot movies at his hotels to feature him in a cameo. Most had the good sense to cut him from the final edit. pic.twitter.com/StTCwfOdFk

— Don Moynihan (@donmoyn) December 27, 2019
Personally, I think cutting trump out of "Home Alone 2" is a great start.

He should be cut out of the Fresh Prince, the Apprentice, the White House, and everything else he's ever appeared in.

Just leave his impeached ass in the history books, as a cautionary tale.

— BrooklynDad_Defiant! (@mmpadellan) December 27, 2019
I can't believe that major news outlets are writing full articles about Home Alone 2 cutting the Donald Trump scene before airing it in Canada.

We truly are living in the dumbest fucking timeline ever.

— Red *WASH YOUR DAMN HANDS* Painter (@Redpainter1) December 27, 2019
If we stay silent when Canada edits Trump out of Home Alone 2, we will have no credibility when Russia edits David Bowie out of Zoolander

— Dan Pfeiffer (@danpfeiffer) December 27, 2019
Nothing, and I mean nothing, matters more right now than getting to the bottom of whether a Canadian broadcaster cut the Trump scene out of Home Alone 2 because of commercial break necessity or political point-making. We must debate this.

— Sam Stein (@samstein) December 27, 2019
It takes so little to get under Trump's skin that he and his propaganda partner, Fox News are going after CBC and Trudeau for his seconds long appearance in Home Alone 2 being cut. Trump is international embarrassment and the laughing stock of the world!

— Amy Siskind (@Amy_Siskind) December 27, 2019
The drama spilled onto Wikipedia, where a trickster editor updated the Home Alone 2 page to add the technically accurate line, "On December 18th, 2019, cast member Donald J. Trump became the first cast member impeached."
As of late Friday morning, Culkin, whose Twitter feed is full of irreverence, self-debasement, and humor, had yet to weigh in.
READ MORE: