The White House Gift Shop is selling a $100 coin commemorating President Donald Trump's victory against the coronavirus. The only problem—Trump is currently hospitalized with COVID-19.
The coins, which begin shipping four days after the presidential election, are part of the website's "Historic Moments in Presidential Series."
Contrary to popular belief, the White House Gift shop is not actually associated with the federal government. Therefore, the coin designs are not approved by the president or his administration.
The coin's designer, a man named Anthony Giannini, says his latest creation is intended to portray what he sees as the president's legendary nature.
"Design is suggestive of superhero graphic art because POTUS 45 has created a never before seen presidential mythos," Giannini writes. "I predict, ages hence, myths will abound of President Donald J. Trump, akin to the Epic of Gilgamesh."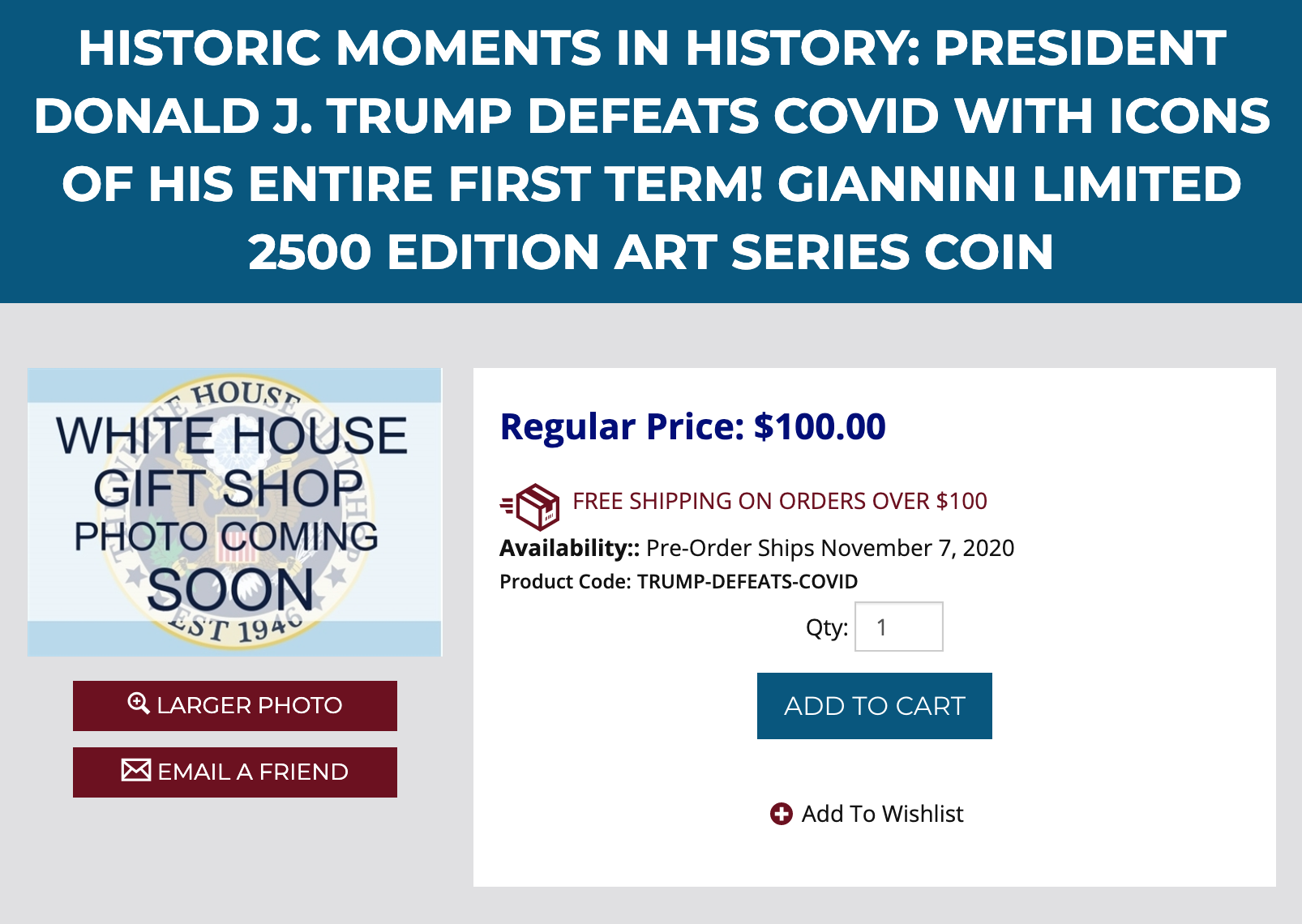 It's not entirely clear whether the coin is intended to commemorate Trump defeating the coronavirus on a national level or a personal one. Regardless, neither outcome has yet come to pass.
The U.S. has seen upwards of 209,000 deaths and counting, while the president remains hospitalized at Walter Reed National Military Medical Center due to the virus.
Despite apparent attempts to downplay his condition, the president is now known to have received supplemental oxygen after his O2 saturation levels dropped numerous times. Trump has also been taking Dexamethasone, a corticosteroid only used in more serious cases of COVID-19.
While the odds are undoubtedly stacked in the president's favor, it remains unclear why Giannini decided to release a coronavirus victory coin so prematurely.
The White House Gift Shop is no stranger to controversy given its unclear provenance. The new coin appears to have fooled at least one news outlet into thinking that the project had been backed by the Trump administration.
Incredibly, this isn't the first time Giannini has released a coronavirus coin, either. Other coins, that come in at $125, were made earlier this year.