An attorney who has litigated some of the unsuccessful lawsuits to keep President Donald Trump in power is going viral for a wild tale of blackmail, pedophilia, and a group of hackers known as the "Lizard Squad."
While Trump's desperate effort to stay in office has of late included threatening the Georgia secretary of state to "find" 12,000 votes, attorney L. Lin Wood has resorted to making a series of increasingly bizarre accusations that appear to have roots in QAnon.
QAnon is a conspiracy theory that the world is controlled by a cabal of satanic, pedophile cannibals. This fictitious cabal comprises the deep state, liberals, and entertainers.
In the wee hours of Monday morning, Wood posted a flurry of tweets about a far-fetched conspiracy of which he and the Lizard Squad supposedly have proof.
Wood baselessly accused United States Supreme Court Chief Justice John Roberts of child rape and murder, claimed that Roberts and others are being blackmailed by an international coalition of intelligence agencies and that the Lizard Squad obtained evidence and provided it to actor Isaac Kappy before his 2019 suicide.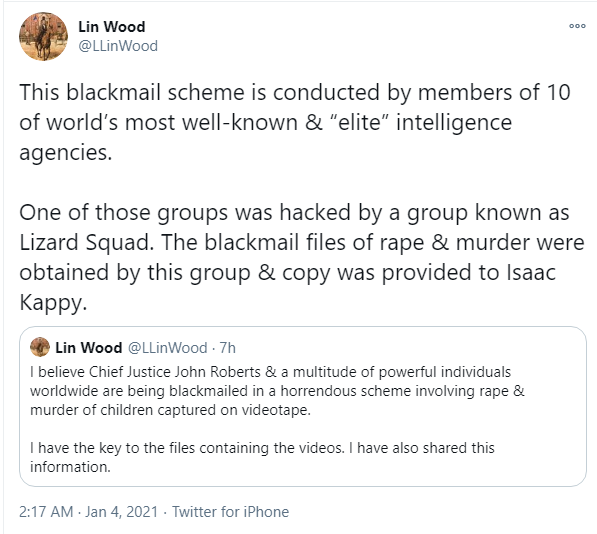 It's an extremely outrageous tale, even for a man who has in recent days said that Vice President Mike Pence should be executed by firing squad.
Wood went into a level of detail that would impress a Hollywood screenwriter—of encryption keys, Jeffrey Epstein, a failed attempt to get proof to Trump, and even more shocking claims.
But even amid all this, the Lizard Squad stood out. Wood quickly became the subject of much mockery.
While most of the internet laughed, QAnon followers were caught up in the drama and intrigue. One said Wood had dropped "massive truth bombs."
As with most conspiracy theories, there's a kernel of truth buried within. The Lizard Squad was indeed real, but it's now defunct. There's no evidence it hacked intelligence agencies to obtain evidence of blackmail or otherwise. When active, it was mostly just a nuisance.
Lizard Squad was a hacker-for-hire group that harassed targets on behalf of paying customers. It was best known for distributed denial-of-service attacks on gaming platforms and gambling companies, and for hacking Taylor Swift's social media in 2015. In 2018, its founder was convicted for his role in some of its activities, the Chicago Tribune reports. Others associated with the group have also been criminally charged.
Although such details help the conspiracy-minded believe Wood's story, most people weren't convinced so much as amused. Memes and jokes dotted the timeline as Lizard Squad trended on Twitter.
"Lin Wood said that a group known as 'The Lizard Squad' hacked into a blackmail scheme of rape and murder," tweeted @AmyAThatcher. "I have a group of hackers known as 'The Teenage Mutant Ninja Turtles' who said that Lin Wood is batshit fucking crazy."
Wood claims that all evidence may be revealed at a later date. The internet isn't holding its breath.