The coveted blue check mark on TikTok, like any social media site, is there primarily for clout—but also to distinguish a popular account from copycats.
So how do you get verified on TikTok, and why should you do it?
The issue of verification is particularly acute on TikTok, given the rise of copycats and the amount of deepfake videos on the platform. The blue badge adds value to a verified account because it prevents fake accounts of celebrities or public figures from gaining traction.
While those goals clearly help with fakes and copycats, earning verification on TikTok is not as easy as it seems.
Celebrities and public figures are being encouraged to create TikTok accounts, even if they don't post, to avoid their name and face from being used. It happened most recently to actor Tom Cruise.
A fake account called "Deep Tom Cruise" went viral for videos that appeared to be the real actor.
Meanwhile, Rep. Alexandria Ocasio-Cortez (D-N.Y.) also has several fan accounts that appear to be the real deal. One account is even named "@aocofficial."
For celebrities and figures like Cruise, who made his own TikTok account following the virality of the deepfakes, social media platforms happily grant verification due to their widely known status.
But, what about for other lesser known content creators with substantial fanbases?
Here's everything you need to know about being TikTok verified.
What does it means to be TikTok verified?
When an account has the blue check mark, it means that TikTok deemed the account to be run by the person it claims it to be. It is a way of building trust for what users see on the platform.
"TikTok's verified badge is an easy way for notable figures to let users know they're seeing authentic content, and it helps to build trust among high profile accounts and their followers," a blog post written by TikTok explains.
So, Cruise's official TikTok page is actually run by Cruise.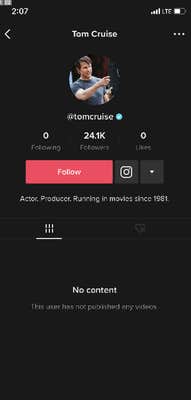 After an account gains a certain level of following—which is common for celebrities, brands, or other figures—verification is typically granted.
Other famous TikTok creators have verified accounts including dancers Charli D'Amelio and Addison Rae. Once these TikTokers rose to fame, TikTok deemed their accounts worthy of being distinguished from fan accounts.
D'Amelio is the highest followed TikTok account and the verification helps fans can sort her videos from fakes.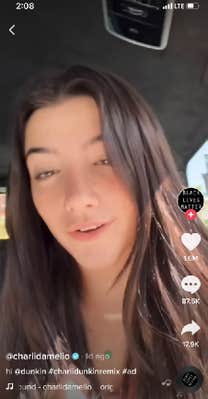 The verified badge on TikTok can been seen next to a user's account name in search results and on their account page.
How do I get verified on TikTok?
Earning a blue check mark on TikTok is harder than it seems. Unlike Instagram or Twitter, users cannot initiate the verification process.
So, even if a content creator has a following, it is only up to TikTok to determine if their account is verification worthy.
In addition to accounts with thousands to millions of followers, verified accounts post frequently. They also obtain high engagement with likes, comments, reposts, hashtags, and views.
Coverage from media outlets also brings attention to an original account. So, many verified accounts participate in viral TikTok trends or challenges that get covered.
Lastly, if a user is verified on another social media account, then they should link that account to their TikTok page.
While all of these things might help, it still is ultimately up to TikTok to determine if an account deserves the verification clout.
How do I make sure a TikTok account is verified?
Maybe it's obvious, but: Look for the check mark.
TikTok verified accounts have a blue check mark or a verified badge next to the account's name. It can be found at the bottom of an account's video or at the top right of a user's profile page.
That is how you will know an account is legitimate.
If you want to truly make sure a TikTok is verified, you could also check out a celebrity or influencer's other social media profiles to see if they've posted a link to their TikTok account.
---
This week's top technology stories