The world tuned in to Apple's special event on Tuesday for the unveiling of three new iPhones, an Apple TV 4K, upgraded Apple Watch, and a wireless charging pad, among other announcements. Believe it or not, other news in the tech world was unfolding at the same time.
Because you were probably too bombarded with iPhone coverage to notice, we're going to take a look at some of the interesting things that happened in tech on Sept 12.
Putin meets a robot
The world's most beloved robot shook hands with Vladimir Putin on Tuesday.
Viral sensation Promobot, the robot that twice escaped its lab in Russia, is said to have immediately recognized the president who was touring an IT exhibition in Russia's Silicon Valley equivalent Perm. Promobot first made headlines last June when it escaped through an open gate and hitchhiked its way across Russia. Not willing to give up the spotlight, the AI later crashed a political rally to support Russian Parliament candidate Valery Kalachev.
Seemingly incapable of processing the situation, Russian authorities cuffed the robot (seriously, they put handcuffs on it) before escorting it away.
When it's not searching for freedom or inciting political unrest, Promobot is used as a guide, model, or salesperson throughout the country.
Google suffers worldwide outage
If the positive reception toward the iPhone X wasn't bad enough for Google, the company was hit with a massive outage on Tuesday morning as users complained of connectivity issues with YouTube, Gmail, Google Maps, and Google Drive.

Reports of loading problems from around the world flooded into Down Detector, a service that tracks online outages, around 8a.m. PT. It appears users in Europe, North America, and Japan were hit hardest.
Fortunately, the outage was short-lived. Google tells the Daily Dot all services were restored by 9:27a.m. PT. The company's G Suite Status Dashboard and Down Detector confirm those claims.
Samsung talks up flexible phones again
Why any company would talk about an upcoming product on the day Apple unveils its iPhones is beyond me, but leave it to rival Samsung to try to avert eyes away from the spectacle firing off in Cupertino. What better way to do that than to bring back its foldable smartphone concept.
The Korean mobile giant says it plans to release a foldable phone in 2018, according to the Associated Press. From the sounds of it, this won't be another concept or gimmick. Samsung will reportedly release the bendable phone under its flagship Galaxy Note line.
"When we can overcome some problems for sure, we will launch the product," Koh Dong-jin, president of mobile business at Samsung Electronics, told AP. "We are digging thoroughly into several issues we must overcome, as we don't want to just make a few, sell a few, and be done. We want to hear that Samsung made a very good product. We have a plan to adopt a foldable display in our roadmap."
While we've heard multiple rumors over the past few years, this is the first time Samsung spoke publicly about a foldable smartphone.
Rolls Royce showed off an anonymous Navy ship
The famed automaker is taking to the seas with its plan to build fully autonomous naval ships with a range of 3,500 nautical miles.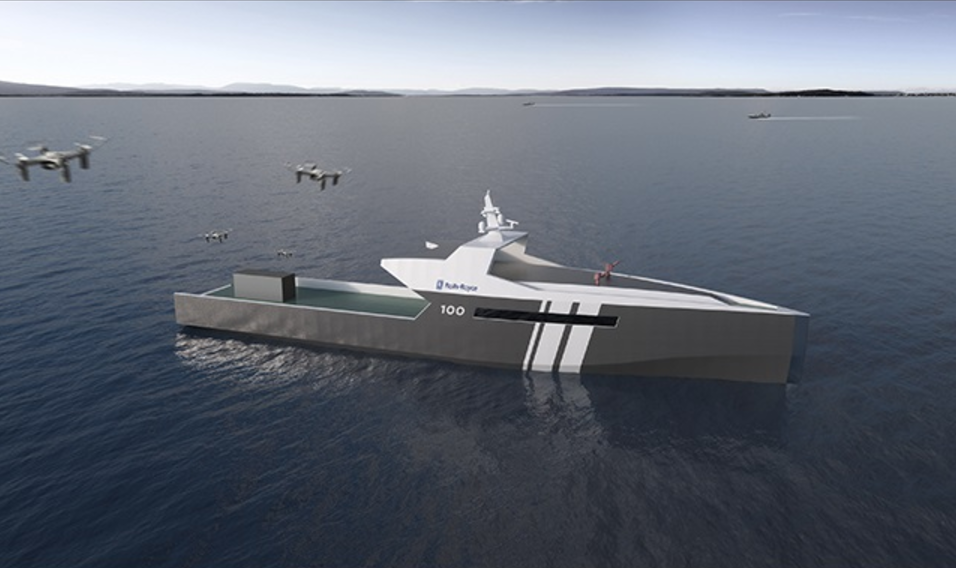 The company claims its sleek military boats can operate for 100 days at sea and travel at 25 knots or around 28 miles per hour. Each of the 60-meter vessels will be built for a single role, which could range from surveillance to mine detection. They'll operate on a full electric propulsion system and won't require any crew members.
Rolls Royce didn't provide an exact release date but says it expects to see these medium-sized "platforms" in "leading navies" within the next 10 years.