When Flappy Bird creator Nguyễn Hà Đông decided to unexpectedly remove his hit game from Apple's App Store and Google Play on Feb. 10, dozens of clones were created almost instantaneously—including ones ones featuring porn, Fall Out Boy, and Miley Cyrus.  
The latest Flappy Bird clone is part of a new breed that mixes the games addictive quality with cryptocurrencies.
Super Doge was launched on Google Play on Monday and allows players to earn dogecoins as they navigate the world's favorite dog meme through a maze of green pipes.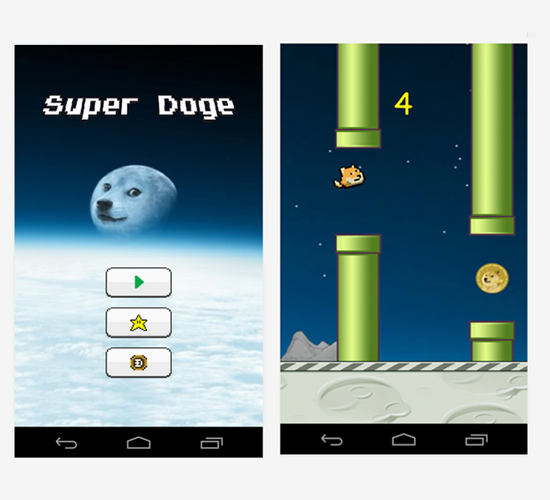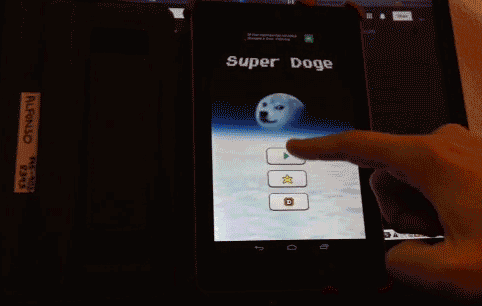 "You win dogecoins every time you play Super Doge and collect at least one coin," the developer explains. "The collected coins from all your games within one day will get you a certain share of the prize pool. The more coins you collect the bigger your prize pool share will be."
Since launching in December, Dogecoin has become an Internet sweetheart. The currency, named after the doge meme featuring a cute Shiba Inu pup and Comic Sans text, was embraced by communities on Reddit and 4chan, who have gotten in the habit of gifting millions of dogecoins to each other for fun. Sites like Dogefaucet.com have also sprung up to give away coins for free. This open exchange is possible because of how little a Dogecoin is worth. As of Wednesday morning, one dogecoin traded at a mere $.001.
Still, Dogecoin enthusiasts have combined to put the currency to work for good causes, raising thousands of dollars for Jamaican and Indian Olympic hopefuls to travel to the winter games and funding a charity that trains service dogs for special needs children.
So far Super Doge has been reviewed 208 times and has a 4.8 rating out of 5. It's been downloaded about 5,000 times as of Wednesday and looks like it will continue to grow.
"This is great," flippi273 commented on Reddit's r/dogecoin. "The only thing I could think to make it better would be to try and get away from getting the Flappy Doge through pipes and use something different. The ground and background suggest we are on the moon. Let's think of something better than green Mario pipes."
Super Doge is the second Flappy Bird clone to embrace a cyrptocurrency.
In late February the 4chan community launched Flappy Party, a massively multiplayer online version that has integrated Bitcoin gambling. This is how it works: Each player types in a username and tries to navigate pipes while a few hundred other people (there were about 700 when I played) do the same. On the right side of the game is a leaderboard that keeps track of how many pipes you've passed in the round. Each round is about 15 minutes long and before each one starts, "bookmakers offer odds on competing players within the first 30 seconds of a round, while punters rush to take them up on their offer," Imgism reported. "The funds from both parties are held in escrow until the end of the contest, then doled out to the winners via a tip to their online wallet."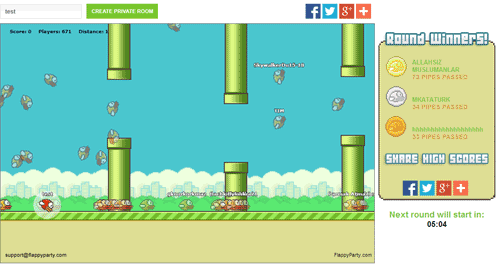 According to Imgism, Flappy Party was taken offline on Feb. 26 or 27. But from the looks of the site, the game is still very much alive. What is unclear is whether the gambling aspect is still functional. The Daily Dot reached out to Flappy Party for a comment, but there's been no response yet.
UPDATE: A spokesperson for Flappy Party responded with the following comments.
"Let me just say that we are a family-friendly game and we did not include any features to promote gambling when we created the site. We are aware of the room created by some 4Chan users but we played no role in facilitating any financial activities within the game – if that was done, it was without our knowledge or consent.
"The site continues to work very well, we often have 800 players at the same time and currently have over 60,000 coming to our site to play every day, sometimes up to 100,000 players/day. We've recently added several features like round/global leaderboards, private rooms with chat ability, and are adding a selection of new themes to the game this week. We have players coming to our site from all types of forums/gaming communities from all around the world—4chan, jeuxvideo.com, koreus.com, etc. They're welcome to play our game in any way they see fit."

Photo by Fernando Alfonso III