Aside from a phishing attack by the Syrian Electronic Army and a few fraudulent pizza orders from 4chan users, most of the threats the Daily Dot and its reporters have received over the past two and half years have been bogus.
But the one we received Monday was the most peculiar to date. A social media marketing firm threatened to flood the Daily Dot's Twitter account with fake followers.
And we knew these guys could deliver.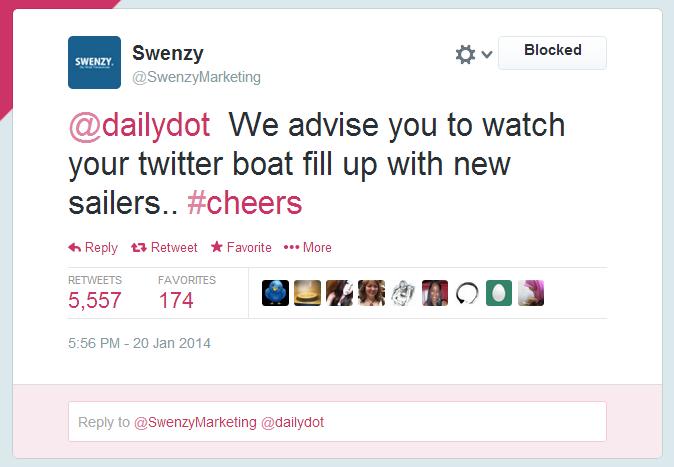 The culprits are known as Swenzy, but if you've heard of them, it's likely under their former name, SocialVEVO. They rose to notoriety in 2013 with a number of high-profile Internet hoaxes, including a fake NASA announcement and a bogus countdown to a Family Guy spinoff starring Brian the dog.
But the hoaxes are just a marketing tool for their real products: fake YouTube views, Facebook likes, Instagram followers, and yes, Twitter followers. 
Over the past four days, Swenzy has more than doubled the number of followers of the Daily Dot's Twitter account, pushing it from 48,000 to 122,000 and rising. According to a popular tool that tests accounts for fake followers, 86 percent of ours are now fake.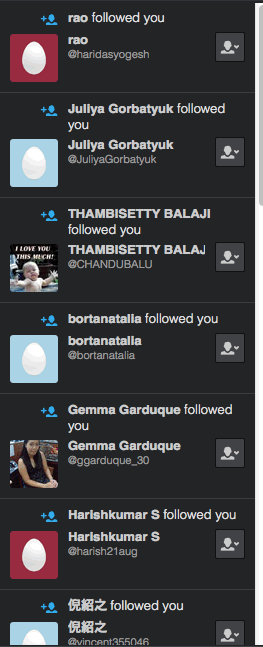 Judging by the rates listed on Swenzy's website, a boost of that magnitude would normally cost around $800. So, why would these marketers give it away for free, especially to a news site they claim to hate? 
There are three answers: To damage the Daily Dot's Twitter brand, retaliate against a story that resulted in them shuttering their YouTube botting business, and prod us and other news organizations into giving them more free press.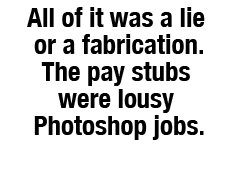 Since Swenzy slithered onto the social marketing scene in September, the group has duped an impressive list of media organizations into covering its pranks: CNN, Time, the Wall Street Journal, the Huffington Post, and more.
In mid-November, one supposed ex-employee of SocialVEVO reached out to the Daily Dot to share the marketing group's dirty laundry. He provided me with records purporting to prove that big-name music producers had paid more than $100,000 for fake YouTube views. He also implicated Vevo, a video-hosting juggernaut that works with artists like Bieber, Rihanna, and Britney Spears in buying fake YouTube views. He even sent me a script he claimed SocialVEVO used to inflate YouTube views automatically.
All of it was a lie or a fabrication. The pay stubs were lousy Photoshop jobs, the script made no syntactical sense, and Vevo had never heard of SocialVEVO. A spokesperson told the Daily Dot it planned to "enforce our trademark and ensure [SocialVEVO] discontinue using the VEVO name." 
The only one of SocialVEVO's many claims that proved true was the company's YouTube botting abilities. During my reporting, SocialVEVO helped an obscure video of mine collect more than 568,000 views in less than a day. My video had reached more than 660,000 people on Dec. 9 before YouTube took it down for breaking the site's rules against fraudulent views. 
In December, we published everything we had learned about SocialVEVO and its involvement with Internet hoaxes and social media botting.
In response, the group changed its name from SocialVEVO to Swenzy and announced that, for "security purposes," it was no longer offering fake YouTube views. In an email I received on Jan. 11, Swenzy claimed that the entire YouTube botting industry had crashed.
"Every view store is suffering chargebacks, losses, and people are calling this the great depression of YouTube market," one Swenzy member told me. "YouTube View sellers are starting to feel the financial collapse."
It would have made a great story, but it didn't check out.
Of the eight different YouTube botting companies I contacted about Swenzy's claims, none have had issues with their view-selling business. To the contrary, some businesses, like youtubeexposed.com, have been "working extremely well."
"We don't have any problems with our views," a representative from Voogen told me. "We have many orders in progress and didn't receive any complaints so far, also we don't use mobile views; we provide high quality high retention views only. So I don't see any problems with YouTube services, maybe another providers faced this problem but not Voogen.com. So you can be sure that our services is totally working."
Shortly afterward, Swenzy began advertising YouTube views on its site again.
It was after that failed attempt to bait more press coverage that Swenzy warned us that our "Twitter boat" would soon fill up with "new sailers [sic]."
Although the Daily Dot's 75,000 new fake Twitter followers were hard to miss, the marketing company wanted to make sure we saw—and covered—their prank. They sent me this email Wednesday morning: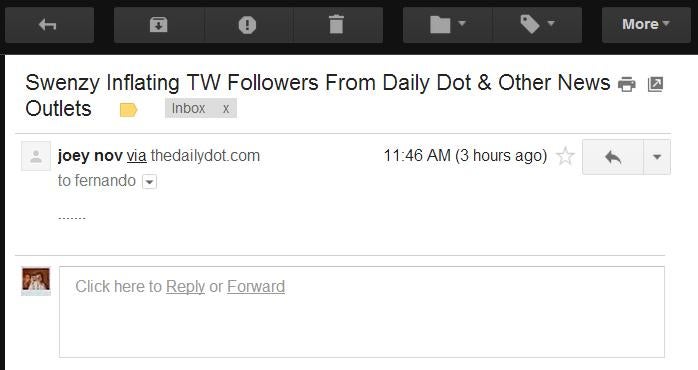 The other news outlets on Swenzy's hit list were the Washington Post, Vocativ, Gawker, and Reuters. But from a quick analysis of each of their Twitter accounts, nothing has changed. 
The Daily Dot reached out to Twitter as soon as Swenzy tweeted its threat, so it was aware of the issue by the time our follower count started to skyrocket. But without that notice, our account could have been the victim of a new kind of denial of service attack, facing suspension or deletion for violating Twitter's rules against fake followers.
According to Twitter's terms of service, "Mass account creation may result in suspension of all related accounts. Please note that any violation of the Twitter Rules is cause for permanent suspension of all accounts." 
Another rule bans "using or promoting third-party sites that claim to get you more followers (such as follower trains, sites promising 'more followers fast,' or any other site that offers to automatically add followers to your account)."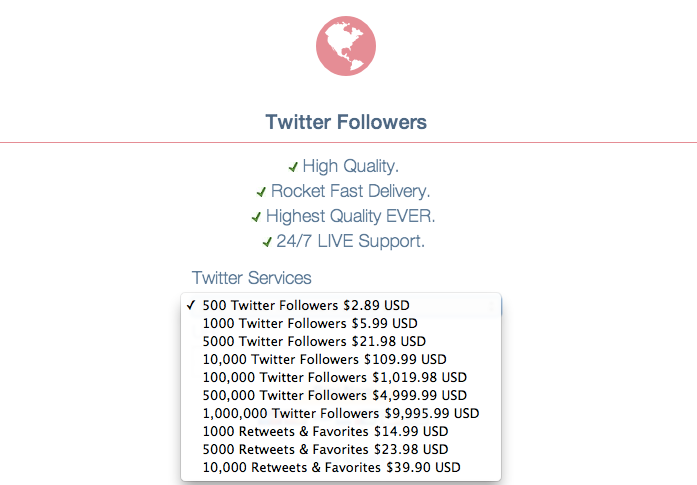 Screengrab via Swenzy
Fake accounts are a commodity for which Swenzy's customers apparently pay hundreds of dollars, but they're also a weapon the company can use to get any Twitter account shut down—at least in theory.
Twitter didn't immediately respond to our questions about what an average user should do when faced with thousands of illegitimate new followers. Right now, the only automated option is to flag each individual spam account—not exactly practical against spammers who can generate new accounts as quickly as you can click "report." 
That's not to say Twitter doesn't care about large-scale follower fraud, though. Inside Twitter, the war on spam began to ramp up last year as the company prepared for its initial public offering. In April 2013, it implemented a filter developed by researchers from the University of California Berkeley and George Mason University that helped identify and suspend 95 percent of fake Twitter accounts. 
Yet shortly after these changes were made, the Twitter follower black market was "again thriving," the Wall Street Journal reported. By November, one in 10 Twitter accounts was fake, and the cost for acquiring such accounts had bottomed out at 1,000 for only $11, NBC reported.
Swenzy's unwanted gift of followers seems more like a lighthearted publicity stunt than a serious attack, but it could be a proof of concept for operators with more sinister intentions. Just imagine the Syrian Electronic Army getting accounts suspended at will by abusing the same automated spam protections that are meant to make Twitter and YouTube better for everyone.
If Twitter and other social networks are unable to keep up with the rising tide of fake accounts, and buying them is so cheap and easy that anyone can do it, could swarms of puppet accounts and fake views be a new method of social media hijacking? 
Illustration by Jason Reed