What does your alarm clock do for you? Maybe you rely on your phone to chime, beep, and blare when it's time to get out of bed. Maybe you don't even have an alarm clock. Wouldn't your dreams be a little sweeter if you had a device that could wake you up and add something to your day? That's exactly what smart alarm clocks do.
Here are our favorite smart alarm clocks. 
What is a smart alarm clock?
A smart alarm clock is any alarm clock that has at least one smart feature. There are a few different ways an alarm clock can be smart. 
For starters, if it connects to your smart home, it's definitely a smart alarm clock. You can set up the device so that when your alarm sounds, something else happens. For example, maybe your alarm rings and the lights go on, or maybe a smart switch in the kitchen turns your coffee maker on.
A second way an alarm clock can be smart is if it has a smart assistant. Amazon Alexa and Google Assistant are the two most likely culprits. These types of devices are nearly the same as an Amazon Echo or Google Nest, the difference is they look like clocks instead of smart assistant speaker hubs.
There are also smart alarm clocks with non-traditional features. Sunrise alarm clocks, for example, wake you up with a glow of soft light, meant to mimic the rising sun, and slowly get brighter. Vibration alarms are smart, too. They're excellent for people who don't want to wake their partner with an alarm, as well as people in the deaf and hard of hearing communities. 
What to look for in a smart alarm clock
When shopping for a smart alarm clock, you should ask yourself a few important questions.
First, do you want a one-purpose device? Some people like having a dedicated alarm clock that does little else. Others see great utility in their alarm clock doubling as a smart speaker or even a portable lamp. If you're in the market for other gadgets, you might see if they offer alarm clock functionality, saving you an additional purchase. Watch out for double-duty devices that come with cameras and microphones, however. Be mindful of what you put into your bedroom.
Second, do you want the device to connect to an existing smart home setup? If your smart home runs on, say, Google or Amazon Alexa, you should look for an alarm clock that can connect to it.
Third, how much are you willing to spend? You can easily spend more than $200 on a smart alarm clock, but you don't have to. Again, think of whether the device will double as something else in your home, like an FM radio, and factor that into your price point.
Given these 10 smart alarm clocks, listed alphabetically, you're sure to find one that's smart in the right way for you. 
Amazon Echo Spot ($89.99)
Of all Amazon's Alexa devices, the Echo Spot was the one made to be an alarm clock. This small, round smart speaker has a little display on the front which can tell you the time or show you a video, whether it's television news or a live feed from a connected baby cam.  As an alarm clock, the Spot can handle different alarms for weekdays and weekends, whether they're recurring or a one-time setting. Seeing as you'd probably put the echo spot next to your bed, keep in mind that it does have a camera and microphone. You always want to be in control of what a device can see and hear. 
Casper Glow ($129)
The gradually brightening light of the Casper Glow wakes you up without any noise. This silent alarm clock doubles as a wireless night light that you can pick up and carry with you on those midnight trips to the loo. The Glow is shaped like a large candle, and it brightens and dims when you twist it, even if it's not on the charging base. If it's already in your hand, you can also shake it gently to change its brightness. The Glow emits little to no blue light, which means it won't prevent your body from producing melatonin, which you need to sleep. This smart alarm clock is among the best bedside companions.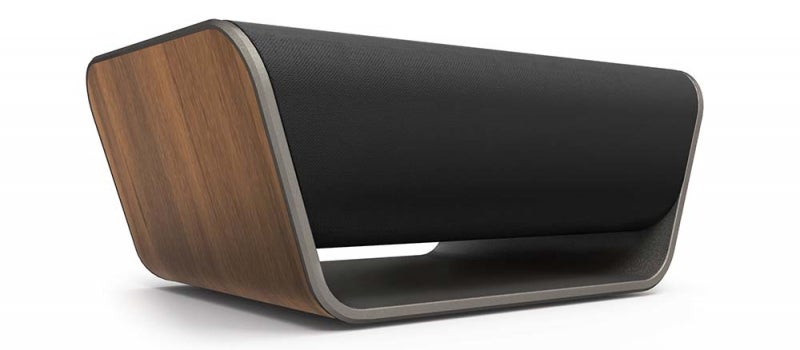 Cavalier Air ($249.99)
At $250, the Air smart alarm clock by Cavalier is our luxury pick. It's the smart alarm clock to buy if you want a beautifully designed bedside piece, money is no object, and you're shopping for an Amazon Alexa device anyway. This beautiful clock is also a smart speaker that comes with the voice-activated Amazon Alexa built-in. You can ask Alexa to play your favorite Spotify playlist or set an alarm for when you want to wake up. The Air has its own dedicated alarm with custom wake tones, giving you advanced alarm schedule options, which you set up in via the Cavalier Audio app. The top of the device is also a wireless charging bed, so you can lay your phone on it to power up while you power down.
Fitness tracker or smartwatch (prices vary)
You might already own a smart alarm clock, and it might just be on your wrist. Quite a few fitness trackers and smartwatches include vibration alarm settings or let you download apps that enable them. Most Fitbit trackers (the Fitbit Charge 3 is shown above), the Apple Watch, and most Android Wear watches all have this feature. You set the alarm via the app or on the device, and when it's time to get up, it vibrates to wake you without disturbing your sleep partner. These devices usually track your sleep, too, letting you know whether you're getting enough restful time in bed. If not, you can set reminders on the watch to hit the hay a little earlier each night.
iHome iAVS16 ($149.99)
The iHome iAVS16 is not only a smart alarm clock but also an Amazon Alexa device. Before you go to bed, you can say, "Alexa, set an alarm for 6:30 a.m." and it's done. Just like a traditional alarm clock, it shows the time at all hours and other information if you want it, such as the date. But with the iAVS16, you can also control your smart home using voice commands, just as with an Amazon Echo. When you wake up, for example, you can tell it to turn on the lights or start the electric kettle if they're a part of your smart home setup. A mute button on the top of the smart alarm clock gives you more assurance of your privacy when needed. It has a charging port on the back so that you can easily plug-in devices while you rest.
Lenovo Smart Clock With Google Assistant ($79.99)
The Lenovo Smart Clock is a small smart alarm clock with a display and microphone, and it comes with the Google Assistant already loaded. As such, it can do practically everything the Google Nest (formerly Google Home) can. For example, you can set an alarm to wake you in the morning and listen to a weather forecast as you roll out of bed. It comes with eight customizable clock faces, six alarm tones, and a sunrise wake option. To turn off the audio alarm, you can tap the top of it or say, "Stop."
Need another reason the Lenovo Smart Clock is smart? It has an automatic light adjustment feature so that it doesn't shine too bright as you're winding down for bed. This device doesn't have a camera, so you don't have to worry about anyone peeping on you in the bedroom. It also has a USB charging port on the back. It's among our top picks for smart alarm clocks.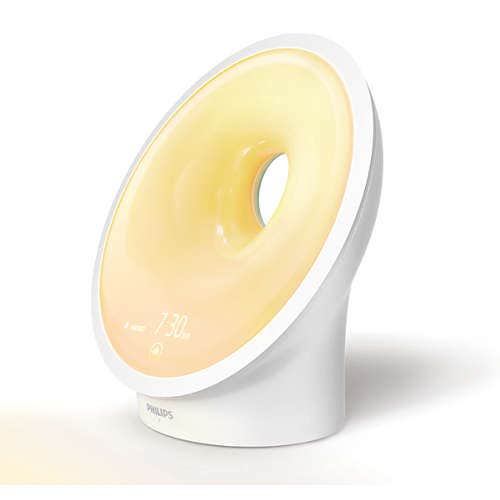 Philips SmartSleep Sleep and Wake-Up Light ($199.99)
The Sleep and Wake-Up Light by Philips—and I'm talking about model number HF3650/60 here—is a sunrise alarm that plays sounds and slowly illuminates when it's time to rise and shine. This lamp-style clock provides a more gentle, natural wakeup. You can even choose birds chirping as your wakeup sound. A small display on the bottom of the lamp tells the time, and a USB charging port on the back lets you juice up your devices. Philips sells a newer and even pricier ($219.99, HF3651/60) version of the same clock that comes with a Smart Snooze feature and a few other enhancements. When you tap the clock for a nine-minute snooze, the alarm stops but the lamp stays on. Although the slightly older HF3650/60 model doesn't come with Smart Snooze, it seems to be the crowd favorite.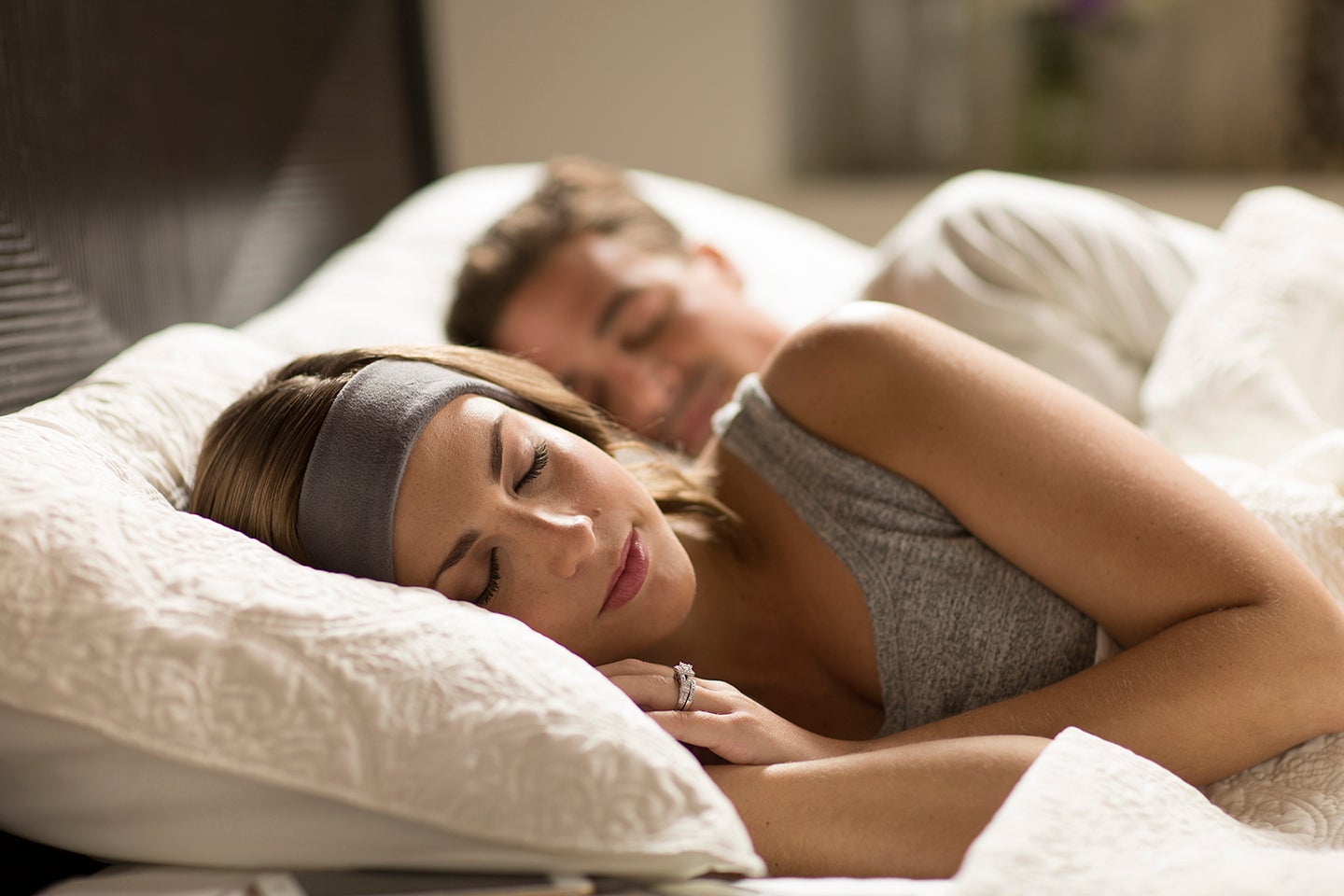 SleepPhones Wireless ($99.95)
Here's another unconventional alarm clock: SleepPhones. This device is a headband with tiny flat speakers tucked away inside, so unlike earplugs or an over-ear headset, you can comfortably wear it to bed. The wireless model adds a bit more comfort. You connect the headphones to an app on your mobile devices and set an alarm that only you can hear in the morning. You can also play white noise or your favorite soundtrack while you're falling asleep. Because the SleepPhones wrap is snug on your head, your partner won't hear a sound. The wireless version comes in warm, fuzzy fleece and has a more breathable, moisture-wicking fabric.
Sony LF-S50G ($199.99)
Imagine an Apple Home device, except with the Google Assistant instead of Siri, and a clock display through the fabric. That's essentially the Sony LF-S50G. It's a squat-looking smart speaker that can pump out rich sound. Gesture-based controls let you wave your hand over the device to make it pause or resume. Alternatively, you can always say, "Hey Google," and give it commands. The smart alarm clock display is exactly what you want to see when you roll over in bed. Most importantly, there's no camera on the Sony LF-S50G.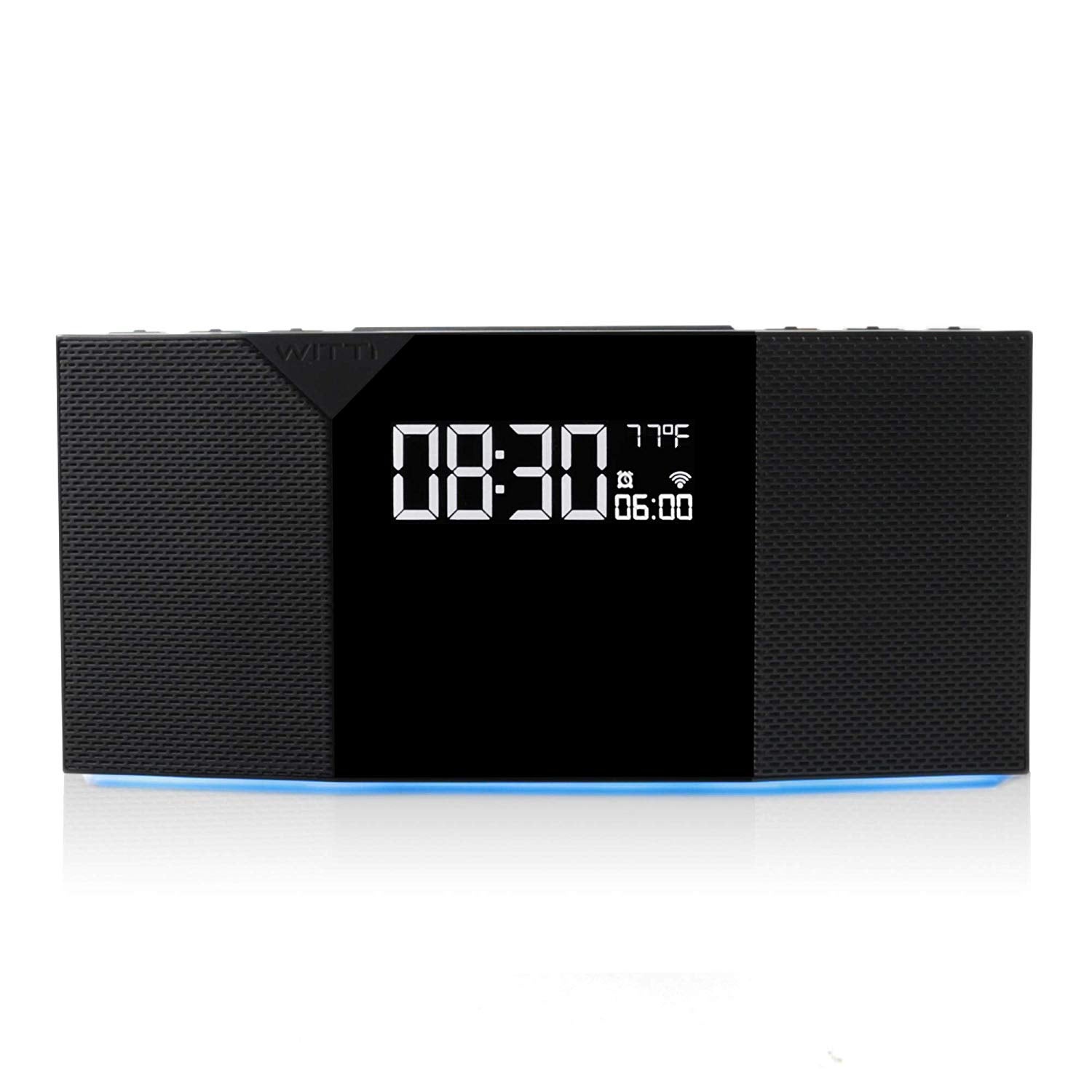 Witti Beddi 2 ($99.99)
The Beddi 2 from Witti is a boxy smart alarm clock clock and Bluetooth speaker that you control with a companion app. With the Beddi 2, you can set alarms to help you wake up. You can also select one of five soothing sounds or white noise tracks to help you fall asleep. LED lights on the bottom and rear glow different colors that you change in the app. It ends up adding a warm or cool hue to your room. A cradle cut into the top of the device gives your phone a place to rest and recharge. The device has three physical buttons that you can set via the app. You can program them to play music or podcasts, or interact with your smart home so you can, say, turn the lights off or on while still in bed. The Beddi works with Nest, Philips Hue, and LIFX.