Federal prosecutors have asked a judge to revoke 'Pharma Bro' Martin Shkreli's bail after he urged his Facebook followers to steal hair samples from Hillary Clinton earlier this week.
The request for revocation of Shkreli's $5 million bond was filed on Thursday in New York and directly references the former pharmaceutical executive's plea to his Facebook followers to assault Clinton by stealing hair samples during her upcoming book tour so he can prove that she is a murderer.
"His recent public conduct demonstrates that he cannot meet his post-trial burden to show, by clear and convincing evidence, that he does not pose a danger to the community," the motion says.
Shkreli, one of the internet's most hated figures, was found guilty of securities fraud last month and faces up to 20 years in prison. Shkreli says he plans to appeal his conviction and posted bail following the guilty verdict.
Before his conviction, Shkreli was infamous for raising the prices of a drug used by HIV patients from $13.50 to $750 per pill.
Earlier this week, Shkreli posted on Facebook that he was willing to pay $5,000 to anyone who could steal hair from Clinton during her book tour for What Happened. He said he wanted to "match sequences" he had because "the Clinton Foundation is willing to KILL to protect its secrets."
Shkreli's original post was deleted as of Friday morning. Here is a screenshot: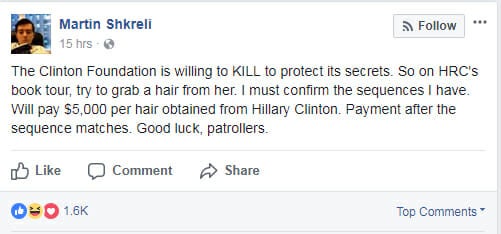 Federal prosecutors say Shkreli's threat required a "significant expenditure of resources by the United States Secret Service" because there is "significant risk" one of his followers on social media would act upon his request.
The motion says Shkreli then edited the post calling it "satire" and denied an interview with the Secret Service before agreeing to take it down.
Over the past week, Shkreli has posted on Facebook calling his original post a "prank" and saying "fuck the government."
"That Shkreli awaits sentencing and still engages in an escalating pattern of egregious public behavior shows that he has no respect for the law and will not abide by any conditions or combination of conditions for his release," the prosecutor's motion reads.
You can read all of the motion here:
H/T BuzzFeed News