Roy Moore, the Republican Alabama Senate candidate who lost to Doug Jones earlier this month still hasn't conceded the election–and he appears to have a lot of time on his hands.
On Wednesday night the former candidate took to Facebook to share a link from The Advocate, a bi-monthly LGBTQ-interest magazine that claimed Jones' "gay son is 'thrilled' by the Alabama win."
It's unclear why Moore shared the story with his Facebook followers. Of course Jones' son is happy his father won the election, but Moore is famously anti-LGBTQ.
In a 2005 interview, Moore said that "homosexual conduct" should be outlawed and called homosexuality a "crime against nature" in a court decision. Following the 2015 Supreme Court decision that legalized gay marriage, he said he thought it would "literally cause the destruction of our country."
Ahead of the election, Moore blamed a "conspiracy" of LGBTQ people and "liberals" for the numerous allegations of sexual misconduct that came to light against him.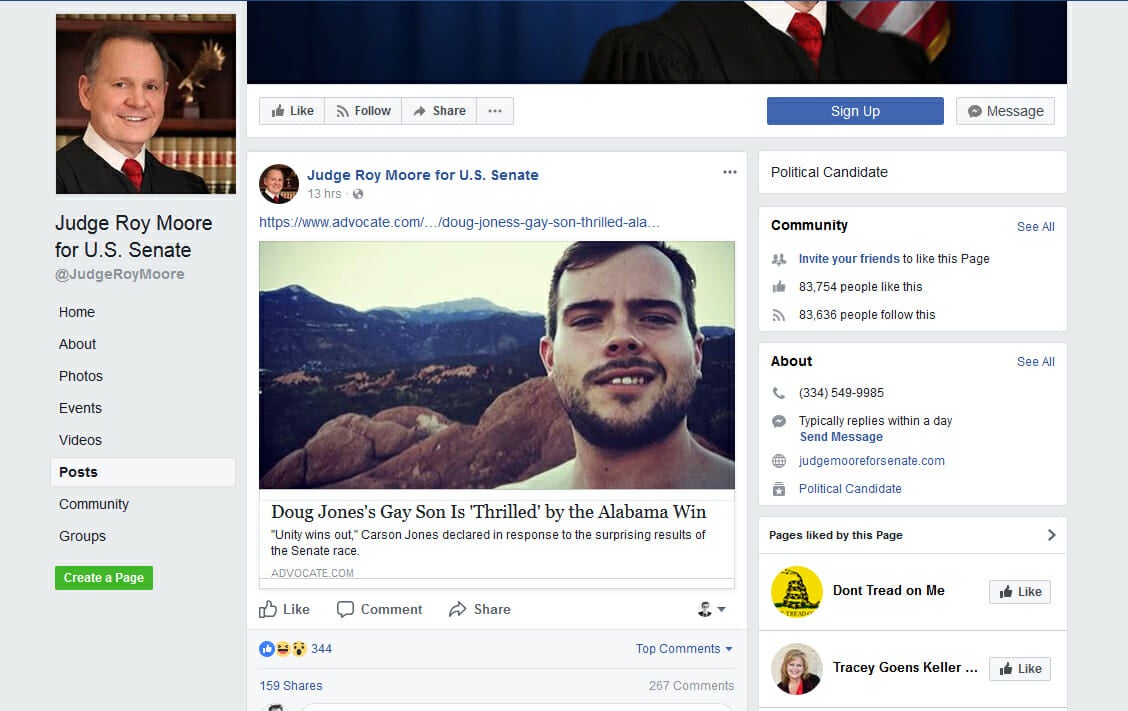 "They don't want conservative values," he said. "They're the lesbian, gay, bisexual, transgender [individuals] who want to change our culture. They're socialists who want to change our way of life."
Given his past comments on LGBTQ issues, people enjoyed pointing out the irony of Moore sharing a link from a magazine that named him a runner-up for the "Phobies," or the "worst homophobes of 2017" on Thursday morning.
I kind of like imagining Roy Moore reading the Advocate. You know…. for RESEARCH.

— Scenic Oakland (@ScenicOakland) December 21, 2017
Roy Moore reads The Advocate, huh!

— BethanyW.MT (@BethanyYosemite) December 21, 2017
https://twitter.com/BrayJolene/status/943883257216561152
Roy Moore just low key sharing articles from the Advocate, ummmm https://t.co/33dpdUNx6s

— דיקי מינאז' (@DICKIMINAJ) December 21, 2017
can we discuss how Roy Moore apparently visits The Advocate's (an LGBT magazine) website?

— Josh McLean (@RadioMcLean) December 21, 2017
Besides his staunchly conservative takes on social issues, Moore's campaign was defined by several women coming forward to say that he engaged in sexual misconduct with them when they were minors.
By Thursday afternoon, Moore had deleted his Facebook post.