Sen. Ron Johnson (R-Wis.) was widely mocked on Wednesday after demanding that a satirical tweet about him be removed during a tech hearing that was purportedly supposed to be about tech policy.
The Senate Commerce Committee held a hearing where Google CEO Sundar Pichai, Twitter CEO Jack Dorsey, and Facebook CEO Mark Zuckerberg were brought in to testify. The hearing was supposed to be about Section 230 of the Communications Decency Act, but largely devolved into both sides of the aisle complaining about long standing gripes they had with social media.
While the arguments made were largely partisan—Republicans focusing in on allegations of censorship while Democrats discussed President Donald Trump's inaccurate tweets—Johnson appeared mostly concerned about a joke on Twitter from earlier this month.
In a tweet that has since garnered nearly 20,000 shares, Twitter user @marytherese5 openly joked on Oct. 18 that Johnson had strangled her dog.
"Sen Ron Johnson is my neighbor and strangled our dog, Buttons, right in front of my 4 yr old son and 3 yr old daughter," the account tweeted. "The police refuse to investigate. This is a complete lie but important to retweet and note that there are more lies to come."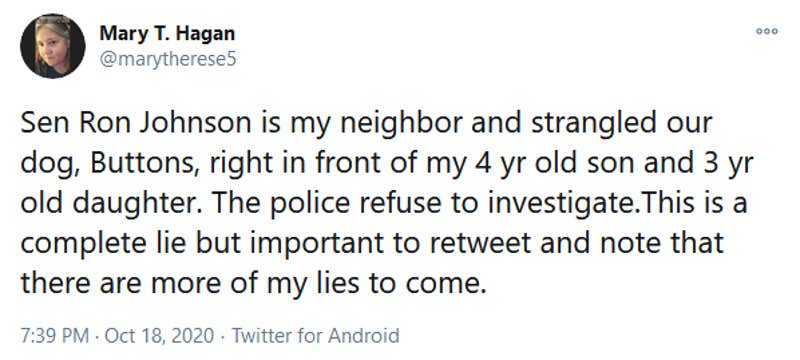 Johnson alleged to Dorsey that he attempted to have the tweet removed but was ultimately told by Twitter that the remark did not violate their policies.
The senator even went as far as to question why the tweet didn't violate Twitter's rules on election interference.
Dorsey responded by stating that Twitter would have to reexamine the tweet and look at its initial reasoning for the decision.
Johnson appears to be largely unaware that since the Twitter user who made the remark openly admitted that it was false, it's unlikely the tweet could be seen as anything other than satire.
Twitter users responded to the news of Johnson's complaint by repeating the initial joke.
Since the tweet was unearthed by people following Johnson bringing it up during the hearing, @marytherese5 replied to the original tweet, joking that there has not been a Senate inquiry into the Buttons story.
"I just want to thank everyone for their outpouring of love responding to my lie about @SenRonJohnson beating my best friend Buttons to death. Yes the horrific story falsely attributed to Sen Johnson still haunts me but HAS YET to receive a Senate inquiry," @marytherese5 tweeted.
It remains unclear whether Twitter will reverse its decision on the tweet or whether Johnson's re-election efforts will be seriously hampered by satirical stories surrounding Buttons the dog.
---
This week's top technology stories