Google Nest Hub Max

PROS:
Good screen size and audio output

Hand gesture for touchless pause/play

Includes Nest Cam functionality
CONS:
Mediocre performance

Requires Google Duo for video calls; no other apps supported

No Netflix
Full specs
Includes Google Assistant, Chromecast

6.5MP camera

10-inch HD touchscreen LCD display (1,280×800)

Available in chalk and charcoal

WiFi and Bluetooth

Compatible with iOS and Android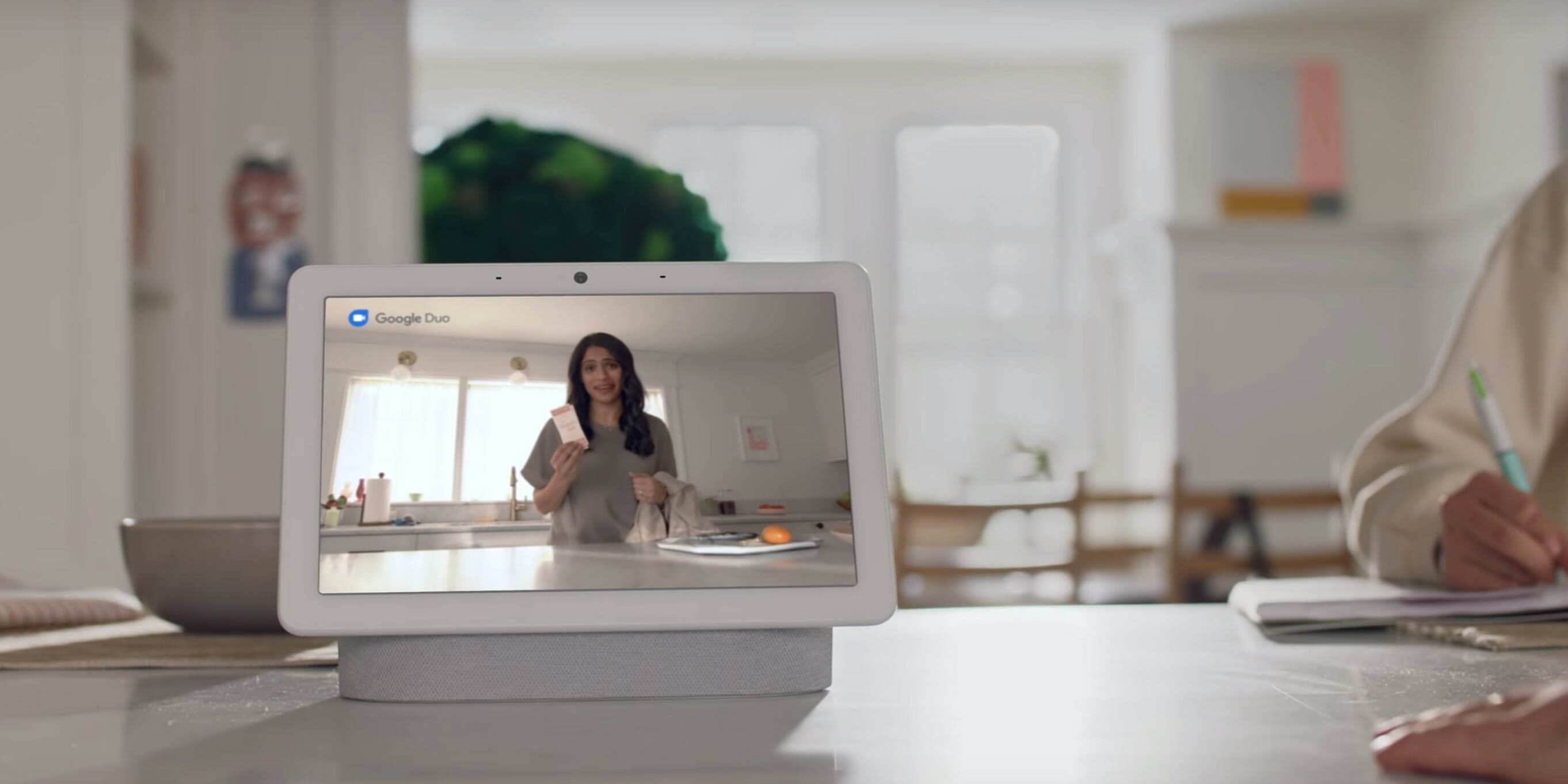 Google's Nest Hub Max is a handsome 10-inch smart display with the Google Assistant built-in. It comes with a few features you'll want to explore and tinker with, such as the Nest Cam security camera and the ability to find, save, and see recipes from select websites. You can do all (or at least nearly all) of it hands-free. Among smart displays, the Nest Hub Max is a good option, with more than 5,000 compatible devices to build out your smart home. If you haven't yet settled on whether you're ready to buy a smart speaker-with-display at all, you may be in for a lot of tinkering and a fair amount of disappointments. As a category, smart speakers and displays are still quite limited in what they can do. But if you're curious about the devices, or even totally sold, then let's dive into what the Nest Hub Max is capable of. 
Look and feel: 4.5/5 
The Google Nest Hub Max has a charming aesthetic. As with the previous model, the Google Home Hub, it looks like a tablet propped up on a fabric-covered base. The 10-inch display is large enough to have some prestige. I bet in future versions, Google will reduce the size of the white bezel, as it's the one design element that makes the device look older than it is.
At the top of the device, you can see two holes for far-field microphones and a larger hole for a camera in the center. The camera can work as a Nest security camera, streaming video from inside your home to your mobile device. A green LED illuminates when the camera is active and it blinks if someone in your trusted network is currently watching the video feed from their mobile device. You can kill the camera and microphone at any time using a physical mute button on the back. There is a physical volume control and a port for plugging in the device in the rear, too.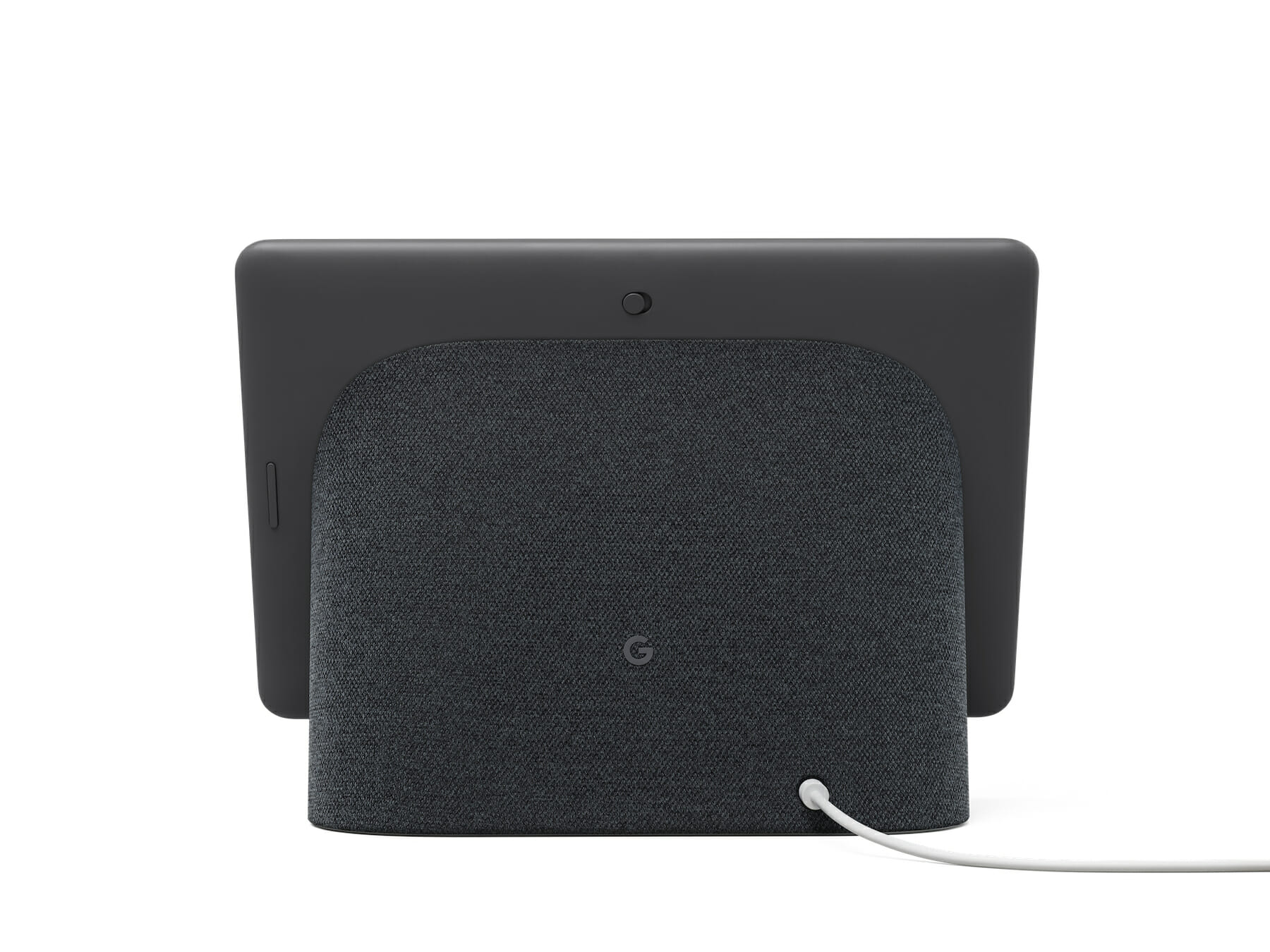 The base comes in chalk or charcoal. Both are neutral enough to go with your decor, no matter what it is. If you use the Google Nest Hub Max as a digital photo gallery, you can go even further to make sure it looks fabulous when it's idle.
While some reviewers have noted that the audio could be beefier and clearer, I found it met my expectations. Music sounded full and round. Videos played clearly. You can adjust the bass and treble in the Google Home app. You can also set a different volume level for alarms and timers as opposed to all other audio.
Usability and performance: 3/5
The concept of "it just works" goes out the window with smart speakers and displays. As with any voice-enabled device, the biggest disappointment is learning what you can say and how you must say it.
Saying, "Hey Google, show me what I can do," brings up tiles containing suggestions. Here, you can learn how to manage your personal information, play videos, set timers, make phone calls, find food and recipes, and so forth. It's worth exploring this section to get a sense of the assistant's prowess as well as its limitations. You can search for videos, but there's no access to Netflix. Spotify is supported, but I got a lot of so-so results when testing it. You can look for recipes online, have them appear on the screen, and even get the Google Nest Hub Max to read them to you aloud…but only if they happen to be from a small selection of websites.
Because the Google Nest Hub Max has a camera, it can support Face Match. Face Match is a new feature that lets the device authenticate personalized information by recognizing your face. When it identifies you correctly, you can ask the device to tell you about upcoming appointments on your calendar, read your private messages to you, and so forth. You can also invite other people in your household to use the Nest Hub Max and set up facial recognition for themselves. That way, your roommate can get information about what's on their calendar but not yours. There's also a feature called Assignable Reminders: With the right permissions, you can create reminders to put on other people's agendas.
Minor frustrations, like not being able to use the touchscreen to return to a page of search results, are surmountable with practice. The touch controls don't work the same as on a tablet, and they are limited. You can do two things at once, like play a song on Spotify while also looking at recipes you've saved to your cookbook. But to jump from one page or app to another, you must use voice controls.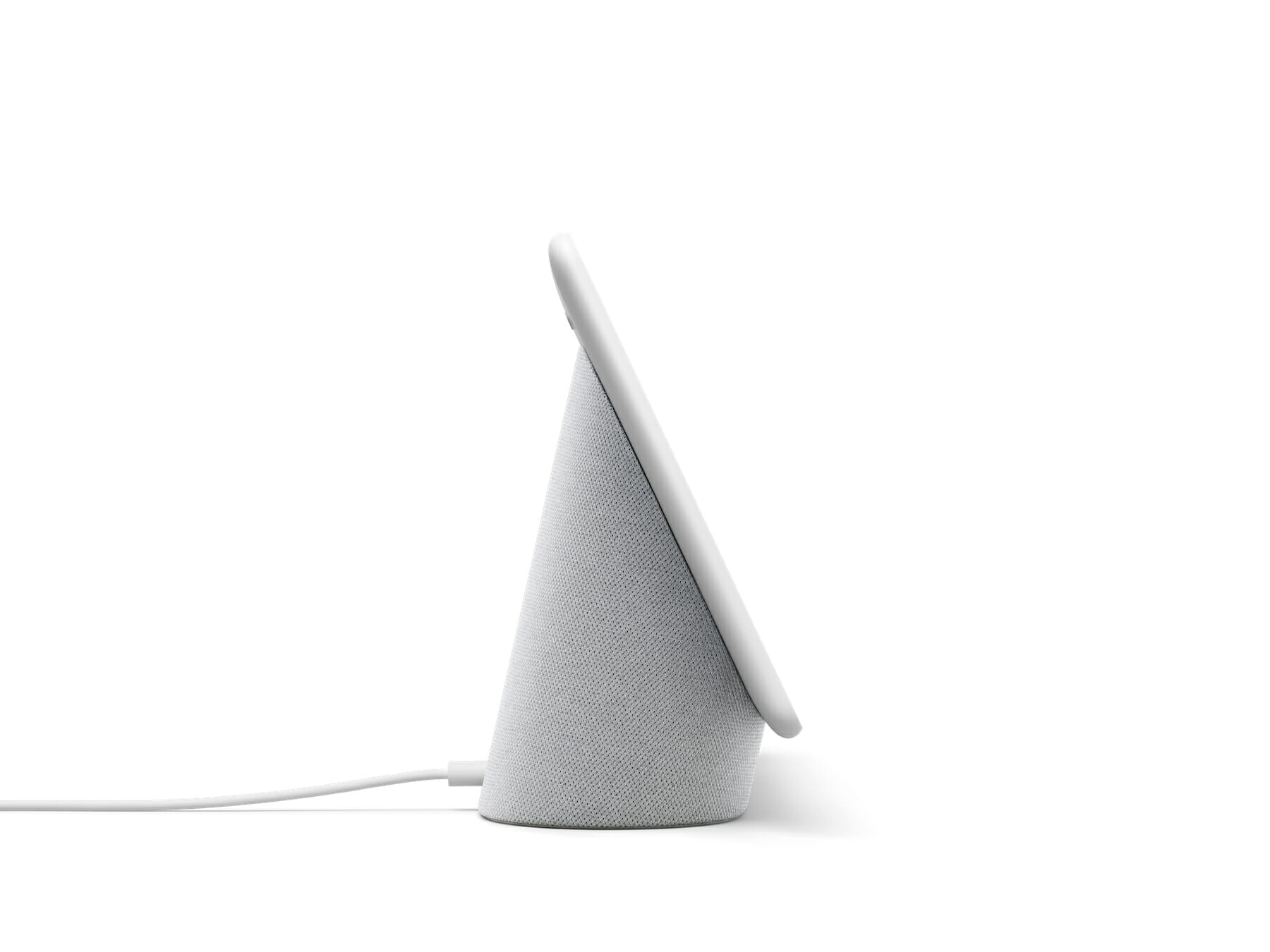 A newly added gesture control lets you pause and resume media by raising or waving your hand. It can be helpful, but its use is fairly limited. In testing, I saw a lot of false positives, like when resting my chin on my hand or brushing my hair from my forehead. I'd like to see more controls added than just pause and play. It would make sense, for example, to have gestures for skipping ahead and backing up.
When speaking, I almost never got good results when using my natural tone, a common problem with female voices. When I artificially dropped my register, it worked much better, which is disappointing. I don't want to have to do my Nico impression every time I need to set an alarm.
Sometimes, the Google Assistant hears what I said correctly but carries out the wrong command. For example, I said, "Hey Google. Play 'Day-O The Banana Boat Song' by Harry Belafonte." The assistant repeated it but then played a Buddy Holly song. I asked again, heard the correct confirmation, and then got The Andrews Sisters singing "Rum and Coca-Cola." One more whack at it, and I got "Summertime" by Louis Armstrong and Ella Fitzgerald. It turns out all the songs were in a playlist called Banana Boat. There shouldn't have been any confusion, however, when you say both the artist and the song title. It also drives me up the wall that Google Assistant calls him "Harry BELL-a-font." (It's "bell-ah-FONT-ay.")
Smart home use and connectivity: 3.5/5
Whether you have any smart home accessories for the Google Assistant or not, the Nest Hub Max does come with the Nest security camera feature included. You set it up by opening the Google Home app, choosing the device, and scanning a QR code on the Nest Hub Max to authenticate access on your phone. Once it's set up, you can check in on your home from anywhere. It works well, although in testing there was a noticeable delay between the time the stream begins and when the green light tells people in the room they're on a live feed.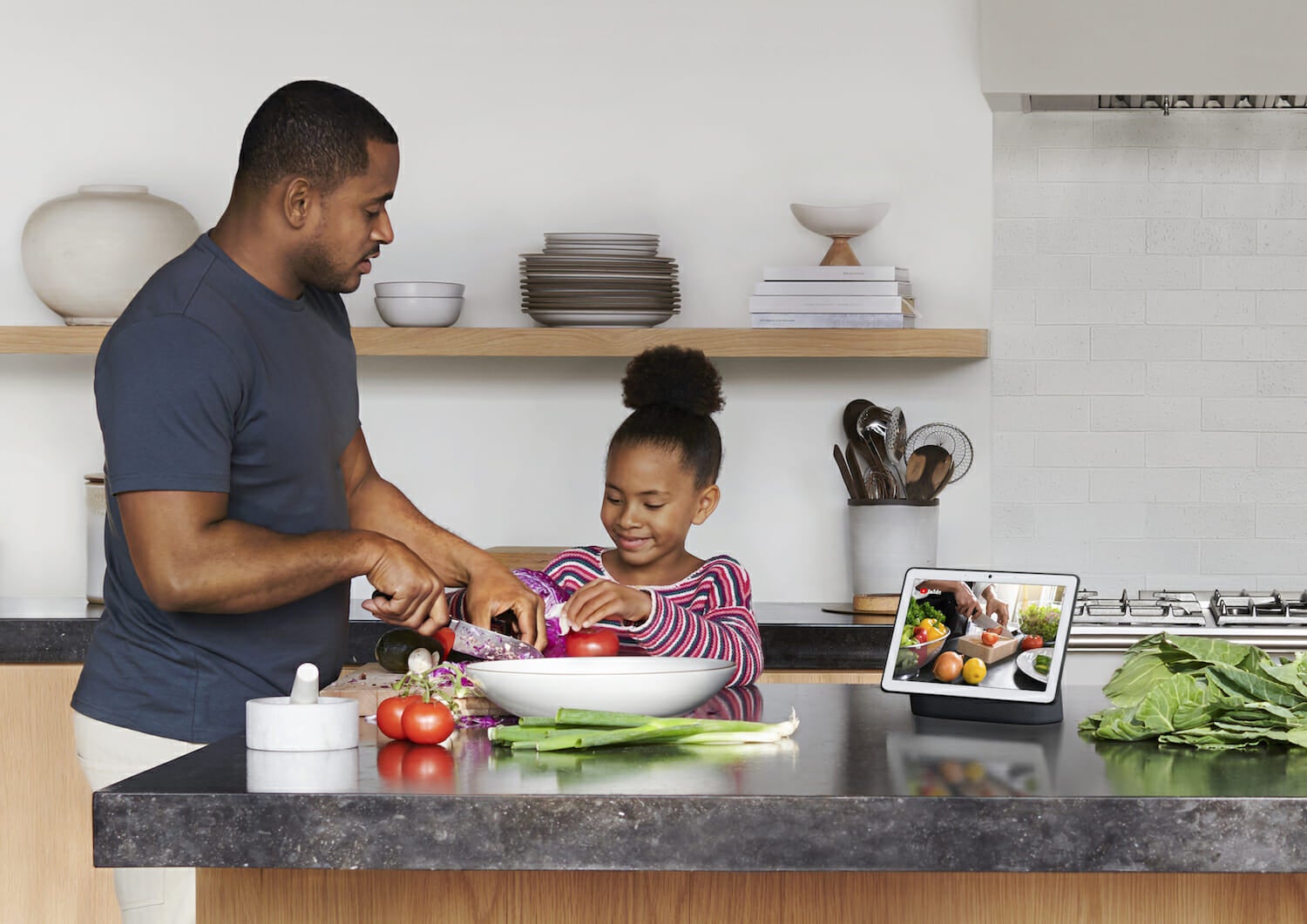 If you do have a whole smart home setup that's compatible with Google products, then you can use the Nest Hub Max as your central command to control the lights, locks, thermostat, and even the aromas in the air.
Another way to use the Google Nest Hub Max is for video calls. You need Google Duo—hardly the most popular video and messaging app—to make and receive video calls, and the people you call must have that service as well. No other video messaging apps are supported at this time, which is disappointing. The device would be much more appealing if WhatsApp, Skype, FaceTime, or any other video calling app were available.
Overall rating:  3.5/5
The Google Nest Hub Max, with its pleasing design and adequately sized screen, might be among the better display-based smart speakers you can buy. But bear in mind that the bar isn't set too high at the moment. What it can do, it does well or with a passing grade. Stringent limitations may hold you back from doing what you want to do with the device. If you've already decided you will buy a smart home display, the Nest Hub Max is worth considering. If you're still on the fence about whether to buy one at all, I say hold off for the moment. They're still too restrictive to enjoy thoroughly, and it feels a bit like manufacturers are testing the waters — future iterations are sure to improve. 
The Daily Dot may receive a payment in connection with purchases of products or services featured in this article. Click here to learn more.