Moodo Smart Home Aroma Diffuser

Cost: $139.90, plus $20 for optional rechargeable battery. Pack of 4 refills for $29.90.
Pros
Safe, non-flame, aromatic diffuser

Can blend scents on the fly

Connects to smart homes

Ships with cord for US, UK, or EU; rechargeable battery optional
Cons
Scents and persistence noise may lead to headaches

Wasteful pod delivery system

Difficulty connecting to app and smart home

Physical buttons not well designed
Full specs: 
App for Android, iOS

Compatible with Amazon Alexa, Google Home, Siri

Adapters available for U.S., E.U., and U.K.

Available in white and black

Creating a pleasant atmosphere takes more than an eye for design and a couple of dimmer switches. How a space smells matters: Is your space inviting, calming, or even clean. The Moodo is a new electric aroma diffuser that gives you control over the scent in the air. It's a tabletop device that connects to an app and smart home so you can control it through Siri, Alexa, or Google Home. It has four slots where you drop in scent capsules, which you mix to your nose's content. The capsules come in sets of four, with aromas such as Precious Spices, Grandma Vanilla, and Midnight Thrill.
Other smart aroma diffusers on the market — and there aren't many — use essential oils rather than capsules, which means you can't mix scents on the fly. You have to decide what scents to add ahead of time. With Moodo, you can turn up the Sea Breeze and add in a bit of Sweet Sand right from your phone.
When actually put to the test, however, Moodo disappointed. The pods emit fumes that gave me mild headaches. I never managed to connect the device to my phone, much less my smart home setup, despite several attempts. The capsules look similar to coffee pods, and they seem just as wasteful.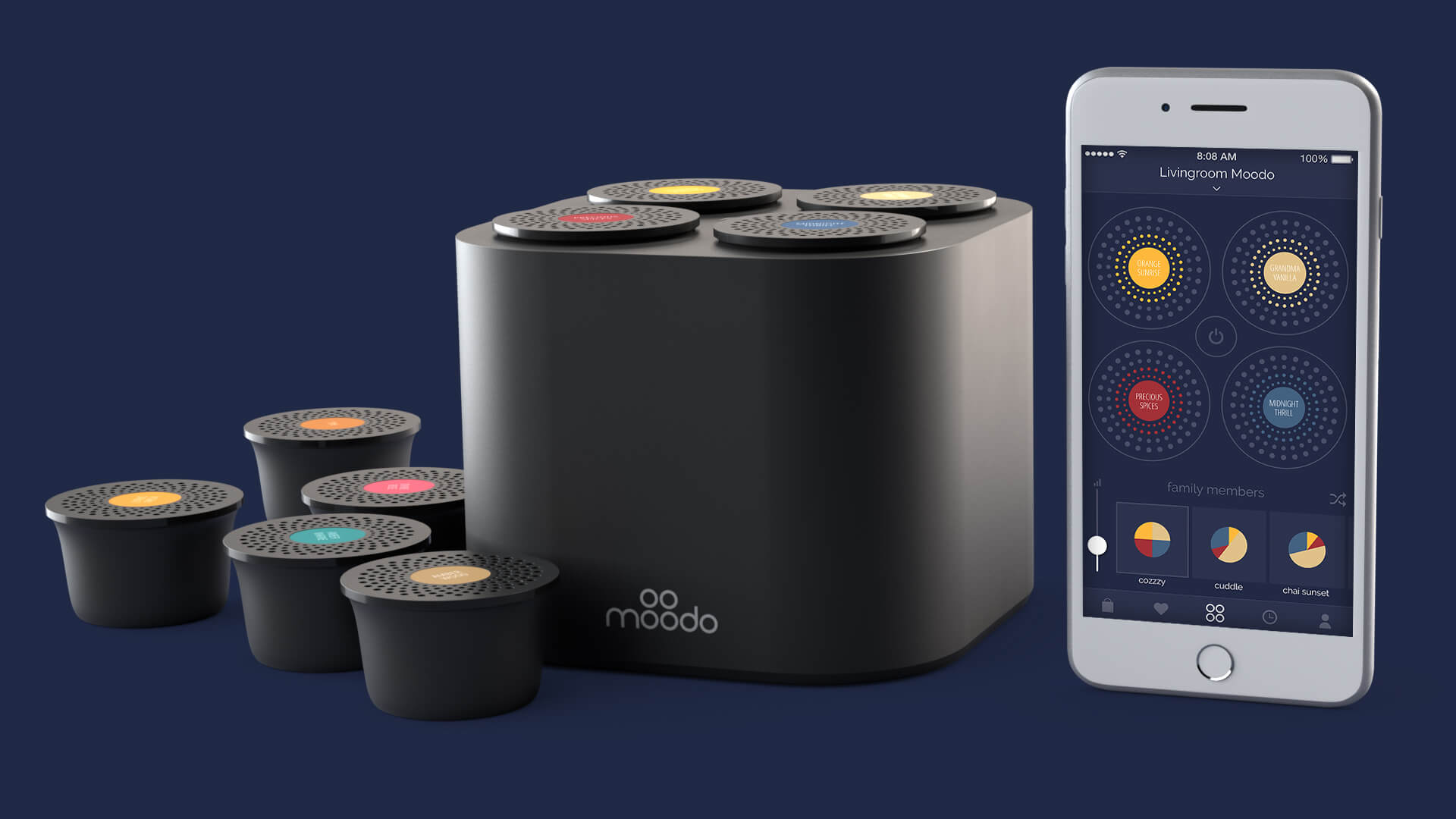 Look and feel (and smell): 2.5/5
The Moodo is about the size of a square box of tissues. It stands a little taller than 3.75 inches, with a length and width of about 4.75 inches each. It comes in black and white. You can choose a plug for a U.S., U.K., or E.U. outlet, and you can add an optional rechargeable battery ($20). 
How you choose to orient the Moodo depends on whether you intend to use the physical buttons. You don't need them if you control it through the app and your smart home. The face containing the buttons also has a port for the plug. So if the buttons face out, so does the cord.
The top of the Moodo has four round slots where you add the scent capsules. Each slot corresponds to a button on the face, similar to a range top. A "volume" button increases and decreases the amount of scent released. There's a power button at the bottom.
When you turn the device on and fire up one or more of the pod slots, a fan engages. It's a noticeable whir, and I really couldn't stand it.
I also found the capsules noxious. I set up the device on a countertop that straddles an open-plan kitchen-living-dining room. When the Moodo was on, I had a low-grade headache the entire time, no matter which scents I chose. When it was off, I could still smell the pods, but only faintly. The whole time it was in my house, I wanted nothing more than to crack a window.
Usability: 2.5/5
As a plug-and-play device, the Moodo worked right out of the box. Everything about it made sense. The capsules fit into place effortlessly. I could figure out the buttons without looking at the manual. The buttons could be friendlier, however. They're rubbery and don't fully depress and release, but rather engage when you mash them in and cross your fingers.
Try as I might, I could not get the Moodo to connect to my phone or my Google Home-enabled smart home. There are two sets of directions: a standard set and another for "ver 1.0." How do you know if you have version 1.0? I'm not sure. There's no information about it. 
I tried both instructions and still always ended up on a fail screen. I did manage to see a Moodo WiFi network, but connecting to it (or connecting it to my home network) just didn't happen. It was frustrating.
With the app, you can engage or squelch any of the installed capsules at any time. You can dial them up and down. You can even opt-in to a random mix to shake up your nostrils. Be sure you've put in capsule aromas that blend well together! I'm not sure I want to smell sandalwood, vanilla, orange, and rose at the same time.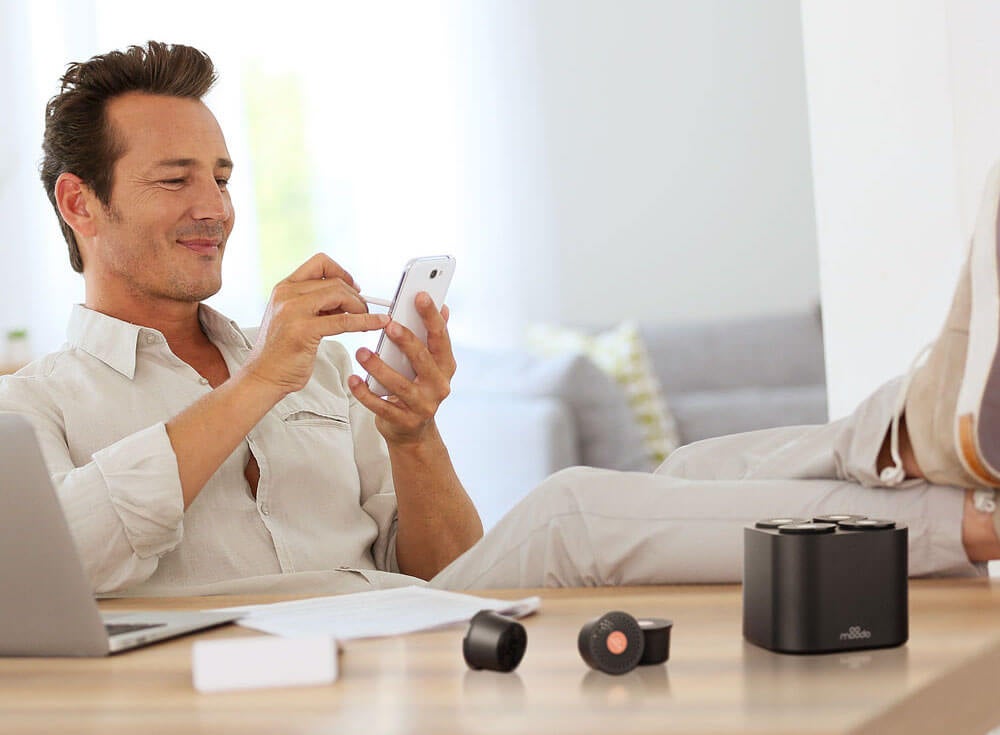 Performance and power: 3/5
If you opt for the battery, you should be able to use the Moodo for about seven hours before having to recharge. A pack of four capsules lasts about two months when used regularly. That breaks down to about two weeks per pod. Keep that in mind if you find one particular scent you like.
Moodo's aromas definitely fill a room. My open space measures around 21 by 35 feet with 9-foot ceilings, and I could easily catch the scent from anywhere in that area.
As a point of comparison, I set up a little water-based diffuser in my office. It's the kind where you light a candle beneath a shallow bowl of water containing a few drops of essential oil. I found that aroma much more pleasant and less harsh than Moodo's. It didn't fill the room with quite the same power, although I'm glad it didn't. When it comes to smells, sometimes more powerful isn't what you want.
One advantage of Moodo, however, is there's no flame and thus almost nil chance that it'll start a fire.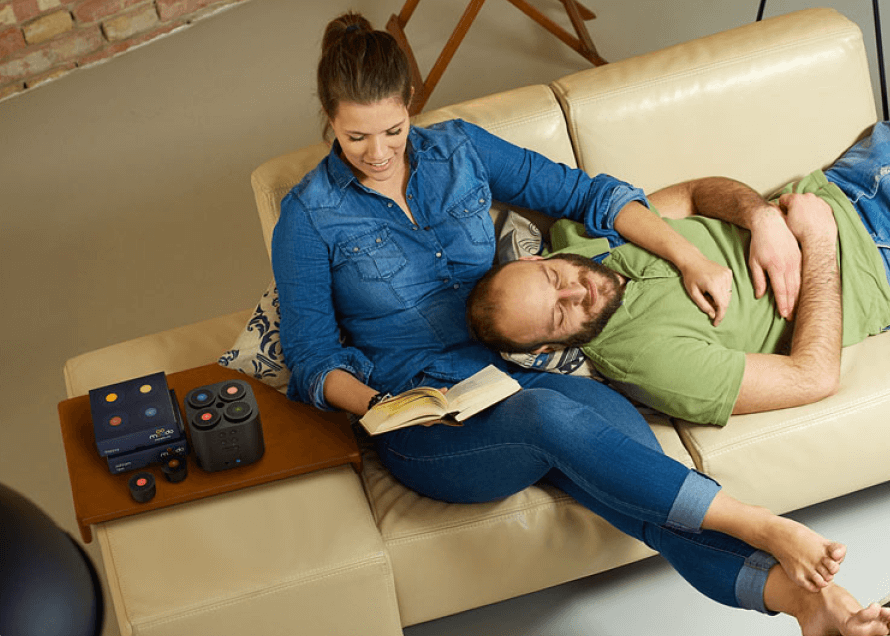 Overall rating: 3/5
In my home, I'm going to stick to essential oils, lavender sachets, and baking the occasional batch of cookies for aroma. Those smells are more pleasant on my nose (and don't cause headaches), and they create minimal waste compared to Moodo's capsule system. 
The Moodo isn't for me, and it's tough to recommend for anyone else. If you aren't sensitive to odors that cause headaches and you like to play around with potent scents, it might be a device to consider. Given all its setbacks and $100+ price, it's difficult to recommend with enthusiasm.